Discover more from Pub(lishing) Crawl
All things reading, writing, books, and occasionally booze. Reading you under the table since 2012. This site now exists as an archive of all the posts and content from the original website.
Writers Write — and Read
It's harder than ever to become a writer.
Not because of all the doom and gloom about the death of the novel, print vs. electronic books, big publishers vs. self-publishing, or Amazon vs. everyone. The problem is that many kids today (girls and boys) not only aren't reading, but they don't have access to books. Good writers are born from a lifetime love of reading.
It's not a matter of kids and teens choosing to play video games, or watch TV, or go online instead of picking up a book — books simply are not in their lives as much as they should be. I was recently invited to talk to a couple of English classes at my old high school about my writing. I was honored, and even more so when I discovered what a hardship it was for the school to afford an author visit and books on their limited budget, which does not include much money even for school books. Or for a school newspaper or literary journal. Or a full-time librarian. These kinds of budgetary cutbacks in school and public libraries is an epidemic.
Back in my day, we had all those things. (Although one committed English teacher did sometimes have to resort to photocopying Marlowe, in an early form of book piracy.) I'm a product of every school library, every book we studied in class, every librarian who either recommended good reads to me or quietly looked the other way while I explored on my own. I'm a published author because of English teachers like Mrs. Fein, Mrs. Post, Mrs. Halpern, Mr. Riti, and Mr. Valk.
My author bio says that I was "raised by a single mom and a public library" for a reason: I was lucky enough to live a 10-minute walk from my local library (and I'm not exaggerating when I say I had to walk home up a huge hill in 100-degree weather carrying an armload of books, but it was worth it.) I was lucky because I had family and teachers who nurtured my love for reading and gave me the tools to turn that love into something else: a desire to write books of my own one day.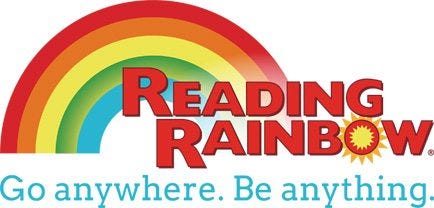 I was also fortunate to have other positive influences in my life like Reading Rainbow, which reinforced reading as a good thing; even at the time, I stood out for reading so much. Many people of a certain age remember the show's theme song fondly. It talks about the amazing and varied experiences readers can have in the pages of a book, but the lyrics are also motivational for what readers can accomplish in life: "Butterfly in the sky, I can go twice as high." "I can go anywhere!" "I can be anything!" Those are important messages to give young people. Happily, Reading Rainbow is making a comeback and will be able to reach new generations via computers and mobile devices.
At my former high school, where kids no longer have a creative outlet or writing instruction, one student asked me if I needed a college degree to become a writer. Though I was a little embarrassed, because college is important to getting most good jobs these days, I was also truthful. "No," I said. "I learned how to write by reading books." By reading, you naturally gain a knowledge of proper grammar (even if you don't know the names of the rules or how to parse a sentence) and story structure and pacing, and you begin to develop a prose style and your own voice. Yes, you can take classes and join workshops or critique groups, and I think those are useful things. But to build a solid foundation with words, an active imagination, and a lifelong devotion to consuming and creating stories, you have to read.
So my best advice, forever and always, to kids in school, aspiring writers, and published authors is READ. Read anything. Read everything. Read genres you love and books you think you'll hate. Read young adult and middle grade and books intended for adults, even if you aren't meant to understand them. Pick up literary bestsellers and mysteries and science fiction. Try urban fantasy and new adult. Read non fiction and fanfiction, comics and read magazines — and yes, the internet. Read for pleasure. Read for research. Read for inspiration. Read to learn how other authors write well, and to learn what you shouldn't do. Just read.
So… What are you reading now? (Other than this blog post.) Me, I'm finishing up my friend Rajan Khanna's excellent debut science fiction novel, Falling Sky, out in October from Pyr. In the comments below, tell us about what's on your eReader, in your bag, or on your night stand.