Discover more from Pub(lishing) Crawl
All things reading, writing, books, and occasionally booze. Reading you under the table since 2012. This site now exists as an archive of all the posts and content from the original website.
The Destructive Twist
Everybody loves a good twist, but they're becoming increasingly difficult to write in a successfully unpredictable way. This isn't the author's fault. Culture is becoming supersaturated with social media and more than a few people like to brag that they know how that new movie ends. Then we also have to deal with taglines and cover blurbs that proclaim "Spectacular read with a fascinating twist!" Just knowing it exists will colour how we absorb the story.
This is something I recognize easily in myself. I love to feel clever about figuring out who will betray whom, and usually I can see things coming from a mile away, especially when I've been warned that something will happen. The novels that really impress me aren't necessarily the ones that I can't predict; they're the ones that take me to the end in a unique way. Though, if there's also a good twist I didn't see coming, it certainly doesn't hurt.
[box type="alert"]Warning: Strong Opinions Ahead[/box]
Now what I can't stand, even more than a person dropping too many plot hints that I won't be able to banish while reading, is what I will call the Destructive Twist. The ones that over-correct for being predictable by being downright improbable. This is the kind of twist that has no root in the story besides a few weak, contrived connections that are poorly fashioned and make me feel a rage unparalleled.
There are three phases to the Destructive Twist. The first is...
The Destruction of Investment
This happens at the moment of the twist. The author has spent most of the book creating a world and characters in whose fate I have grown to have a vested interest. Then the plot twist comes about to reveal that it was all a lie. With that, the author completely negates everything they've just established. And I'm not talking about the lie the evil corporation has been telling to cover up the fact that they've been selling mind-control drugs. I mean the one where everything that I've read, quite literally everything, becomes stunningly useless. Main characters do a complete one-eighty to become a person I don't know. New truths are revealed that make all past events irrelevant. This very, very rarely works because by the time the twist comes along, I've already grown attached to the people and world the author created. Instead of my mind being blown, I just feel flat-out betrayed. It was a lie all along, but it was the worst kind of lie: the lazy kind. Because now the author can write whatever they want and just blame it on the new world order. They don't have to stick to previous foundations and rules. And because they're the author, they're in the position where they can mold things to their favour, so they find ways to connect the new twist with the old structure to make it seem like you should have seen it coming the entire time. But the connections are so ridiculous and forced it just ends up looking like the author is writing a totally different book. Which leads us to...
The Destruction of the Suspension of Disbelief
Suspension of disbelief is the only thing that makes it worth our while to read, watch, listen to, or consume anything. Making a story believable, even one that has unicorns and fire-breathing dragons, is what makes me want to read on. Luckily for us, believable stories don't have to rely on things obeying the laws of physics or reality; they just have to have people in it. They can be human, or some anthropomorphic creation, or even an inanimate object with a human's thoughts projected onto it, but the bottom line is, they have to be relatable. They have to be real. If you've already rendered useless the time I've invested in your character by giving me a twist that's less a twist and more an abandonment of the previous plotline, don't make it worse by adding in last-minute, shoddy one-liners in attempt to validate your choices. Sometimes the author will try so hard to prove that they did the right thing that the person or the world structure in question will turn into a caricature. Once that happens, my suspension of disbelief has gone out the window. I have no interest in reading on. All I can see left is an author's failed attempts of reconciling their previous world with their current one and sometimes, frustratingly enough, thinking they've succeeded. Which brings me to the final stage...
The Destruction of the Fourth Wall and Authorial Humility
This is the phase you enter as you read the last few chapters. All has been revealed. You got the twist you didn't expect, but it was given to you in the most underhanded way possible. And you can just feel the author's smugness rising out of the pages. You see it in the snappy lines of text that has the challengers of the new world systematically shot down, sometimes as obviously as two people in dialogue respectively asking questions and giving answers. Nothing induces an eye roll of such an exaggerated fashion as when the last few pages of a book are the author's self-congratulatory exclamations of "My god" and "They've thought of everything." Because it wasn't the characters who thought of everything; it was the author who thought of everything. And they want to make damn sure you remember it. But when the only thing the author has done was to trick me in a dirty fashion into caring about something that was never relevant, that kind of obvious self-gratification makes my blood boil. The most perfect way I've ever seen the spirit of this depicted is through this xkcd comic: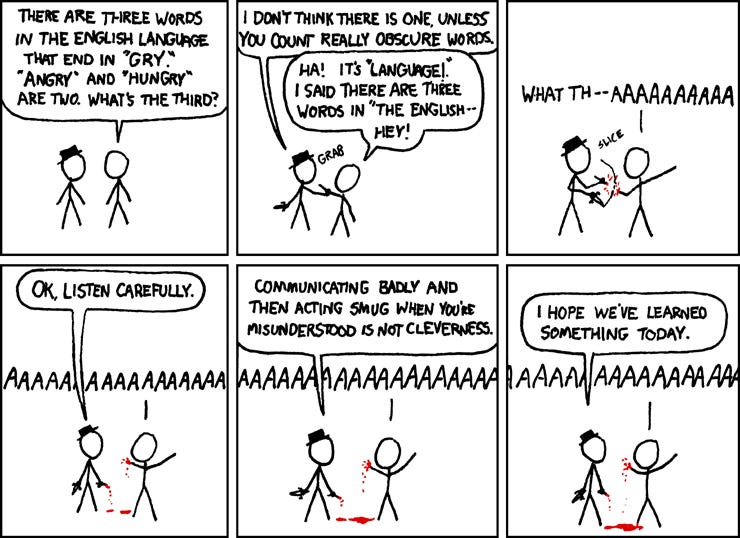 Okay. So now it's time for me to take a deep breath and a step back from these rantings and disclaim that this is very obviously an opinion piece, and for my purposes I've taken elements of my issues to their extremes. But I do think there is enough truth in the Destructive Twist that it's worth considering. In some stories, it's not very evident. There are bestsellers out there that make me want to yell at everybody really loudly because they don't see them the way I do. But there are, equally, stories whose twists have been consistently recognized as absurd (M. Night Shyamalan probably being one of the most commonly criticised people when it comes to twist endings).
All I really want to say is, be careful with twists. You don't have to be a rock star of originality. Predictable twists aren't always bad. Sometimes they're a lot of fun because we as readers feel like we're in on the secret before the character is. Other times, if the twist is tragic, the heartbreak hurts a million times more with the knowledge of its looming threat. I start crying ten minutes into Atonement and Moulin Rouge (which some PubCrawl ladies can confirm beyond doubt) because I can't even pretend that things will be okay in the end. That luxury is taken away from me, just as it is given with the knowledge of happy, exciting twists.
But give me a twist that has nothing to do with anything, forcing me to abandon everything I've already learned, and then make me read the equivalent of the author patting themselves on the back for their wit and cunning, and you will not hear the end of my complaining.