Interview with Lena Coakley, author of <em>Witchlanders</em>
You may have noticed that our Book of the Month for March is Witchlanders by Lena Coakley (which you should ALL go out and pick up already!). So I figured we ought to get to know Lena a bit better.
WITCHLANDERS
High in their mountain covens, red witches pray to the Goddess, protecting the Witchlands by throwing the bones and foretelling the future. It's all a fake. At least, that's what Ryder thinks. He doubts the witches really deserve their tithes—one quarter of all the crops his village can produce. And even if they can predict the future, what danger is there to foretell, now that his people's old enemy, the Baen, has been defeated? But when a terrifying new magic threatens both his village and the coven, Ryder must confront the beautiful and silent witch who holds all the secrets. Everything he's ever believed about witches, the Baen, magic and about himself will change, when he discovers that the prophecies he's always scorned— Are about him.
[hr] 1. Welcome, Lena! And thanks for joining us. You've probably been asked this before, but I just have to know: When you started writing Witchlanders, what was the inspiration behind it? The story of how Witchlanders began is now officially lost to the sands of time.  What I thought happened was this:
While sitting at my desk one day in the offices of the Canadian Children's Book Centre (I was the secretary), an idea for a novel came to me out of the blue. The idea had a beginning, middle and end, and I was so excited about it that I called in the library coordinator, Hadley Dyer, and made her listen to the whole thing.
This is what Hadley says happened:
The idea for Witchlanders came to me in a dream that I related to her while we waited for the coffee machine one morning.
Either way, the following is true:
Hadley patiently listened to the whole garbled story in spite of having many better things to do.

Even though my idea had a beginning, middle and end, they weren't the same beginning, middle and end that Witchlanders ended up with. If I could go back in time and listen to the conversation between the young Hadley and Lena, I probably wouldn't recognize much of the story. I do remember that the climax involved someone riding a reanimated zombie horse, which, if you've read Witchlanders, does NOT occur.
The one thing that I DID tell Hadley was that the main character was a gruff, cynical farm boy. That boy was the one thing that stayed the same throughout the ten years of writing the novel, my main character, Ryder. 2. I guess we'll never know which of you is right, haha! In hindsight, do you wish you had done something differently with Witchlanders while writing it (minus cutting the reanimated zombie horse, of course)? Oh, the writing took so long! And I think that one of the reasons for that was that I kept rewriting the beginning bits instead of moving forward. I'm about a third of the way through my current WIP and I've just re-outlined. Now that I know what has to happen in the beginning, the temptation to go back is overwhelming—rewriting is so much easier than first-drafting!—but I know I will re-outline again after finishing the second third of the book and then again when I'm finished, so rewriting at this point is probably a waste of time. Polishing my work now will just make it harder to cut. 3. That's exactly what I'm struggling with right now—that urge to go back and rewrite the beginning gnaws at me constantly! And you know, I think you're absolutely right on how polishing stuff makes it harder to cut. Great advice! Are there people (like critique partners or beta readers) who help you stay on track and help polish your work when it is ready for a good shine? I love my writing group, which includes the wonderful Hadley Dyer, mentioned above, the playwright Paula Wing and the author Kathy Stinson. We've been together since April 2000 and we're still going strong. Hadley is now the executive children's editor at Harper Collins Canada, so I am in the very odd situation of having an editor see my early drafts! But she's very good about keeping her life at the office separate from our workshopping. 4. Lucky you! Hadley was an AMAZING teacher in my publishing program. Now... I NEED to know... Will there be a sequel? Not right away, I'm afraid.  I'd love to go back to the Witchlands someday and write something from the point of view of Falpian Caraxus, the secondary main character in Witchlanders.  Right now, though, I'm working on something entirely different. 5. Well, I'll be keeping my fingers crossed that a sequel does happen! And speaking of what you're working on now...Can you tell us a bit about it? Well, I think I can spill. My next work is tentatively titled The Worlds Below and is about the four Brontë siblings. The Brontës, including Charlotte Brontë who wrote Jane Eyre and Emily Brontë who wrote Wuthering Heights, were schooled mostly at home in a remote part of England during their teens. Spurred on by each other and by the remoteness of their situation, the four of them—three girls and one boy—invented imaginary worlds, which they wrote about in great detail. The premise of my book is that those worlds were real places that they had the ability to travel to—but for a price. I've now traveled to the Brontë parsonage twice in order to research the book, and the last time I went I even got permission to access the Brontë archives! In short: I am becoming a real Brontë nerd. 6. Oh WOW. That sounds INCREDIBLE! The Brontë siblings travelling to different worlds? Yes please! Now, if you could travel to any time and spend a night at the pub with 3 authors, who would it be and why (and how many of them would have the last name Brontë, I wonder)? I am sorry to say that if I was at a pub with three of my favourite authors I would be too shy to say a word. I know this because I recently sat next to the science fiction writer Robert Sawyer on a plane and I didn't say a thing. Not a thing! (He wrote the whole time, by the way, while I watched episodes of True Blood. This is why he has written twenty-two novels and I have written one.) Now, if I was pub crawling with the Brontë sisters they'd probably be even shyer than I, but interesting if I could draw them out. No offense to the sisters, though, I'm not sure they'd be my pick. I don't see how I could pass up having a drink with Oscar Wilde if I had a chance. He'd be so witty that I wouldn't have to say a word—I could just listen. The Brontës would have to rock, paper, scissors for who got to join us. 7. Speaking of having a drink, mix me a literary cocktail! What would make up your ideal book? Well, undiluted fantasy isn't for everyone but I can always drink it straight. However, my favourite book is probably One Hundred Years of Solitude, which I would call: One part magic, one part puzzle, one part family tragedy and a dash of philosophy. For me, it's the ideal book. Oooh! I'll join you for some undiluted fantasy! Thanks so much, Lena! [hr]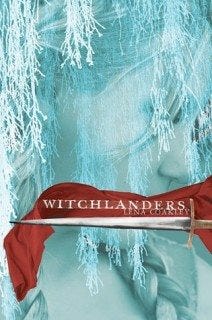 In honour of having Witchlanders as our Book of the Month, we're giving away a copy! And it's open internationally! Just leave a comment below telling us what imaginary world YOU would live in, and we'll contact the winner next week! a Rafflecopter giveaway [hr]

LENA COAKLEY is a full-time writer living in Toronto. Witchlanders, her first novel, has received three starred reviews and was called "one stunning teen debut" by Kirkus Reviews. It is a Junior Library Guild selection, an ABC new voices selection and an OLA Best Bet. She is also the author of two children's picture books and the former administrative director of CANSCAIP, the Canadian Society of Children's Authors, Illustrators and Performers.