Discover more from Pub(lishing) Crawl
All things reading, writing, books, and occasionally booze. Reading you under the table since 2012. This site now exists as an archive of all the posts and content from the original website.
Guest Post: Chandler Baker on Ghostwriting and 'The Big Reveal'
[box type="note"]Note from Erin: I'm incredibly excited to welcome author Chandler Baker (whose YA debut Alive hit shelves yesterday) to the blog. Chandler began her career ghostwriting middle grade books, which has allowed her to view the debut experience through a unique lens. I'll let her take things from here... [/box]
The Big Reveal: Writing under your own name after years of ghostwriting and ways to navigate the transition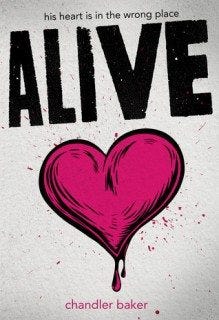 It's a not-so-dirty little secret that when my debut novel comes out this week, it won't be my first published book. Okay, it actually won't be my second or even my third published one, either, but it will still very much be my debut, in every sense of the word.
You see, up until this point, I've been what's known in the publishing industry as a "ghostwriter." As a ghostwriter, I've been hired by various companies to write novels under a name other than my own—sometimes writing books in an existing series while other times overhauling a manuscript turned in by another author.
But Alive will be the first book over which I had creative control and, most importantly, the first book that will have my own name printed on the cover.
Over the past several years, my professional writing experience has been something of a secret, but it's with excitement and maybe a little trepidation that I go into my publication day knowing that's all about to change. Launch day is going to be my big "coming out" party and I feel like a true debutante.
So, what's the verdict—does my past as a ghostwriter make the move to author-dom better or worse, easier or harder? Here are a few survival tips and observations I've made along the way for anyone taking--or thinking about taking--the same unconventional path to publication.
1. Ghostwriting lets you peek behind the publishing curtain before you get to the other side.
Let's face it: Sometimes the pursuit of publication can feel a little bit like you're trying to score a meeting with the Great and Terrible Wizard of Oz. Is the person on the other side of the veil really an all-knowing wizard or is it just a middle-aged man from Omaha? The answer: a little bit of both. No doubt, the publishing industry is an opaque one. Even after a book has sold, it can feel as though you, the author, can only see as far as the hand in front of your face. When can you expect your first edit letter? When do cover designs arrive? When do you see finished copies? Almost everyone is flying blind until they've been through the process from start to finish at least once. Ghostwriting offered me the opportunity to go through the whole process from draft to completed copies before I had to go through it with my own beloved book baby.
2. Ghostwriting is practice you get paid for.
One of the most wonderful and difficult things about being a ghostwriter is that it often requires juggling more than one deadline, all under tight turnarounds. I've had the opportunity to take some wonderful classes with some brilliant instructors, but writing for hire is more akin to boot camp. And the best part is you don't have to pay a dime for the opportunity. What it will require, though, is that you swiftly learn to leave your ego at the door. When ghostwriting, you aren't the owner of the idea or the intellectual property produced. You're only the one writing it. So when an editor asks for revisions on a shoestring timeframe, it generally behooves you to find a way to make them work! I found this can-do attitude has served me well in receiving my first few edit letters for my own books. When I opened my inbox to find an editorial letter for Alive that was 11 pages long, I didn't have any of the gut, hackles-raised reaction that I think is so natural when we receive any type of constructive criticism for our own work. I didn't panic. I just got to work. It was all part of the process and I already trusted it.
3. More creative control means more creative ownership.
It's easy to find a bit of distance from the reaction to your work when you're writing under a pseudonym. When your own name is on the cover, it's not so simple. At least that's what I'm learning. While I love all of the books I've worked on, I noticed that with ghostwritten books, I rarely felt the need to check reviews or gauge people's reaction to the story. So, imagine my surprise when all of the sudden I've turned into an incurable Goodreads addict. (Please, somebody stop me!) This is definitely an area where I know there's room for improvement. Now that my name is printed on the spine, it's more tempting to identify it as my work and to take criticism personally. But it's just as important as ever to create healthy boundaries.
4. Celebrate!
This one is easy and by far the best part of the transition. No feeling in the world compares to receiving completed copies with my name on the jacket. This time I get to share the joy of holding a book I've written in my hands with friends, family and fellow authors. I get to have a launch party. I get to sign books and meet readers and, believe me, I won't be taking a second of it for granted.
[hr]
CHANDLER BAKER is an author of Young Adult fiction and a practicing attorney. She graduated from the University of Pennsylvania and attended law school at the University of Texas in Austin, where she now lives with her husband. Chandler began her career as an author ghostwriting middle grade books, including three titles from the best-selling My Sister the Vampire series. Although she loves spinning tales with a touch of horror, she is a much bigger scaredy-cat than her stories lead you to believe. Alive is her debut novel. For more, visit chandlerbakerbooks.com.