Discover more from Pub(lishing) Crawl
All things reading, writing, books, and occasionally booze. Reading you under the table since 2012. This site now exists as an archive of all the posts and content from the original website.
FROZEN by Erin Bowman releases today!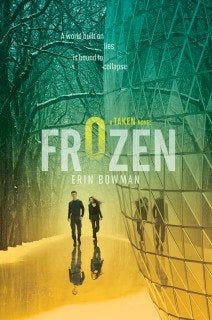 YAYYY!!! Today the sequel to Taken by our very own Erin Bowman releases! Alert: this book is called Frozen but is NOT the Disney Frozen. Although there are some definite similarities... Snow, for one. High stakes. The importance of family, loyalty, and love. Deception. More snow. Actually, Erin did a really cool comparison of her Frozen vs. Disney's. You should check it out. It will amuse fans of the movie AND the series. Or, you can just read this summary and find similarities on your own:
The heists were only the beginning. Gray Weathersby escaped from the primitive town of Claysoot expecting to find answers, but what he discovered shook him to the core: A ruthless dictator with absolute power. An army of young soldiers blinded by lies. And a growing rebellion determined to fight back. Now Gray has joined a team of rebels on a harsh, icy journey in search of allies who can help them set things right. But in a world built on lies, Gray must constantly question whether any ally—or enemy—is truly what they seem. . . .
Doesn't that make you want to read? It SHOULD. I have to say: so vast is my love for both Frozens I might've mashed them together last night. Sing it! YOU KNOW YOU WANT TO!
(Sung to the tune of "Do You Want to Build a Snowman?")
Do you wanna be a rebel? Do you wanna work with Gray? No more losing lives to forgeries. It's time to leave the east, So we can save the day! We used to all get Heisted, And now we don't Because we climbed a wall so HIIIIGH!
Do you wanna be a rebel? (You don't have to be a rebel...) Okay, bye...
So there you have it! That's my Disney/Bowman mashup, and I'm pretty proud of it. ;) (I might've listened to the Frozen soundtrack on repeat all day yesterday in preparation for those lyrics. You never can listen to "Love is an Open Door" too many times.) To celebrate the Frozen release, we're doing a giveaway! It's international, so ANYONE can sign up on the Rafflecopter form below. And CONGRATS, ERIN!!! We're all so excited for your latest book to be out in the world!! ♥ a Rafflecopter giveaway