Discover more from Pub(lishing) Crawl
All things reading, writing, books, and occasionally booze. Reading you under the table since 2012. This site now exists as an archive of all the posts and content from the original website.
FORGED Cover Reveal!
I still can't really believe I wrote a complete trilogy. Or that all three books now have covers! *pinches self*
Because I know you're going to scroll down immediately, let's jump straight to the artwork for Forged, the final installment in the Taken trilogy...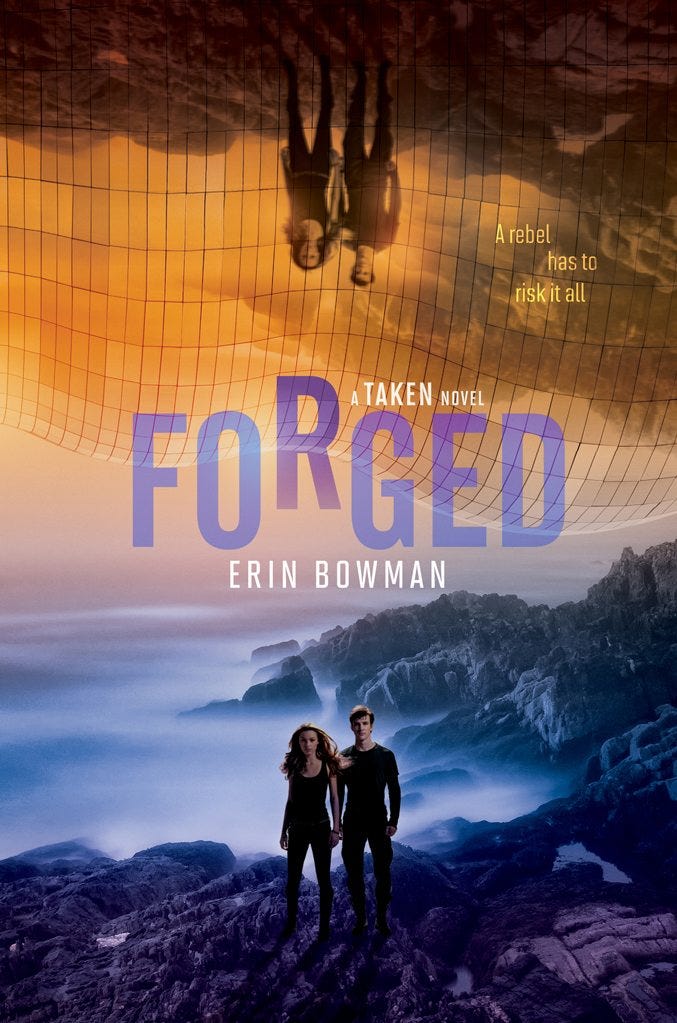 And here's the official flap copy (But fair warning--minor TAKEN + FROZEN spoilers ahead!):
THE TIME HAS COME TO MAKE A STAND.

Gray Weathersby and his group of rebels are determined to bring down the Franconian Order. But they may be too late. The Order is closer than ever to its ultimate goal—building an unstoppable army—and every generation of Forgeries is more sophisticated, harder to detect, and deadlier than the one before.

Now the rebels have joined forces with new allies, the Expats. But when even the most familiar faces can't be trusted, Gray will have to tread carefully if he wants to succeed—or survive.
Guys, this cover! I don't know how the folks at HarperTeen keep outdoing themselves, but I love this artwork just as much (if not more) than the first two. The orange to purple gradient. The misty scenery. The fact that the reflections are split for the first time ever, and that the models finally feel united, rather than walking slightly apart. *sighs contently*
And look at how pretty they are lined up together: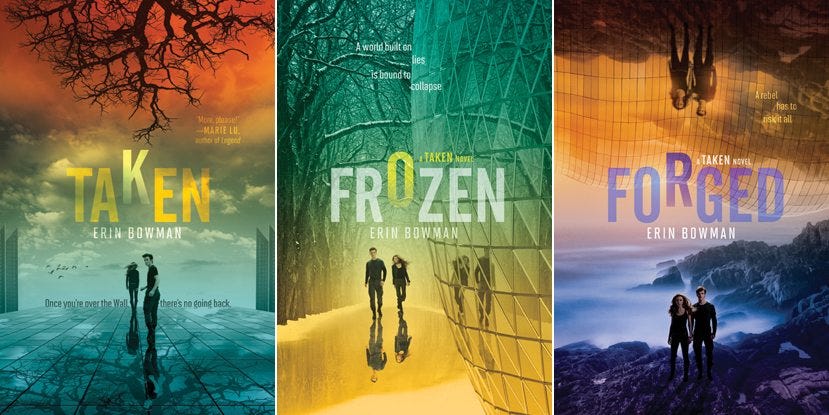 [hr]
And now, a quick Q&A! (No one's actually asked these questions. Not yet, at least. But knowing what sort of questions popped up after the cover reveal for books 1 and 2, I'm trying to plan ahead)
It's so pretty! When will it be in stores?! Right?! And April 14th, 2015. Pre-order links will be available in the coming weeks, once the HarperCollins catalog goes live. In the meantime, you can always add Forged to your Goodreads shelf!
Who designed it? The very talented Erin Fitzsimmons, who's been the brains behind Taken's and Frozen's covers as well. (She's also designed some of my favorite YA covers to date, such as House of Ivy & Sorrow, Tease, and Not a Drop to Drink.) If you love Forged's cover, you should go tell Erin on twitter.
Who's the girl on the cover—Emma or Bree? I get asked this question a lot, and my answer is always the same: It's whoever you want it to be! That's the magic of books and reader interpretation.
But in full disclosure: I've always seen Emma on Taken's cover and Bree on Frozen's, even though the model is the same across all three covers. (Fun fact: she has an Instagram!) I know exactly which character I see represented in Forged's artwork, but I worry people will assume whoever I name to be the outcome of the love triangle, so I'm keeping hush for now.
Elements on your covers always have significance to the story (the tree and city for Taken, the wintry landscape for Frozen). So what's with the mountains and mist? I'm not sure if Harper had the same intentions, but I actually don't see mountains when I look at Forged's cover. I see an island. A rugged island at early morning, with mist creeping in so that you can't see the ocean surrounding it. Without giving too much away, there is indeed an island that makes an appearance in Forged and is the site of some monumental developments (and action scenes!). If you feel like playing detective, said island is mentioned in one scene in Frozen.
Well, that's all for now. If you still have a question, leave a comment and I'll do my best to answer it.
[hr]
But before you go, I have to ask: What do you think of Forged's artwork? Fill out the widget below and share your cover reactions in the comments to be entered to win a signed ARC of Forged! The ARC will ship later this summer/fall (once I receive copies) and the giveaway is open to US mailing addresses only.