Discover more from Pub(lishing) Crawl
All things reading, writing, books, and occasionally booze. Reading you under the table since 2012. This site now exists as an archive of all the posts and content from the original website.
Cover Reveal! The Memory of Forgotten Things by Kat Zhang!
Hello PubCrawlers! I'm very excited to be hosting the cover reveal for fellow PubCrawl contributor (currently on hiatus,) Kat Zhang, whose new MG novel, The Memory of Forgotten Things, is due out from Aladdin in Spring/Summer 2018! I'm so excited for you all to see this gorgeous cover, not only because it's beautiful, but also because it so perfectly reflects the book inside. I had the opportunity to read an early draft of Memory, and it is amazing. It's possibly my favorite Kat Zhang book to date, and that's really saying something, because I'm a huge fan of everything she writes. So without further ado, let's get to the story and the cover!
First, the story. Here's the official summary:
One of the happiest memories twelve-year-old Sophia Wallace has is of her tenth birthday. Her mother made her a cake that year—and not a cake from a box-mix, but from scratch. She remembers the way the frosting tasted, the way the pink sugar roses dissolved on her tongue.
This memory, and a scant few others like it, is all Sophia has of her mother, so she keeps them close. She keeps them secret, too. Because as paltry as these memories are, she shouldn't have them at all.
The truth is, Sophia Wallace's mother died when she was six years old. But that isn't how she remembers it. Not always.
Sophia has never told anyone about her unusual memories—snapshots of a past that never happened. But everything changes when Sophia gets assigned a school research project on solar eclipses. She becomes convinced that the upcoming solar eclipse will grant her the opportunity to make her alternate life come true, to enter a world where her mother never died.
With the help of two misfit boys, she must figure out a way to bring her mother back to her—before the opportunity is lost forever.
Doesn't that sound compelling? I could go on and on about this beautiful book, but I know you are anxious to see the cover, so here it is!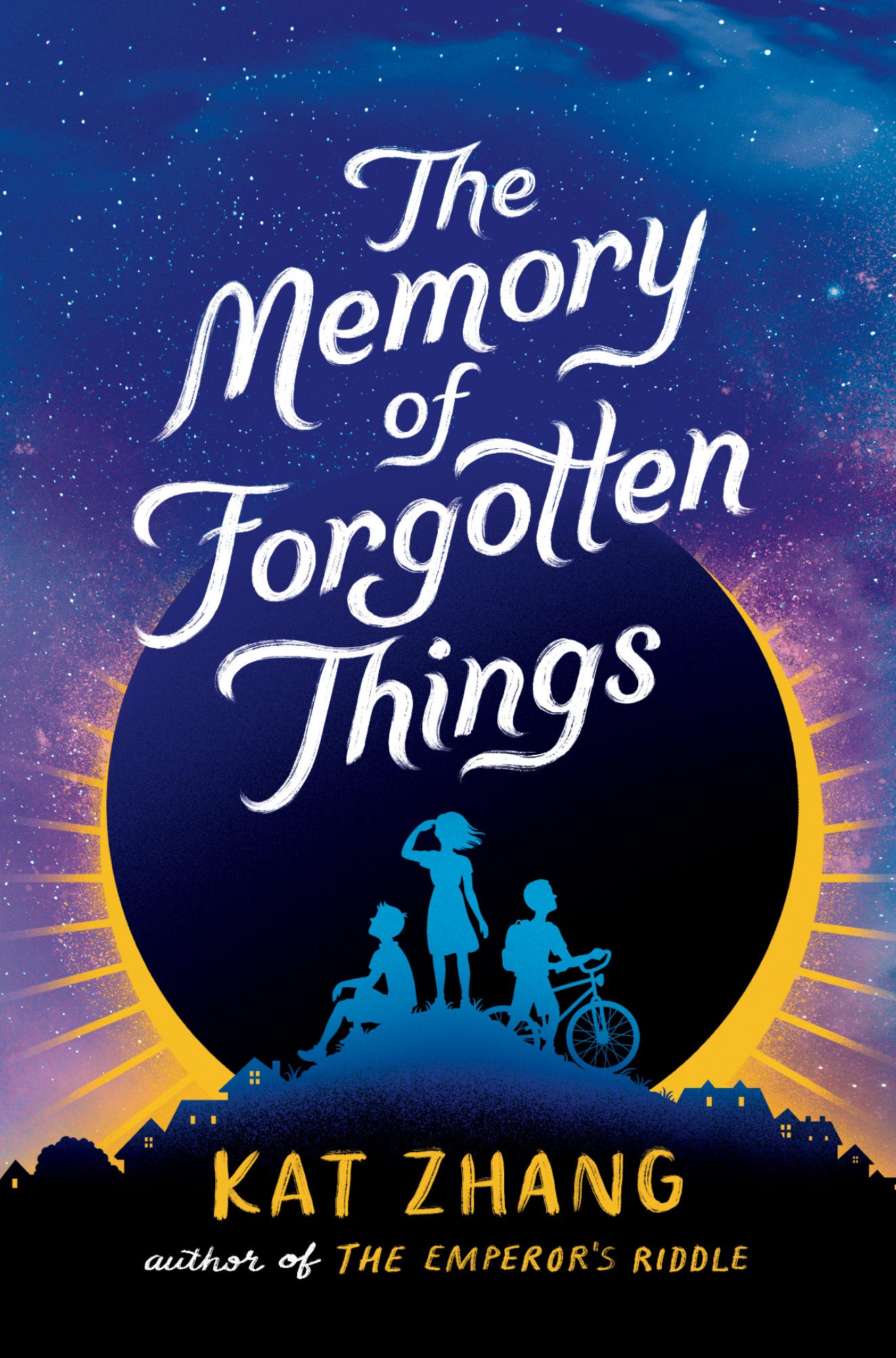 I can't wait for this book to be in the world! It is poignant and relatable--the kind of book that both breaks your heart and heals it, too. I can't recommend it highly enough.
Here's a little bit about Kat, for those of you who don't yet know her:
Kat Zhang loves traveling to places both real and fictional—the former have better souvenirs, but the latter allow for dragons, so it's a tough pick. A graduate of Vanderbilt University, she now spends her free time scribbling poetry, taking photographs, and climbing on top of things she shouldn't. You can learn about her travels, literary and otherwise, at KatZhangWriter.com.
On behalf of PubCrawl, I want to thank Kat for letting us reveal her cover. And as an extra bonus for our readers, Kat is giving away an ARC of The Memory of Forgotten Things! The winner will receive their prize as soon as ARCs are available, which should be in the next few months. So enter using the Rafflecopter below, and good luck to all!