Discover more from Pub(lishing) Crawl
All things reading, writing, books, and occasionally booze. Reading you under the table since 2012. This site now exists as an archive of all the posts and content from the original website.
<em>A Darkness Strange and Lovely</em> by Susan Dennard releases today!
So, today is a super, super, SUUUUPER awesome day because our very own Susan Dennard's AMAZING book, A Darkness Strange & Lovely, is finally out! As a BIG fan of Sooz's debut, Something Strange & Deadly, I can safely say two things: 1) Fans of the series will not be disappointed, and 2) A Darkness Strange & Lovely is EVEN BETTER than the first book. (...Lest you question my undying love for this book, just check out the cover.)
BUT before I dive into WHY you should grab this book (and before I mention details for the giveaway I'm hosting for it), here's a little bit about this spectacular sequel:
Darkness has come to the City of Light. . . .

With her brother dead and her mother on the verge of insanity, Eleanor Fitt is utterly alone. Even the Spirit-Hunters—Joseph, Jie, and the handsome, enigmatic Daniel—have fled to Paris. So when Eleanor begins to hear the vicious barking of hounds and see images of haunting yellow eyes, she fears the worst—that the Dead, and the necromancer Marcus, are coming for her.

To escape and search out the Spirit-Hunters, Eleanor boards a steamer bound for France. There she meets Oliver, a young man who claims to have known her brother. Though friendly, Oliver entices Eleanor with necromancy and black magic, yet as long as she can resist his powerful temptation, she'll be fine. But when she arrives in Paris, she finds that the Dead have taken over the city . . . and there's a whole new evil lurking. With the body count rising, Eleanor is forced to make a deadly decision that will go against everything the Spirit-Hunters stand for.

In Paris, there's a price for this darkness strange and lovely . . . and it may have Eleanor paying with her life.

In this spellbinding sequel to Something Strange and Deadly, Susan Dennard delivers a thrilling mix of intrigue, romance, and revenge, all set against the wonderfully enchanting backdrop of nineteenth-century Paris.
So, this book has everything (and I mean EVERYTHING) I love as a reader: vibrant characters (I love Daniel, but a certain new character has completely stolen my heart), badass action scenes, a fierce and cunning heroine, swoony romance (I had to fan myself at one point), and a compelling, painstakingly-researched world (I'm always so, so impressed by the amount of research & detail Sooz puts into her books).
But this book also has more than that—so, so much more. Eleanor's emotional journey is astounding—not just brilliantly written and paced, but also profoundly moving. There was a certain point near the end of this book when I was curled up on my couch, SOBBING. Legit SOBBING over this book (and I'm getting teary-eyed just thinking about that scene). So while it has swoony stuff and action scenes guaranteed to get your heart racing, all of those moments are beautifully tied together with the emotional core of this book—giving it wonderful depth. This is a truly special book—and a fabulous addition to this ridiculously awesome series.
[hr]
To celebrate A Darkness Strange & Lovely being out in stores, I'm giving away a copy today (Hardcover for the US/Canada; e-book edition for International winners), BUT you should totally grab a copy as soon as you can. And if the wait for Book 3 becomes too unbearable, you should just grab a copy of A Dawn Most Wicked—the prequel e-novella about (the very sexy) Daniel Sheridan. (Like ADS&L, A Dawn Most Wicked is equal parts romantic, action-packed, and emotionally compelling.)
And Sooz: You already know everything I want to say to you today, but just in case: I'm so thrilled for you and this amazing book, and I'm proud to call you my neural drift copilot.
[hr]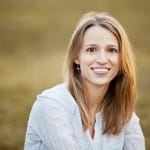 SUSAN DENNARD is a reader, writer, lover of animals, and eater of cookies. You can learn more about her on her blog or twitter. Her debut Something Strange and Deadly is now available from HarperTeen—as is the prequel, A Dawn Most Wicked. The sequel, A Darkness Strange and Lovely, releases TODAY!