Discover more from Pub(lishing) Crawl
All things reading, writing, books, and occasionally booze. Reading you under the table since 2012. This site now exists as an archive of all the posts and content from the original website.
5 Tips for Researching a Novel & Cover Reveal!
I, Susan, am a huge time travel dork. Like, I grew up on a steady diet of both time travel fiction and just straight science time travel books, so when I say that The Eighth Guardian is one of the BEST time travel books out there, I think I'm pretty qualified to make that assertion. ;)
Now, imagine my ABSOLUTE delight when the author of The Eighth Guardian, Meredith McCardle, asked if she could do a guest post + cover reveal on Pub(lishing) Crawl? Cue FREAK OUT!
And as if that wasn't awesome enough, Meredith and Amazon have been kind enough to donate a Kindle Paperwhite!!! So scroll down to enter that giveaway—and to check out the Blackout cover!
Now, onto Meredith's guest post!
[hr]
5 Tips for Researching Your Novel
1. Wikipedia is a great place to start, but it probably shouldn't be your only source.
Wikipedia is great for the small things—like figuring out who the candidates were in a gubernatorial election in the 1870s. But for the really big stuff, definitely branch outside of Wikipedia. In Blackout, one of the biggest missions that Iris goes on is to Washington during the height of the Cuban Missile Crisis. Wikipedia was great for giving me a basic timeline of the crisis—when the US discovered the missiles on Cuba, when President Kennedy addressed the nation, that sort of thing. But Wikipedia can't give you a feel for how terrifying it must have been to be living on the eastern seaboard of the United States in October 1962. It won't let you experience the protests that built outside of the White House every day. For that, you have to go deeper. These are some of my favorite sources for further research:
Museums and museum websites. There are museums for everything. Many times, you'll find they maintain really excellent websites with a lot of information and videos readily available.

Books! Good ole' fashioned history books, to be exact. I've made fast friends with my local librarians who are always willing to escort me to the right shelf or track down a book through inter-library loan if I need it.

There's a reason 90% of my Netflix suggestions are documentaries.
2. YouTube is a godsend.
You really can learn to do just about anything on YouTube. It's taught me how to pick a lock. It's taught me how to defend myself against both a knife attack and a gun in my face. You can also find a lot of documentaries on YouTube that aren't available on Netflix or Amazon Prime. Google Image Search is also a godsend. Not quite sure what a civil war-era rifle looks like? Want to know what a well-heeled Colonial woman wore? Google images! (But brace yourself because you never quite know what you're going to get. And do me a favor and never, ever, ever do an image search for gangrene. Trust me on that.)
3. For settings, primary research is best, but it's not a total necessity.
I set both The Eighth Guardian and Blackout primarily in Boston because I know that city very well. I lived there for several years. But there are scenes in the books that take place in New York City, Washington D.C., and Vermont, places I'm far less familiar with. And as much as I would love to research all the places I mention in my books specifically, it's not always logistically (or financially!) feasible. But I have friends who live in those places. I have Google Earth. I have access to all sorts of historic maps. As long as you spend the time researching the setting, you can skate by without buying a plane ticket.
4. When is it time to stop researching?
Have you ever fallen down a research hole? I know I have. The Kennedy assassination plays a huge role in The Eighth Guardian, and I'm sure you can imagine the sheer volume of information out there on it. I turned The Eighth Guardian in to my editor nearly two years ago, and had I attempted to read everything I could find on the assassination and all of its various conspiracy theories, there'd probably still be a stack of library books on my nightstand. And by probably, I mean definitely. So here's a good rule of thumb that I learned from my days as a lawyer: When you're running into the same information over and over again in different sources, you probably have a good enough base knowledge. Move on!
5. Keep your notes.
You'll need them when you revise. I am a huge fan of printing out every tiny little thing I find on the internet that might be useful. (I'm currently leaning over a full copy of the Geneva Convention in order to get to my keyboard). The papers will pile up on my desk, I'll scribble notes directly on them, and then once I have a complete first draft, I punch holes in the papers and stick them in a three-ring binder. It's kind of a pain to organize everything at once, but it makes life so much easier later on. And trust me, you'll use them later!
[hr]
Oh my gosh, having written historical with LOADS of research, I (Sooz) cannot emphasize #5 enough! I was so disorganized with all my research in book 1, and it made copyedits as well as sequel-writing a giant pain in the butt! So be organized and be fastidious!! Meredith's right that it will make life easier later on.
Now, the moment you've all been waiting for ;)—the cover for the second Anum Guard book, Blackout!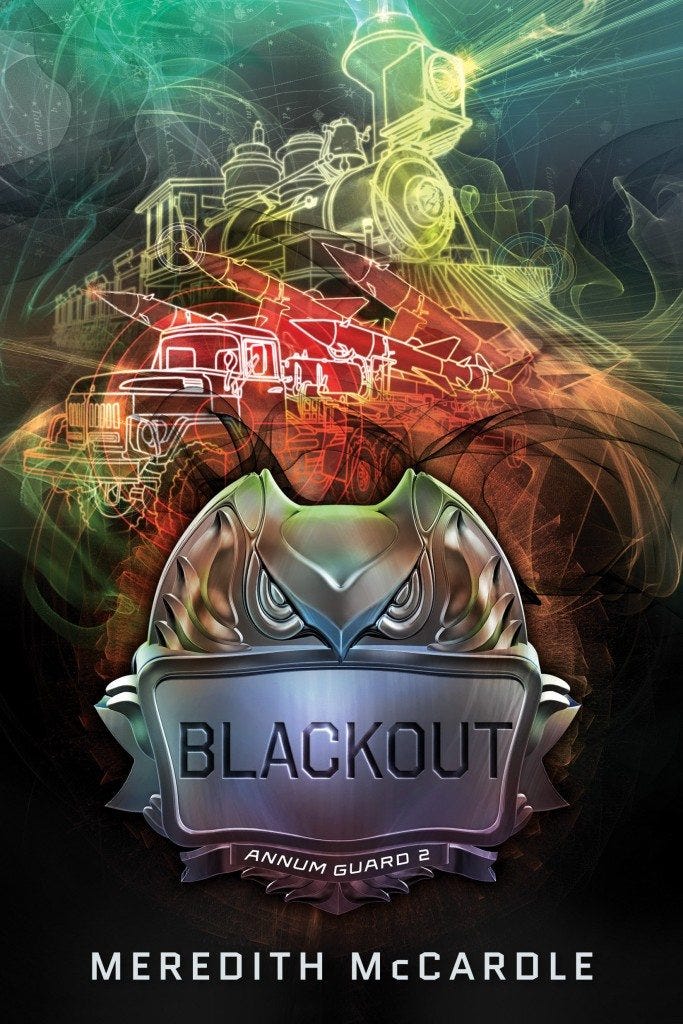 Seventeen-year-old Amanda Obermann (code name: Iris) has more on her mind than usual. As a member of a covert government organization called the Annum Guard, which travels through time to keep history on track, Iris has been getting some particularly stressful assignments. Plus, Jane Bonner, the Guard's iron-fisted new leader, seems determined to make life as hard as possible. Thankfully, Iris has Abe (code name: Blue), her boyfriend and fellow Guardian, who listens to her vent—and helps her cope with her mentally ill mother's increasingly erratic behavior.

When Guardians start to disappear on their assignments, Iris makes a terrifying discovery: a "blackout" squad is targeting anyone who gets in the way of a corrupt force that's selling out both the Annum Guard's missions and Guardian lives. Together, Iris and Blue must go undercover to untangle the Guard's elaborate web of secrets and lies. But when Iris discovers that the terrible truth may involve her own father, a former Guardian undone by his own greed, she must decide how much she's willing to risk to rescue her friends...and how dangerous the consequences will be for all of humanity.

A thrilling time-traveling adventure that spans from Abraham Lincoln's assassination to the Cuban Missile Crisis and back to the present day, this pulse-pounding sequel to The Eighth Guardian reveals that playing with time can turn into a deadly game.
[hr]
I have read Blackout, and I can honestly say it is just as good as The Eighth Guardian, if not more so. Meredith really takes the stakes up a notch, and aaah! SO much tension!! (I really love this series, if you can't tell.)
So, if you're interested in starting the series or reading an early copy of Blackout OR just getting a shiny new Kindle Paperwhite, be sure to fill out the Rafflecopter form below!
[hr]
MEREDITH MCCARDLE is a recovered lawyer who lives in South Florida with her husband and two young daughters. Like her main character, she has a fondness for strong coffee, comfortable pants, and jumping to the wrong conclusions. Unlike her main character, she cannot travel through time. Sadly. The first book in the Annum Guard series, The Eighth Guardian, was released in May of 2014 by Skyscape. The second title, Blackout, releases January 13, 2015. Learn more about Meredith on her website, Twitter, Facebook, or Tumblr.