Discover more from Pub(lishing) Crawl
All things reading, writing, books, and occasionally booze. Reading you under the table since 2012. This site now exists as an archive of all the posts and content from the original website.
Your Author Brand: What it is and why it's important
[box type="note"]Hi all! Julie here, with my special guest, book publicist Dana Kaye. Dana is here to share some advice from her new book, Your Book, Your Brand: The Step-By-Step Guide to Launching Your Book and Boosting Your Sales, which just launched yesterday. Congrats Dana, and thanks for being our guest today![/box]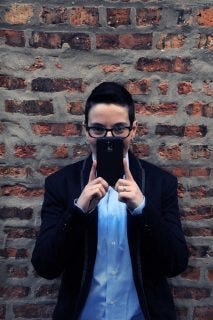 Almost every author I've met, whether they write literary fiction for a small press or category romances for Harlequin, has considered themselves an artist of some sort, and no one wants to equate selling their art to selling Kellogg's or Coca-Cola. They don't view their books as commercial products. But the purpose of branding is the same whether you're selling books or breakfast cereal: to let customers know what they're going to get before they buy. When you pick up a Coke, you know exactly what the soda is going to taste like. You know that the Lexus will have more luxury features than the Hyundai. When you pick up the latest Nora Roberts novel at the grocery store or a James Patterson book at the airport, you know what types of stories are within those pages. Known brands are comfortable, familiar, and comes with limited risk. In an increasingly crowded marketplace, your greatest challenge is to eliminate risk for the reader. While some readers are willing to take a chance on a new author or a book they've never heard of, most want a guarantee that the next book they pick up is worth their time and money. If you establish an author brand that clearly conveys the types of books you write, readers will be more likely to take a chance on your book instead of the latest bestseller or award-winner. Creating an author brand requires a seemingly straightforward formula:
You + Your Book = Your Author Brand
Your author brand is who you are and what you write. It's fairly simple, but the tricky part is filling in those blanks in a way that's meaningful and memorable. It has to be more than "I'm an ex-cop who writes mysteries." There are a lot of authors out there with the exact same brand. You have to think beyond your genre and subgenre, beyond your day job or previous occupation. You have to identify the unique themes in your book and the aspects of your background that tie into those themes. Let's go back to the James Patterson example. Yes, he's a former advertising exec, but that's not the primary aspect of his brand. I would argue that more people know him for "Patterson Inc." than his former career in advertising. They know him as the publishing powerhouse who comes up with dozens of story ideas a year and works with authors (in various capacities) to execute those ideas. His books are known for breakneck pacing and short chapters. And he keeps that brand consistent year to year, book to book. A few other examples of successful author brands: Mary Roach uses her interest in weird science and her sense of humor to create nonfiction books about little known aspects of our anatomy and physiology. Marcia Clark was the prosecutor on the O.J. Simpson case who writes legal thrillers. Dave Sedaris is a humorist and storyteller, known for his live performances and sardonic wit. Your first step is to create a list of all the themes, characters, and types of stories you write. If you're a debut author, it's simple, but if you have a deep backlist and write in a wide range of genres, it can be a bit trickier. Your goal is to find the common denominator. Your books may seem wildly different, but most authors I've met are drawn to certain types of stories and characters. Make a list for each book and highlight the common traits. Are your protagonists all women? Are they dealing with a haunted past? Are they all set in rural areas? Find the traits that run throughout your work and use that as a launching pad for your brand. Now, it's your turn! Make a list of all the aspects of your background. What's your job? What type of area do you live in? What did you go to school for? What are your hobbies? Are you a parent? Animal-lover? Once you have your list, highlight all the aspects of your background that relate to your book. For example, our author Margaret Mizushima writes mysteries set in Colorado that feature a working dog. The fact that she lives in Colorado and assists with her husband's veterinary practice is a key aspect to her brand. That's not ALL she does, of course, but the aspects of her background that don't relate to her books have no place in her author brand, and she can keep those private. Your author brand should inform all your promotional efforts. From your social media content to the types of events you attend, all should be a part of your branding message. This will reinforce the message of who you are and what you write. Soon, you'll see more and more readers recognizing your brand and new readers taking a chance on your books. I encourage you to do the exercises and share your author brand in the comments! Dana Kaye is the owner of Kaye Publicity,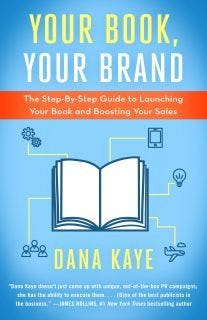 Inc. and author of Your Book, Your Brand: The Step-By-Step Guide to Launching Your Book and Boosting Your Sales. Known for her innovative ideas and knowledge of current trends, she frequently speaks on the topics of social media, branding, and publishing trends, and teaches online courses at KayePublicity.teachable.com.