Discover more from Pub(lishing) Crawl
All things reading, writing, books, and occasionally booze. Reading you under the table since 2012. This site now exists as an archive of all the posts and content from the original website.
Win critiques, books, and a 10-minute phone call with an agent!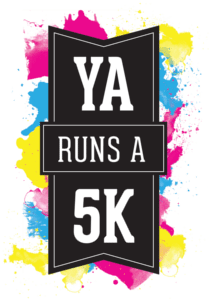 Hi everyone! In case you  missed hearing about the #YARunsA5K, I wanted to share all the details here. :) There is a LOT to be won (agent critiques, a Kindle, signed books, ARCs, and more! See the whole list here), and a lot of Pub(lishing) Crawlers are contributing to the giveaways (or running in our actual race!).
So what is #YARunsA5K?It's an effort to promote reading, to provide books for kids in low income families, and to get healthier while doing so, Melody Simpson (blogger on Hollywood the Write Way) and I (Sooz!) have decided to raise money for First Book and run with a team of authors, agents, bloggers, and readers in the Color Run 5K. The race is happening in Philadelphia on 7/19, and our goal is to raise $2000 by then. :) We're almost 1/4 of the way there already!
Guess what, though! If you're in Philadelphia, you can run with us too! The team is Misfits (Simpson), and if you DO join, be sure to let us know here. You get a Team Misfits t-shirt!!
In addition to a physical 5K meet-up for the Color Run, we're also hosting a Virtual Run! Virtual runners will get a virtual bib (that you can tweet, Facebook, Pin, whatever!) and can share their running progress with the #YARunsA5K hashtag! Learn more about the Virtual Run here. Now, a little about what this donation/fundraiser thing is all about. First Book is an organization that provides access to new books for children in need. To date, First Book has distributed more than 100 million books and educational resources to programs and schools serving children from low-income families throughout the United States and Canada. First Book is transforming the lives of children in need and elevating the quality of education by making new, high-quality books available on an ongoing basis. To donate to our First Book fundraiser, click here. If you donate $39 or less, you can enter a giant raffle! See the raffle prizes here! If you donate $40 or more, you automatically get a free book! (Yep, you read that right!) Once you've donated, scan the list of available titles and choose what you want. Then fill out this form or email us (yarunsa5k@gmail.com) to select your book. By donating financially to First Book, you can help us reach hundreds of children without access to books! We're also auctioning off books and critiques (our own Joanna Volpe donated a 10 minute phone call as well as a picture book critique!). Half of each auction's raised funds will go into funding our team t-shirts (until we cover that cost, of course!), and all extra proceeds will go to First Book. 

Additionally, if you can't donate financially (we TOTALLY understand), you can donate books, ARCs, or critiques! By donating physical items to our fundraiser, you can help us increase our donations! We're shooting for $2000 raised, and every item donated helps us get closer to that goal! Finally, if you run with us and BRING books, you can help us expand the collection at the Free Library of Philadelphia. We'll gather up all books brought to the Color Run on 7/19, and then we'll donate them to the Free Library after the race. So let's do it, guys!! Let's come together and RUN for healthiness, fun, and books! And help us spread the word using the #YARunsA5K hashtag and the link http://yarunsa5k.tumblr.com/about!! Thank you SOOOOO MUCH!