Discover more from Pub(lishing) Crawl
All things reading, writing, books, and occasionally booze. Reading you under the table since 2012. This site now exists as an archive of all the posts and content from the original website.
Who Can Recommend a Good Book?
I'm fascinated by lists of "recommended reading" - not only do such lists help us discover great books, but they also reveal quite a bit about the person who created the list. (For example, someone over at LibraryThing.com has cataloged the contents of Marilyn Monroe's personal library. Reading through the list reveals a lot about the private interests of such a public person.)
Recently, while searching for lists of "favorite books" or "recommended reading," I stumbled upon a very cool site—OpenCulture.com. Clearly, someone there enjoys reading lists as much as I do, because the site includes a fantastic sidebar titled "Reading Lists by..." Here you can find reading lists compiled by some well-known and fascinating people.
Reading over the lists, I noticed, with regret, a lack of diversity among the recommended books. Other than that common problem, however, I was surprised by how little overlap the lists contained. Below is a sampling of a few lists I found interesting. Others included on OpenCulture.com are by F Scott Fitzgerald, Allen Ginsberg, Christopher Hitchens, Joseph Brodsky, WH Auden, Donald Barthelme, and Carl Sagan.
[hr]

In an "ask me anything" feature on Reddit.com, popular astrophysicist Neil DeGrasse Tyson was asked, "Which books should be read by every single intelligent person on the planet?" The following list, along with short explanations of each choice, was his response:
 The Bible - "to learn that it's easier to be told by others what to think and believe than it is to think for yourself."

The System of the World by Isaac Newton – "to learn that the universe is a knowable place."

On the Origin of Species by Charles Darwin - "to learn of our kinship with all other life on Earth."

Gulliver's Travels by Jonathan Swift – "to learn, among other satirical lessons, that most of the time humans are Yahoos."

The Age of Reason by Thomas Paine  – "to learn how the power of rational thought is the primary source of freedom in the world."

The Wealth of Nations by Adam Smith - "to learn that capitalism is an economy of greed, a force of nature unto itself."

The Art of War by Sun Tsu - "to learn that the act of killing fellow humans can be raised to an art."

The Prince by Machiavelli - "to learn that people not in power will do all they can to acquire it, and people in power will do all they can to keep it."
Tyson clarified that he chose these books because, "If you read all of the above works you will glean profound insight into most of what has driven the history of the western world."
[hr]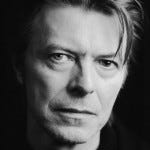 In 2013, the Victoria and Albert Museum in London created an exhibition called "David Bowie is..." The exhibition, a retrospective of Bowie's career and influence on the arts, is currently touring internationally, and includes a list of Bowie's 100 favorite books. Here's the (long) list (clearly influenced by his love of music):
The Age of American Unreason, Susan Jacoby, 2008

The Brief Wondrous Life of Oscar Wao, Junot Diaz, 2007

The Coast of Utopia (trilogy), Tom Stoppard, 2007

Teenage: The Creation of Youth 1875-1945, Jon Savage, 2007

Fingersmith, Sarah Waters, 2002

The Trial of Henry Kissinger, Christopher Hitchens, 2001

Mr. Wilson's Cabinet of Wonder, Lawrence Weschler, 1997

A People's Tragedy: The Russian Revolution 1890-1924, Orlando Figes, 1997

The Insult, Rupert Thomson, 1996

Wonder Boys, Michael Chabon, 1995

The Bird Artist, Howard Norman, 1994

Kafka Was The Rage: A Greenwich Village Memoir, Anatole Broyard, 1993

Beyond the Brillo Box: The Visual Arts in Post-Historical Perspective, Arthur C. Danto, 1992

Sexual Personae: Art and Decadence from Nefertiti to Emily Dickinson, Camille Paglia, 1990

David Bomberg, Richard Cork, 1988

Sweet Soul Music: Rhythm and Blues and the Southern Dream of Freedom, Peter Guralnick, 1986

The Songlines, Bruce Chatwin, 1986

Hawksmoor, Peter Ackroyd, 1985

Nowhere To Run: The Story of Soul Music, Gerri Hirshey, 1984

Nights at the Circus, Angela Carter, 1984

Money, Martin Amis, 1984

White Noise, Don DeLillo, 1984

Flaubert's Parrot, Julian Barnes, 1984

The Life and Times of Little Richard, Charles White, 1984

A People's History of the United States, Howard Zinn, 1980

A Confederacy of Dunces, John Kennedy Toole, 1980

Interviews with Francis Bacon, David Sylvester, 1980

Darkness at Noon, Arthur Koestler, 1980

Earthly Powers, Anthony Burgess, 1980

Raw (a 'graphix magazine') 1980-91

Viz (magazine) 1979 –

The Gnostic Gospels, Elaine Pagels, 1979

Metropolitan Life, Fran Lebowitz, 1978

In Between the Sheets, Ian McEwan, 1978

Writers at Work: The Paris Review Interviews, ed. Malcolm Cowley, 1977

The Origin of Consciousness in the Breakdown of the Bicameral Mind, Julian Jaynes, 1976

Tales of Beatnik Glory, Ed Saunders, 1975

Mystery Train, Greil Marcus, 1975

Selected Poems, Frank O'Hara, 1974

Before the Deluge: A Portrait of Berlin in the 1920s, Otto Friedrich, 1972

In Bluebeard's Castle : Some Notes Towards the Re-definition of Culture, George Steiner, 1971

Octobriana and the Russian Underground, Peter Sadecky, 1971

The Sound of the City: The Rise of Rock and Roll, Charlie Gillete, 1970

The Quest For Christa T, Christa Wolf, 1968

Awopbopaloobop Alopbamboom: The Golden Age of Rock, Nik Cohn, 1968

The Master and Margarita, Mikhail Bulgakov, 1967

Journey into the Whirlwind, Eugenia Ginzburg, 1967

Last Exit to Brooklyn, Hubert Selby Jr. , 1966

In Cold Blood, Truman Capote, 1965

City of Night, John Rechy, 1965

Herzog, Saul Bellow, 1964

Puckoon, Spike Milligan, 1963

The American Way of Death, Jessica Mitford, 1963

The Sailor Who Fell From Grace With The Sea, Yukio Mishima, 1963

The Fire Next Time, James Baldwin, 1963

A Clockwork Orange, Anthony Burgess, 1962

Inside the Whale and Other Essays, George Orwell, 1962

The Prime of Miss Jean Brodie, Muriel Spark, 1961

Private Eye (magazine) 1961 –

On Having No Head: Zen and the Rediscovery of the Obvious, Douglas Harding, 1961

Silence: Lectures and Writing, John Cage, 1961

Strange People, Frank Edwards, 1961

The Divided Self, R. D. Laing, 1960

All The Emperor's Horses, David Kidd,1960

Billy Liar, Keith Waterhouse, 1959

The Leopard, Giuseppe Di Lampedusa, 1958

On The Road, Jack Kerouac, 1957

The Hidden Persuaders, Vance Packard, 1957

Room at the Top, John Braine, 1957

A Grave for a Dolphin, Alberto Denti di Pirajno, 1956

The Outsider, Colin Wilson, 1956

Lolita, Vladimir Nabokov, 1955

Nineteen Eighty-Four, George Orwell, 1949

The Street, Ann Petry, 1946

Black Boy, Richard Wright, 1945
[hr]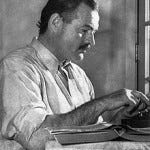 An aspiring writer named Arnold Samuelson traveled to Key West in 1934 and knocked on Ernest Hemingway's front door, seeking writing advice. During their conversation the following day, Hemingway asked Samuelson if he'd ever read Tolstoy's War and Peace. When he said he hadn't, Hemingway offered to write out a list of books he felt the aspiring writer ought to read. The list includes two short stories by Stephen Crane and 14 books:
"The Blue Hotel" by Stephen Crane

"The Open Boat" by Stephen Crane

Madame Bovary by Gustave Flaubert

Dubliners by James Joyce

The Red and the Black by Stendhal

Of Human Bondage by Somerset Maugham

Anna Karenina by Leo Tolstoy

War and Peace by Leo Tolstoy

Buddenbrooks by Thomas Mann

Hail and Farewell by George Moore

The Brothers Karamazov by Fyodor Dostoyevsky

The Oxford Book of English Verse

The Enormous Room by E.E. Cummings

Wuthering Heights by Emily Bronte

Far Away and Long Ago by W.H. Hudson

The American by Henry James
[hr]
And lastly, for those of you who believe that the task of comparing one book to another is too subjective, here's a brilliant quote from Virginia Woolf, from her 1925 essay, "How Should One Read a Book" :
The only advice … that one person can give another about reading is to take no advice, to follow your own instincts, to use your own reason, to come to your own conclusions. If this is agreed between us, then I feel at the liberty to put forward a few ideas and suggestions because you will not allow them to fetter that independence which is the most important quality that a reader can possess. After all, what laws can be laid down about books? The battle of Waterloo was certainly fought on a certain day; but is Hamlet a better play than Lear? Nobody can say. Each must decide that question for himself. To admit authorities, however heavily furred and gowned, into our libraries and let them tell us how to read, what to read, what value to place upon what we read, is to destroy the spirit of freedom which is the breath of those sanctuaries. Everywhere else we may be bound by laws and conventions — there we have none.
So what do you think? Do you enjoy book recommendations and lists of "Best Books"? Do you find any merit in the above lists? Do you agree with Virginia Woolf that we should not "admit authorities" to tell us "what to read"? Please share your thoughts in the comments!