Discover more from Pub(lishing) Crawl
All things reading, writing, books, and occasionally booze. Reading you under the table since 2012. This site now exists as an archive of all the posts and content from the original website.
WHAT'S LEFT OF ME releases TODAY!
Okay, I'm gonna be honest: writing today's post is really surreal. Like, super duper "Am I Dreaming?" kinda surreal.
Because our own Kat Zhang's What's Left of Me releases TODAY!
Kat's been with Pub Crawl since it was a little site called Let The Words Flow—since she was an aspiring writer with no agent or book deal...just a haunting, beautiful manuscript called Hybrid (...a manuscript that would later become What's Left of Me).
In the years that have passed since then, I think I've read about...five different drafts of What's Left of Me. And each time I read it, I was blown away by the voice, by the questions it raised, by the achingly lovely prose that made me just a *tad* jealous. The opening pages of Kat's book are still some of the strongest I've ever read. And rather than try to sum up the book on my own (because goodness knows I'm awful at summaries), here's the synopsis: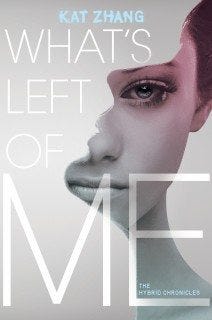 I should not exist. But I do.

Eva and Addie started out the same way as everyone else—two souls woven together in one body, taking turns controlling their movements as they learned how to walk, how to sing, how to dance. But as they grew, so did the worried whispers. Why aren't they settling? Why isn't one of them fading? The doctors ran tests, the neighbors shied away, and their parents begged for more time. Finally Addie was pronounced healthy and Eva was declared gone. Except, she wasn't . . .

For the past three years, Eva has clung to the remnants of her life. Only Addie knows she's still there, trapped inside their body. Then one day, they discover there may be a way for Eva to move again. The risks are unimaginable—hybrids are considered a threat to society, so if they are caught, Addie and Eva will be locked away with the others. And yet . . . for a chance to smile, to twirl, to speak, Eva will do anything.
Sounds awesome, right? Well, it IS. I'm sure some of you are thinking that I'm saying all these nice things about Kat's book because she's a good friend and Pub Crawl member, but... I truly did read this manuscript around five times. Sometimes with only an afternoon to read it. I would NEVER have done that if I didn't love this book 110%. I don't think I COULD have done it if I didn't absolutely adore this book.
Don't believe me? Well, MainStayPro (yes, the people who made those amazing Hunger Games shorts) loved Kat's book so much that they agreed to make the trailer for the book. (Confession: I kinda cried when I saw the trailer because it was EXACTLY how I'd always pictured Eva/Addie and her world.)
So, back to today being ridiculously surreal. It's surreal because I can walk into a bookstore and finally see What's Left of Me on shelves after so many years of waiting. It's surreal because the rest of the world can finally get a chance to fall in love with the book the way I did. They can read those opening pages and get chills the way I did the first time (and every time) I read the book.
In honor of WLoM releasing and because I love it so darn much, I'm giving away a copy! The contest is US-only and ends next Tuesday (September 25th)! Fill out the form below to enter! :)
[hr]
Kat: I think I can speak for everyone at Pub Crawl when I say that we are all immensely, immensely proud of you. You are such a brilliant, generous, and wonderful person, and we are HONORED to have you not only as a PC member, but also as a friend. Enjoy every moment of today—and the journey ahead! CONGRATS!!!!