Discover more from Pub(lishing) Crawl
All things reading, writing, books, and occasionally booze. Reading you under the table since 2012. This site now exists as an archive of all the posts and content from the original website.
What I've Learned by Writing a Trilogy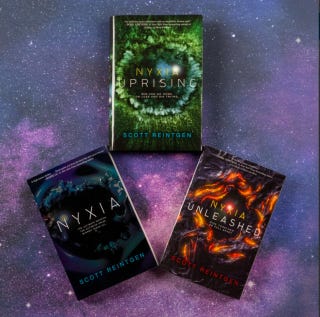 I've always been a sucker for a trilogy. It started with the countless Star Wars marathons my brothers and I watched together. From there, I'd pick up N.K. Jemisin's Broken Earth series and Pierce Brown's Red Rising trilogy. Genius compilations like Lilith's Brood and The Hunger Games and The Lord of the Rings.
They say good things come in threes. That includes my own breakthrough in the industry.
Back in 2014, Random House acquired Nyxia. That acquisition made sense to me. In my exceedingly unbiased opinion, it was a rather good book. What made less sense was the fact that they acquired not one but two unfinished books. I was given real money for something that I hadn't even bothered to make up yet!
As I close out the trilogy, I wanted to unpack the positives and negatives of my experience, including the current status of the trilogy in publishing, and what you can expect if you're contracted for a series. Here are six quick-hitting lessons from my experience:
The trilogy is a weapon. It just is. Standalone books don't allow you the same space to pull off what a trilogy can. A character you despise in book one has the time—the literal time on the page—to transition into a character you love. That's doable in any format, but an author is afforded more opportunity to reward their readers in a trilogy.

The trilogy is a flaw. It just is. Standalone books are named thus because they can stand alone. A trilogy does not operate that way. Your book one will be judged by your book two, as well as your book three. There are support forums dedicated solely to book two syndrome. Entire communities have rioted against book three finales that didn't meet expectations. That is one resounding hardship in writing a trilogy. No one notices how beautiful a scene in book one is if there's a scene in book two sporting a glaring pimple.

The trilogy is on the decline… right? You might have noticed a recent surge of duologies. Marie Lu's Warcross comes to mind. There's a general fatigue—in publishing and especially in Hollywood—with three-part stories. It's often difficult to guarantee that a readership will make it to the end. A trilogy presents more opportunities to bail. Maybe book one wasn't their bag. Or maybe book two didn't measure up. Or maybe it just took so long to come out that interest waned. Duologies ease that burden… but you might also have noticed that people are still writing trilogies. Publishers are still buying them. It serves as a welcome reminder: writing to a trend is foolish, but so is being entirely unaware of the current market.

The trilogy is a promise. You are promising your reader that you will see them to the end. I know this is controversial, and I know many an author has been attacked on social media for their unfinished products. I sympathize with them. It is difficult to write any It is even more difficult to write a book that must conclude something that is now beloved by a legion of readers. You should not be rude to these authors. But ultimately, I side with the readers. When you start a trilogy, you are making a promise.

The trilogy is a lie. This is one of the most helpful lessons I've learned. There's some sense of duty to write this flawless trio of books that flow seamlessly into one another… and yeah. Most trilogies don't. Of course certain themes echo. Certain ideas grow and blossom throughout. But many of the most successful series feel textually different from book to book. Maybe the first book is a horror and the second is a tragedy. You shouldn't neglect the promises you've made to the reader, but nor should you feel locked into the same dance in every book. That's a good way to let the steps go stale.

The trilogy requires a different marketing strategy. Not a complaint. Just a fact. Your first book will hopefully be marketed strongly. How else to introduce readers to a new series? It is only natural that publishers scale back on their efforts for the second and third book in a trilogy. There's often a belief that interest in the first book is what sells the rest of a series. I include this so that you're not taken aback when you don't get all of the same exciting emails for your sequel. It doesn't mean they don't love you. It doesn't mean it's not a great book. Often, it's just a standard marketing strategy within the industry (with some obvious and clear exceptions!).
I hope this advice is helpful. It's what I would have wanted to read right after signing my contract all those years ago. Today, Nyxia Uprising releases into the world. It is the third and final book in a debut series that has been described as Hunger Games in space.
Let me just say that I have seen all of the positives and all of the negatives that come with writing a trilogy. But I can honestly say that this is the way my series was supposed to go. Three books ended up being exactly right for me, for my characters, and for my readers. In spite of how the market shifted. In spite of what my internal doubts whispered.
I am honestly proud of this trilogy.
So rather than check Goodreads reviews today, or worry about my Amazon rankings, I'm going to step back and enjoy being done. I plan on taking my dog on a walk this morning. I'll snuggle up with my son to read some books. I'll take a moment to kiss my wife on the cheek.
Sounds like a great way to finish. After all, the best things come in threes.
Interested in checking out the Nyxia series? Find more info below:
https://www.penguinrandomhouse.com/series/NYX/the-nyxia-triad