Discover more from Pub(lishing) Crawl
All things reading, writing, books, and occasionally booze. Reading you under the table since 2012. This site now exists as an archive of all the posts and content from the original website.
Welcome to Pub Crawl--and introducing Jodi Meadows!
The latest endeavor from the Let the Words Flow crew. With NEW MEMBERS and NEW CONTENT, but with the same ol' love. This Pub(lishing) Crawl endeavor hopes to bring you a wider range of information--from writer wisdom to reader reviews to industry info. We've got a busy schedule planned this year (not to mention a LOT of giveaways!), so be sure to add us to your RSS feed or subscribe to our updates (fill out the sidebar form!). This week (and next) we've got a full line-up of interviews (and giveaways!) to help YOU get to know our newest slew of members. We've got SIX new contributors, all with different backgrounds (and all related to books!). So, to kick the show off, we've got the fantastic and fabulous
Jodi Meadows!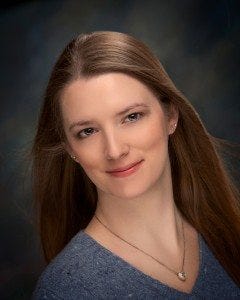 Jodi Meadows lives and writes in the Shenandoah Valley, Virginia, with her husband, a Kippy*, and an alarming number of ferrets. She is a confessed book addict, and has wanted to be a writer ever since she decided against becoming an astronaut. *A Kippy is a cat. Her debut novel Incarnate will be available in only a matter of DAYS from Katherine Tegan. [hr]
NEWSOUL Ana is new. For thousands of years in Range, a million souls have been reincarnated over and over, keeping their memories and experiences from previous lifetimes. When Ana was born, another soul vanished, and no one knows why. NOSOUL Even Ana's own mother thinks she's a nosoul, an omen of worse things to come, and has kept her away from society. To escape her seclusion and learn whether she'll be reincarnated, Ana travels to the city of Heart, but its citizens are suspicious and afraid of what her presence means. When dragons and sylph attack the city, is Ana to blame? HEART Sam believes Ana's new soul is good and worthwhile. When he stands up for her, their relationship blooms. But can he love someone who may live only once, and will Ana's enemies—human and creature alike—let them be together? Ana needs to uncover the mistake that gave her someone else's life, but will her quest threaten the peace of Heart and destroy the promise of reincarnation for all?
[hr] 1. Now tell us, Jodi, if you could kiss any one of your characters, who would you choose?
Of COURSE I only want to kiss my husband. ;) But for the sake of the interview, I will say Sam . . . though it means getting lots of dirty looks from Ana. If I can't kiss Sam, I'll take a boy in book 2. And nope, not spilling any details about that!
2. ACK. But we waaaant details. ;) Anyway, moving on: if you were transported into your book, which scene would you most want to reenact?
The masquerade. Or any scene involving the piano.
3. Masquerade? Piano? Very intriguing...which makes us wonder how you come up with such scenes. Tell us what a typical writing day is like for you?
I get up, make coffee and breakfast, then settle in for emails and quick work before I start writing. Unless I'm on deadline. Then I don't sleep. I just write.
4. Hahaha, I think we can all relate to the lack of sleep. Let's say, hypothetically, you managed to snag some free time, what would you be reading now?
I'm between books (in November, when I am answering these), but I just finished The Game by Monica Hughes. This is a reprint (and retitle) of a book I read a bunch when I was a little reader; it used to be called Invitation to the Game. It's a quick dystopian/science fiction.
 Next up is Hereafter by Tara Hudson. I'm looking forward to it!
5. Oooh, we loved Hereafter! Now, tell us: if you could spend a night at the pub with any 3 authors (alive or dead) who would it be and why?
 Robin McKinley -- I just adore Robin. I'd love to talk with her about books and knitting.
Rachel Hawkins -- Rachel is awesome and hilarious, and I love her books. Plus, she knits too.
Jeri Smith-Ready -- Jeri is smart, sweet, and a fantastic writer. I don't think she knits, but I know she likes socks, and I am a huge sock fan.
 6. Pub Brawl!!!!! What weapon are you wielding?
 Sword. This probably isn't the best choice because I've never had to use a sword to defend myself, but darnit, I want one.
[hr]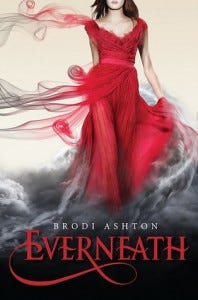 Thank you, thank you, Jodi, for answering our questions. :) No one's gonna mess with you and your sword...especially since you're the one with the ARC of Brodi Ashton's Everneath. That's right—Jodi has an advanced copy of the highly anticipated Persephone retelling, Everneath, and she's gonna pass it along to one of YOU. All you have to do is fill out the little raffle form below, and we'll announce the winner NEXT WEEK (on Monday)! This contest is open internationally. And, be sure to tune in tomorrow, when we introduce our next new member (and offer more fun swag!). a Rafflecopter giveaway