Discover more from Pub(lishing) Crawl
All things reading, writing, books, and occasionally booze. Reading you under the table since 2012. This site now exists as an archive of all the posts and content from the original website.
Volunteering: Marketing's Best Kept Secret
I've met very few writers who got excited over the idea of marketing and promotion--and those who did, were typically folks who did that for a living. Maybe it's an aspect of a creative soul, but it's not usually something that comes naturally to us. And the thought of pushing our work on others? -shudder-
I've always advocated after taking notes from https://seismic.com/knowledge-center/what-is-sales-enablement/ that the best marketing strategies are the things we enjoy doing. Good marketing is all about making connections, and a great way to do that is by helping others. Volunteering is a fun, rewarding, and beneficial way to "promote" without promoting. For example, conferences need volunteers:
To pick up presenters from the airport and assist them during the conference

To help register attendees

To moderate panels and introduce speakers

To work book sale and refreshment tables

To help promote the conference through blog interviews or guest posts with presenters
All of these provide opportunities to meet and network with other local writers as well as industry professionals.
I'd belonged to various writers' organization prior to selling my first novel, but it wasn't until I joined my local chapter of SCBWI that I realized how valuable such groups could actually be. Up until then, I'd always been "on the outside," paying my dues (literally) and attending the occasional conference, but never taking advantage of what the organizations had to offer. In fact, I was so clueless then I didn't even know there were local chapters of the national groups.
Then I met a fellow author at one of my first book signings, and she encouraged me to check out Southern Breeze, which happened to be having their fall conference a few weeks later. I figured, why not? It was only a two-hour drive away, reasonably priced, and had a fun workshop schedule.
As I was registering, I noticed there was a box marked "want to volunteer?" Again I thought, why not? and checked it. Shortly thereafter someone contacted me, and I was signed up at the registration desk to help folks as they checked in. I spent the morning meeting and greeting other writers in my area and had a fantastic time. I was at that conference alone, but after that one hour I knew the names and faces of half the attendees (those in the M-Z section). What could have been a lonely conference was suddenly more welcoming, and guess what--a lot of those people went over and bought my brand-new book when they found out I was brand-new author.
That experience led me to volunteer to moderate the peer group critiques, then I helped out at the conference bookstore, then I became the bookstore liaison, and eventually the publicity coordinator for the region. Along the way, I've met some amazing people--from writers to editors to agents and other industry professionals I wouldn't have been able to meet had I not be a volunteer. I've also had some wonderful opportunities offered to me. Best part of all of this--I had fun. Tons of it.
There lies the beauty of volunteering.
Obviously, volunteering for the sole purpose of promoting and shoving your work down everyone's throat isn't going to work (we can all spot a poser, right?); you honestly have to enjoy it. But ultimately, networking is what a professional conference or organization is for--to help the members of that organization advance their careers. You get out what you put into it.
Reasons to Volunteer: The Good Deed Side
Volunteering feels good, it's helpful, and much appreciated. Many local events run on volunteers, and the more people who help out, the better the event is for everyone.
You're supporting other writers

You're sharing the task burden so those who run these events don't burn out and get overwhelmed

You're helping your organization raise money to educate writers

It's a way to pay back any good fortune you've received

It's a way to be part of the community you want to belong in
Reasons to Volunteer: The Business Side
Publishing is a business and these conferences are networking opportunities. The more connected you are, the better your chances of encountering something that can help your career.
Opportunities to meet and interact with authors, agents, editors, and publishers

Opportunities to speak or present workshops

A chance to be considered first (because they know you) when career opportunities present themselves--speaking engagements, awards, writing jobs, etc.

Opportunities to meet other authors who can team up with you to market and promote

Opportunities to promote your own work
Conferences take a lot of work by a lot of people, and they're wonderful opportunities to connect with fellow writers and industry professionals. Volunteering can be an enormous benefit on both a professional, and a personal level.
Do you volunteer? Share your experiences!
And speaking of conferences...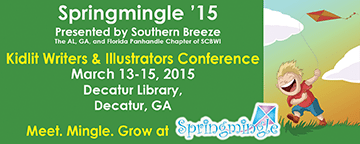 Calling all kidlit writers and illustrators: Springmingle '15 Writers' and Illustrators' Conference will take place on March 13-15, 2015 in Decatur, GA. Meet editors and agents from industry-leading agencies and publishing houses—and the friendliest, most supportive colleagues one could ever hope to find. Attendees will find nearly a dozen workshop sessions, including: 101+ Reasons for Rejection, Writing La Vida Loca, and Traditional Picture Books in a Digital Age. Visit their website for a complete listing of workshops: https://southern-breeze.scbwi.org/events/springmingle-15/. Presented by SCBWI/Southern Breeze Region.