VENGEANCE ROAD cover reveal
I am so excited to reveal the absolutely gorgeous cover for VENGEANCE ROAD, my historical fiction western YA novel coming out from HMH on September 1st. Because I know you're going to immediately scroll down to the cover, lets just get right to the good stuff!
 ...............
.......
...
.
.
.
.
.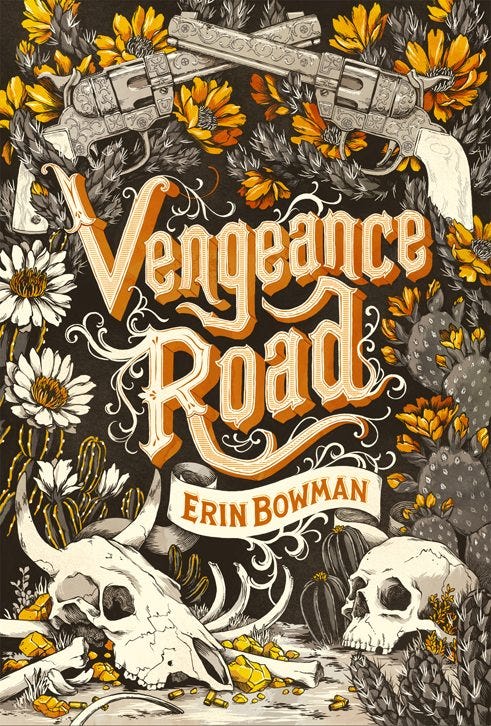 I don't have official jacket copy yet, but here's the short-and-sweet synopsis on retail sites:
When her father is killed by the notorious Rose Riders for a mysterious journal that reveals the secret location of a gold mine, eighteen year-old Kate Thompson disguises herself as a boy and takes to the gritty plains looking for answers--and justice. In the spirit of True Grit, acclaimed young adult novelist Erin Bowman brings to life the unpredictable and cutthroat days of the Wild West.
Guys, I am so in love with this cover. The Design team at HMH did a fantastic job brainstorming how to capture the atmosphere of Vengeance Road, and then the illustrator behind the artwork—Teagan White—hit it out of the park. From the pistols to the cactus to the skulls to the bits of gold, I could not imagine a more perfect cover for this book. It feels true to the time and setting (1877 Arizona), but still feels fresh and relevant to today's YA landscape. I had an absolute blast writing this book and am so excited for you to read it! Vengeance Road is radically different than the Taken trilogy, but if you like spitfire characters, gritty worlds, and a good revenge tale, I think you're going to love Kate's story. But don't take my word for it! Here's what other amazingly talented writers have had to say about Vengeance Road:
A story of grit, love, and deadly revenge that climbs off the page and into your heart—saddle up for a thrilling, harrowing ride!
—Alexandra Bracken, New York Times bestselling author of The Darkest Minds trilogy
Vengeance Road is a page-turning, unputdownable story of revenge. Bowman paints a thrilling, vivid picture of 1877 Arizona, and Kate is a heroine to be reckoned with.
—Jessica Spotswood, author of The Cahill Witch Chronicles
Gritty and honest, Vengeance Road captures the heart of the Wild West.
—Mindy McGinnis, author of Not a Drop to Drink
A take-no-prisoners heroine with a bloody debt to settle. I'm still breathing in the dust and hot Arizona sun.
—Megan Shepherd, author of The Madman's Daughter
Relentlessly readable, Vengeance Road is a perfect western. You won't be able to turn in until you get to the very last page!
—Saundra Mitchell, author of The Springsweet
Flinty and fierce, Kate is a formidable addition to the pantheon of tough young adult heroines. Her story and voice crackles to life.
—A.C. Gaughen, author of the Scarlet trilogy
Gold madness, a good-for-nothing posse, and frontier justice: Vengeance Road is everything you could want in a Western.
—Jodi Meadows, author of the Incarnate trilogy
This is the kind of book I'll re-read again and again.
—Susan Dennard, author of the Something Strange and Deadly series
If you feel so inclined to pre-order a copy of Vengeance Road, you can do so on most major retail sites: IndieBound | B&N | Amazon | Book Depository. You can also add Vengeance Road to your Goodreads shelf here. [hr] And because I'm feeling super grateful for the opportunity to put this story into the world—not to mention the gorgeous cover and the kind words from fellow authors—I'd like to give away an ARC of Vengeance Road to one lucky reader. This is US only (sorry, folks!), and the ARC will ship once I receive them from my publisher. Use the handy widget below to enter. a Rafflecopter giveaway