Tips from a NaNoWriMo Old Timer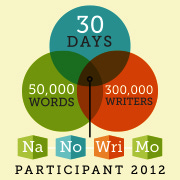 This is my third year doing NaNoWriMo, so maybe calling myself an "Old Timer" might be a bit of an exaggeration...but I DO feel qualified to give a few tips. First off, let's cover the basics:
Okay, now onto more specific tips. I've organized them by category—Productivity, Motivation, and Craft. If you have ANY to add, please, please, PLEASE mention them in the comments! I know I've forgotten things. :) Also, if you haven't yet, please add us Pub Crawlers as your NaNo buddy! Our usernames are all below (along with our word counts! Eek!).
Productivity Tips:
Motivation Tips:
Writing Craft Tips:
[hr] And now, if you haven't already, please enter the giveaway! Sarah J. Maas and I are giving away 2 5-page critiques to anyone who not only signs up for NaNo, but also WINS it! If you're signed up for NaNo, then go ahead and enter the raffle now. We'll check for winners come December. a Rafflecopter giveaway You tell me: What tips do YOU have for NaNoWriMo survival?