Discover more from Pub(lishing) Crawl
All things reading, writing, books, and occasionally booze. Reading you under the table since 2012. This site now exists as an archive of all the posts and content from the original website.
THIS SHATTERED WORLD release!!
I'm sure we have a lot of fans of These Broken Stars reading Pub Crawl, and you must all be as excited as I (Kat) am that This Shattered World releases today! Amie and Meagan have written a book that's somehow even more exciting and romantic than the first. I can't wait to see the fan work start pouring in for these characters, because Jubilee and Flynn are awesome.
Plus, just look at that cover!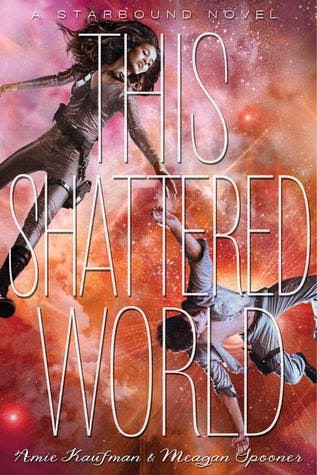 The second installment in the epic Starbound trilogy introduces a new pair of star-crossed lovers on two sides of a bloody war.

Jubilee Chase and Flynn Cormac should never have met.

Lee is captain of the forces sent to Avon to crush the terraformed planet's rebellious colonists, but she has her own reasons for hating the insurgents.

Rebellion is in Flynn's blood. Terraforming corporations make their fortune by recruiting colonists to make the inhospitable planets livable, with the promise of a better life for their children. But they never fulfilled their promise on Avon, and decades later, Flynn is leading the rebellion.

Desperate for any advantage in a bloody and unrelentingly war, Flynn does the only thing that makes sense when he and Lee cross paths: he returns to base with her as prisoner. But as his fellow rebels prepare to execute this tough-talking girl with nerves of steel, Flynn makes another choice that will change him forever. He and Lee escape the rebel base together, caught between two sides of a senseless war.
HUGE congrats to Meagan and Amie for the release of the second Starbound book. I, for one, am already dying for Book #3 ;) In the mean time, I'll just go read This Shattered World again...
[hr]
To celebrate the release, we'll be giving away one copy of This Shattered World (contest open internationally). It won't reach you by Christmas, but hey, we'll all need some reading material after the holidays :)