Discover more from Pub(lishing) Crawl
All things reading, writing, books, and occasionally booze. Reading you under the table since 2012. This site now exists as an archive of all the posts and content from the original website.
THESE BROKEN STARS Cover Reveal!
Hello, everyone! So, I am super, super, SUPER excited to announce that Pub Crawl is taking part of the official cover reveal for These Broken Stars! It's an amazing, amaaaazing YA sci-fi co-written by Meagan Spooner and our very own Amie Kaufman, and will be out December 10th from Disney-Hyperion. Confession: I'm a little obsessed with this book. I had the pleasure of reading two earlier drafts of it, and both times, I fell completely head-over-heels in love with the characters (especially Tarver! Yum.), the intricate and epic world, and just the overall brilliance, intensity, and magic of the story. Having gone from reading a very early draft while sitting in the waiting room at a doctor's office (one of the few times I DIDN'T mind an endless wait!) to biting my nails while it was on submission to cheering when the book sold at auction, I'm a little emotional to be a part of the cover reveal for this wonderful book. Because I'm fairly certain nobody wants to read a ten-page post  full of my blubbering and celebrating and shouting about my extreme love for Tarver, I'm just going to cut right to the good stuff: the cover reveal AND a giveaway of an ARC! (Fill out the form below to enter, US & Canada only!) ALSO: Be sure to check back later for an exclusive interview with cover designer Whitney Manger! Annnd without any further delay, here it is!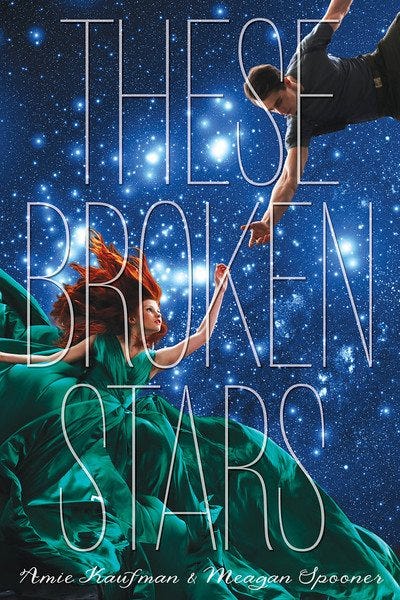 Title: These Broken Stars Publisher: Disney-Hyperion Genre: Young Adult Science Fiction Release Date: December 10, 2013 Add it on Goodreads! Pre-Order On Amazon.
Synopsis
It's a night like any other on board the Icarus. Then, catastrophe strikes: the massive luxury spaceliner is yanked out of hyperspace and plummets into the nearest planet. Lilac LaRoux and Tarver Merendsen survive. And they seem to be alone. Lilac is the daughter of the richest man in the universe. Tarver comes from nothing, a young war hero who learned long ago that girls like Lilac are more trouble than they're worth. But with only each other to rely on, Lilac and Tarver must work together, making a tortuous journey across the eerie, deserted terrain to seek help. Then, against all odds, Lilac and Tarver find a strange blessing in the tragedy that has thrown them into each other's arms. Without the hope of a future together in their own world, they begin to wonder—would they be better off staying here forever? Everything changes when they uncover the truth behind the chilling whispers that haunt their every step. Lilac and Tarver may find a way off this planet. But they won't be the same people who landed on it. The first in a sweeping science fiction trilogy, These Broken Stars is a timeless love story about hope and survival in the face of unthinkable odds.
Absolutely brilliant. This is the sci fi I've been waiting for! Action, romance, twists and turns--this book has it all!

Beth Revis, New York Times bestselling author of Across The Universe
[hr] Want to know more about this gorgeous cover? We've got cover designer extraordinaire Whitney Manger here to talk about her inspiration and her process when it came to designing the romantic, mysterious cover for These Broken Stars. Find out how you design a photo shoot to look like your models are weightless, without ever blasting off into space! Where do you start when it's time to design a cover? Do you get a chance to read the book? Do you consult with the editor? How do you pull together those first ideas? I always read the manuscript first. Always always always. I take notes as I read the manuscript, underlining descriptive phrases or passages that visually inspire me. I try to have read a chunk of the manuscript before I meet with the editor. During that first meeting with the editor, we discuss what kind of cover we want (conceptual vs. literal/scene, photographic vs. illustrated), and what we want the cover to convey—i.e. what kind of feeling or tone we want the cover to evoke. We'll also discuss comp titles and look at those covers—the books that it will be shelved with, the books that it will be compared to, in terms of genre, characters, plot. What also comes into play often during the discussion is anything from pop culture that is similar to the book—a movie, tv show. I also like to ask the editor if there is a particular famous actor or actress who would play the main characters in the book. I try to come away from that first meeting with 2 or 3 solid cover concepts to start designing/exploring. Tell us a little about the cover design for These Broken Stars! What choices did you make, and what did you want to convey? The cover design for TBS was actually the first concept that came to my mind, except the first few comps didn't have a boy. When I read the manuscript, I knew I wanted the cover to be terribly romantic and beautiful and haunting with some angst, to reflect the rich writing and storyline and the connection between Lilac and Tarver. I played around with a few other cover concepts and then eventually Emily and I arrived back at that first concept, of a woman in a beautiful dress falling through space. We decided to add Tarver to the cover for many reasons including the fact that the narrative is told from a dual perspective and to convey some visual tension and angst between the two characters on the cover. So, there was a photo shoot to create this goooorgeous cover! What was your favourite part of the shoot? The photo shoot was so so so cool. It was the first zero gravity photo shoot I have ever done. We worked with the incredibly talented Tom Corbett who photographed the models separately. We had the models try different ways of creating suspended gravity—falling off a tall ladder and jumping on a trampoline. We had crash pads in place and our stylist and some of the crew were kind enough to be spotters to safeguard against any potential crash landings! We hired a designer to create Lilac's beautiful green dress. She used yards and yards of sumptuous silky fabric which created amazing ripples of volume. In post production, I added lots of layers from different shots of the dress to create even more volume. Here at Pub Crawl we always love to ask: if you could share a drink with any three authors, living or dead, who would you choose? I love this question: Roald Dahl, Margaret Wise Brown, Laura Ingalls Wilder. Also if I can sneak in one more: Kate Chopin. Thank you so much for being here with us, Whitney! [hr] So, what do you guys think?! I, for one, freaking LOVE the cover! They pretty much nailed Lilac (and her glorious hair), and that dress! Gahhh. I think it's absolutely stunning and fits the book perfectly. Honestly, I'm a little jealous of whoever wins the ARC! Speaking of the giveaway, just fill out the form below to enter! a Rafflecopter giveaway ....Want more chances to win an ARC of These Broken Stars? Each of the following blogs have an ARC to give away, and more exclusive content!
[hr]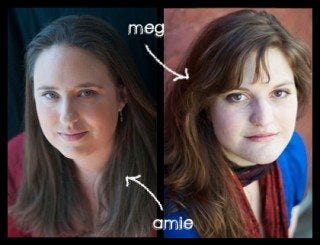 AMIE KAUFMAN and MEAGAN SPOONER are longtime friends and sometime flatmates who have traveled the world (but not yet the galaxy), covering every continent between them. They are sure outer space is only a matter of time. Meagan, who is also the author of the Skylark trilogy, currently lives just outside DC, while Amie lives in Melbourne, Australia. Although they currently live apart, they are united by their love of space opera, road trips, and second breakfasts.