<em>The Hundred Thousand Kingdoms</em> by N.K. Jemisin
I am not as I once was. They have done this to me, broken me open and torn out my heart. I do not know who I am anymore.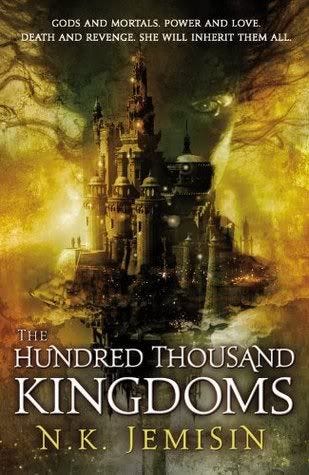 N.K. Jemisin's debut adult fantasy novel drew me in right from those first few lines. Here was a voice so incredibly strong and compelling; a voice that immediately evokes a mythologically epic feel. A voice that isn't burdened by too much flowery writing, and yet is at times beautifully lyrical.
This is a world of gods and mortals. A world vividly imagined.
And can we just take a second to talk about the absolutely GORGEOUS cover? It was the main reason I picked up the book. That cover is absolutely striking, and just screams epic. It also hints at the dark tones that underlie the entire novel.
The story follows 19 year old Yeine Darr, an outcast from the barbarian north. Summoned to the beautiful city of Sky—a city up in the clouds, suspended there by a thin pillar—Yeine finds herself an unwilling participant in a vicious and deadly power struggle. Because it is there that she is named a potential heiress to her estranged Arameri grandfather as ruler of the world. Now Yeine has no choice but to compete with two cousins for power she doesn't even want. And the city of Sky holds many other secrets: strange rooms, hobbled gods, and her family's blood-stained history.
Seeking the truth behind her mother's passing and surviving the battle with the other heirs for Arameri rulership are not the only things Yeine has to worry about. Because she has also caught the attention of the Enefadeh: four gods who are the Arameri's slaves.
Now, not only is Yeine's life in danger, but the fate of the world hangs in the balance—even the fate of the gods. Gods who plan to use Yeine for their own purposes. Gods who can easily level mountains and destroy whole armies, but instead act as playthings to the Arameri.
This isn't epic fantasy in the usual sense—you won't see hordes of great armies clashing together. There aren't multiple perspectives from multiple characters. Everything is from the point of view of Yeine, and the story centers around her, her family, and the gods. But it IS most certainly epic in feel, regardless of the lack of armies battling. This is a smart, unpredictable fantasy with a very distinctive voice.
The gods themselves are wonderfully complex characters—they're capricious, confusing, powerful (even when powerless), and terrifying. But they also have very human qualities, and there's a constant juxtaposition of their otherworldly godliness contrasted with their humanistic traits. Nahadoth, the Lord of Night, is no easy character to understand. Even Sieh, a god in a child's body, is not easy to understand (but he certainly was my favourite character).
And what's a story of family and gods and hate without a little bit of love? I loved that the romantic arc is different; it doesn't feel forced or cliche, and it doesn't take over the entire story.
Overall, this is a contemplative fantasy with a strong heroine, secrets, political intrigue, and love. With fantastic, well-thought out world-building, this is one title you shouldn't miss if you love to read fantasy. It's a fantastic adult fantasy that YA fantasy readers will enjoy.
The Hundred Thousand Kingdoms is definitely a must-read!
[hr]
And to keep in the vein of awesome adult fantasy that deals with estranged/evil family members, I'm giving away a copy of Among Others by Jo Walton!