Discover more from Pub(lishing) Crawl
All things reading, writing, books, and occasionally booze. Reading you under the table since 2012. This site now exists as an archive of all the posts and content from the original website.
The Bad Girls Club: Female Villains
As much as I enjoyed the Catwoman of Christopher Nolan's The Dark Knight Rises, I couldn't help but notice that, unlike most of the bad guys in Nolan's Batverse, she wasn't particularly scary. Admittedly, Catwoman isn't really a villainess. She's an adversary, and occasionally, a reluctant ally. (For more on Catwoman's backstory and the Kitty Conundrum, see here.) But Nolan specializes in endowing superhero situations with genuine danger and edge, so I hoped that an amoral thief with a fondness for guns might seem a little more menacing. [SPOILER: You'll notice that the other female antagonist also lacks any real scare-factor. By the time she has her finger on the button, we know Batman is going to save the day, so she's never tasked with real brutality. Threat level: meh.]
This got me pondering favorite female villains and I thought it was worth breaking them down...
The Caregivers
I don't think it's a coincidence that two of fiction's most memorable and terrifying female villains are nurses. For one thing, though they rarely get the respect or pay of doctors, they have a tremendous amount of power in a physically immediate and embarrassingly intimate way. Simply put, we are at our most helpless before them.
Annie Wilkes from Stephen King's
Misery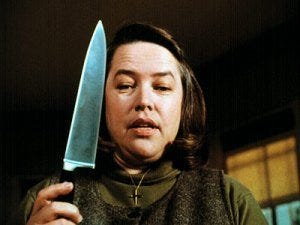 Annie starts out as someone to be mocked and indulged, a frumpy caregiver, an overzealous fan. She reveals layer after layer of darkness, becoming increasingly dangerous and hard to predict, each act exposing the full vulnerability of the protagonist. As far as I'm concerned, Annie is one of the most truly scary characters created on the page and brought to life on the screen. I think part of the reason is that her mission is so personal and not about something larger than herself or her own desires. Also, in the book and in the film, her physical strength feels real and grounded in the solidity of her body. That's not something we often see from female characters on screen. (One of my great frustrations with female action heroes—Korra and Linda Hamilton's Sarah Connor excepted— is that they really don't look like they could do much damage.)
Dolores Umbridge from J.K. Rowling's
Harry Potter
Series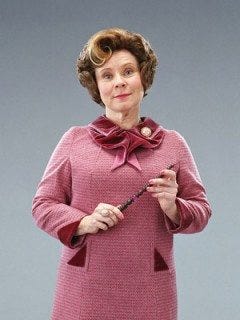 Umbridge isn't a nurse, but she most definitely belongs in this category: someone entrusted with the care of others who abuses that power. I think Umbridge is most fascinating when held up against Bellatrix LaStrange. Bellatrix is definitely EVIL—a murderer, a torturer, a fanatic. But I think she is simply much less real for readers than Umbridge with her little bows and her relentless, self-righteous cruelty. It amazes me how many people have stories of school administrators or teachers that remind them of Umbridge.
Nurse Ratched from Ken Kesey's
One Flew Over the Cuckoo's Nest
A little sadistic, a lot fascistic, Kesey's Ratched is more symbolic than Annie Wilkes—a 60s stereotype of the Powers That Be. Her power is bureaucratic, but Kesey also draws a direct line (through Billy Bibbit) between Ratched and the corruption of the maternal. Which brings me to...
Bad Muthas
Mrs. Coulter from Philip Pullman's
His Dark Materials
Series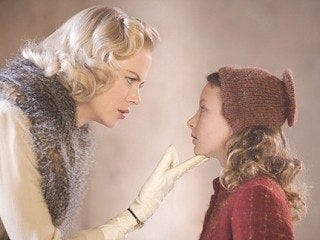 One of the most fascinating and understated monsters of fiction. Cold, controlled, and driven, I'd like to see her and Nurse Ratched in a stare-down. She is the Dr. Mengele of Pullman's novels, but what makes her most horrifying is that she saves Lyra from the procedure she has inflicted on countless other children—proving she knows just what she is doing and is less a true-believer than a creature of politics and pride.
Cersei Lannister from George R.R. Martin's
A Song of Ice and Fire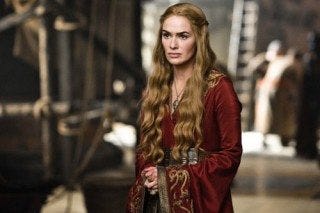 Beautiful, scheming, ruthless, Cersei is in many ways the wicked queen of so many fantasy tales. But Cersei is more compelling because her desire for power is firmly rooted in the realities of being female in a warrior culture. Cersei talks the Lannister superiority talk, but we are often reminded that she craves power because she truly understands powerlessness. She's one of the few truly hateable characters in Martin's series, and in a world of child murderers, rapists, and thugs, that's saying quite a lot. Despite all this, I'm not sure I've ever really been scared by Cersei.
The Grotesques
The fellas have the edge here, but there are exceptions...
Ursula from Disney's
The Little Mermaid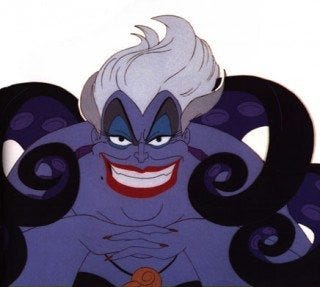 Her features were apparently modeled on Jack Nicholson, but her body is something remarkable to behold—heavy breasts, and a VERY physical, visible, scary bottom half. (For the record, Hans Christian Andersen's witch wasn't nearly so villainous, and tried to warn the little mermaid off her bad bargain instead of scheming against her. I love Disney's Little Mermaid, but it's one of the few Disney versions that I wish had divorced itself entirely from the original because it is so radically different in tone and message.)
The Grand High Witch from Roald Dahl's
The Witches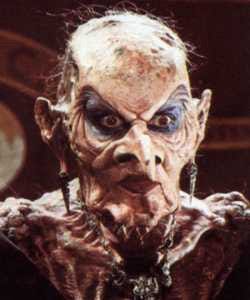 One of the many things I love about Roald Dahl is that he has an equal-opportunity policy when it comes to creating grotesques. Male or female, his baddies are spectacularly gross. His witches aren't just old ladies pretending to be young, they're demons pretending to be human. Toeless, hairless, claw-handed, the worst of them is the Grand High Witch who wears a mask to disguise her "worm eaten" face. More importantly, these witches are unapologetic child murderers. It's fairytale horror on a grand and modern scale.
Honorable Mentions
In preparation for this post, I went out to my fellow PubCrawlers for their most memorable female villains. Umbridge was the overwhelming favorite, but here are a few that deserve a shout as well:
Melisande Shahrizai from the Kushiel's Legacy series by Jaqueline Carey

The Marquess from Cat Valente's The Girl Who Circumnavigated Fairyland in a Ship of Her Own Making

The Lunar Queen from Marissa Meyer's Cinder

Queen Sia from Incarceron and Sapphique by Catherine Fisher

The White Witch from The Chronicles of Narnia by C.S. Lewis

Azula from The Last Airbender series

Caprica Six from Battlestar Galactica [Though, as Erin Bowman pointed out, like so many characters from BSG, Six isn't wholly bad or good. On a sidenote, if you haven't watched BSG, get on it, you layabouts!]
Do you have a favorite villainess to add to the club?