Discover more from Pub(lishing) Crawl
All things reading, writing, books, and occasionally booze. Reading you under the table since 2012. This site now exists as an archive of all the posts and content from the original website.
Space Camp: The Final Frontier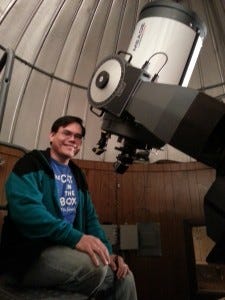 A couple of weeks ago, I was thrilled to participate in one of the most exciting and memorable things I've ever done: the Launch Pad Astronomy Workshop. Dubbed a "space camp for writers," it brings together established writers, editors, and creators for an intensive, week-long crash course in astronomy: basically a semester's worth of Astronomy 101 classes in  seven days. It was breathtaking (literally—it takes place in Laramie, Wyoming, about 7,100 feet above sea level), mind-blowing, and, most of all, inspiring. It was inspiring not only because of all the story ideas it generated and the opportunity to learn more about our incredible, mysterious universe, but because there's nothing like meeting and spending time with other writers and creative professionals. The 2014 class included authors, reviewers, editors, and television and film writers: Amy Sterling Casil, Geetanjali Dighe, Doug Farren,Susan Forest, Marc Halsey, Gabrielle Harbowy, Meg Howrey, Ann Leckie, William Ledbetter, Andrew Liptak, Malinda Lo, Sarah McCarry, James L. Sutter, Anne Toole, Todd Vandemark, and Lisa Yee. Our intrepid instructors were Mike Brotherton, Christian Ready, and Andria Schwortz, whose enthusiasm for their field was apparent and contagious. We were in class almost every day from 10 a.m. until well after 5 p.m., with some lab sessions and outings thrown in. So what sort of things did we learn? Just as an example, our Monday lectures included the Scales of the Universe, Units, the Solar System, Seasons and Lunar Phases, and Misconceptions about Astronomy. By Friday and Saturday we were discussing galaxies, quasars, and cosmology (including dark matter and dark energy). That's quite the learning curve! Most of us felt like our heads were full by the end, yet we were always eager to hear more.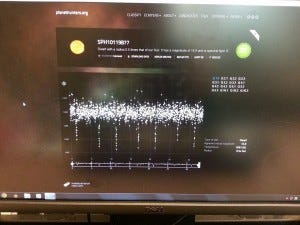 Yup. That is totally an exoplanet. I know I must have learned some of this stuff in elementary school (and forgotten most of it), but there have also been so many breakthroughs in astronomy since I was a kid (sorry, Pluto!), I was learning much of this for the first time — and I also had a new appreciation for the topic. Every class was a revelation. What made it even better was having the opportunity to see the science we were learning at work: analyzing the emission spectrum of different elements in the lab, searching for exoplanets at planethunters.org (warning — that site is addictive!), learning how those famous images of space are put together for the public, and visiting the University of Wyoming Infrared Observatory to photograph stars with a giant telescope. It was there, at the top of Jelm Mt., that I experienced the highlight of my week: viewing the Milky Way with the naked eye in a clear night sky. (It also looks very impressive in expensive night vision binoculars.) Returning home and looking up at night was depressing; the city lights blot out all but the brightest stars, and I can imagine that some people go their whole lives without seeing a sight like that.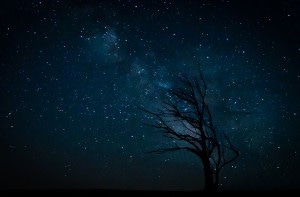 © 2014 Todd Vandemark People always ask writers, "Where do you get your ideas?" Look up. Look around you. Ideas are all around us! As a science fiction author who doesn't have a background in science, all too often I get distracted by fun concepts like time travel and parallel universes and faster-than-light space travel. It's so easy to forget just how fascinating and exciting actual science is and skimp on it in stories. Why make everything up when we have a whole galaxy to play with, and an even bigger universe full of weird and mind-boggling things? I've always enjoyed doing research for stories, but from now on I'm going to pay more attention to what's happening in astronomy and physics and the world and universe we live in — and hopefully the things I learn will inspire new stories, instead of the other way around. (Added bonus of the workshop: Now I actually understand those astronomy articles in Scientific American!)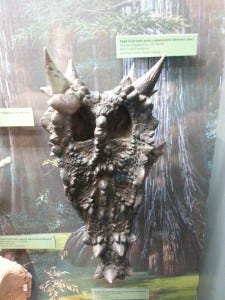 We also stopped by the Geological Museum at the University of Wyoming. I love dinosaurs. Meet Dracorex hogwartsia, "Dragon King of Hogwarts"! I want to continue learning about astronomy, and work real science into more of my fiction. It's important to keep "refilling your creative well," and Launch Pad was a great way to do that. If you're a science fiction writer, I encourage you to apply to next year's workshop, and I also encourage you to donate to keep the program going. It's a wonderful resource that is helping to get more people interested in science, and helping we writers to make our stories as scientifically plausible and accurate as we can. For other perspectives on this year's Launch Pad experience, read accounts from my awesome classmates and instructor: Gabrielle Harbowy Andrew Liptak Sarah McCarry Christian Ready Jenn Reese How about you? Would you go to Launch Pad? How do you refill your creative well?