Discover more from Pub(lishing) Crawl
All things reading, writing, books, and occasionally booze. Reading you under the table since 2012. This site now exists as an archive of all the posts and content from the original website.
Sherlock's Approach to Research
Early this year, the British Academy of Film and Television Arts launched its interview series, In Conversation, with Benedict Cumberbatch. (Good choice!) Something he said about how he researches a new role struck a chord with me:
"[Research is] a security blanket. Not all of it — very little of it ends up on screen, often. And it's just to take a little bit more possession of the extraordinariness of what I'm being asked to do. Because it's so far removed from my experience. It just gets me a little bit more... It just gives me a little bit more courage to pretend to be something I'm so far from."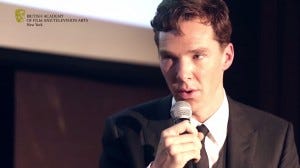 [Watch the quoted clip, or the whole interview, here. Video will play automatically in a new window.]
I literally couldn't have said it better, because I'm not Benedict Cumberbatch! But I feel the same way about novel research. Obviously, before you start writing about something you don't know much about, like say computer hacking — the topic of my next book, The Silence of Six — you have to find out more about it. But the tricky thing about research is you don't necessarily know what information you will need before you start outlining or writing the book. The natural solution is to learn everything you can, just like Sherlock, but as Cumberbatch said so sexily: most of that isn't going to end up on the page, and it shouldn't.
A "security blanket" is a perfect metaphor for the way I research, because I don't feel comfortable enough to start a new project until I've read a bit about it — even if I'm just going to be making things up. Research also gives me a better idea of the kinds of things I'll need to learn in more detail to make the book as authentic as possible, and the more I learn, the more ideas I have that will make the book even better.
My research usually starts off on the internet (where else?). I'll probably start by visiting Wikipedia and various websites to get a basic introduction to a particular topic. This usually leads me to books and movies and documentaries that they've referenced, which soon become my primary sources, and I'll start looking up fiction books on the same topic.
Some of my research books for The Silence of Six.
I know a lot of writers don't or can't read books similar to what they're writing, because they're worried about being influenced by them too much, but I find it helpful to see what's out there. They help me discover the right tone for my book. It's good to know how other writers have approached the same ideas, so I can avoid duplicating them and, maybe so I can try to do better. For instance, many technothrillers in film and print treat hacking like magic; a few minutes in front of a keyboard, and a hacker is deep in the Pentagon's most top secret files, when in reality, a hack of that magnitude would take months, or much longer. In fact, before many hackers try to break into a facility or system, they do research too!
Research is one of my favorite parts of writing. I love to learn new things, and since my school days are long behind me, researching new stories introduces me to all sorts of topics I wouldn't have found out about otherwise. Research can also be fun — it gives you "permission" to read a bunch of books and watch TV shows and movies, while still considering it a productive part of writing. I finally started watching the show Leverage as inspiration for some of the infiltration scenes in The Silence of Six. I got to read Michelle Gagnon's PERSEF0NE series and Robin Benway's Also Known As books for great examples of how to write computer scenes and tense, action-filled chases. I watched The Fifth Estate, starring Benedict Cumberbatch as Julian Assange (but sadly I can't recommend it, for reasons that have nothing to do with his performance). I also probably ended up on some NSA and FBI watchlists for Googling things like "How to hack into a Macbook," "How to hack a car," and how to do Google searches like that anonymously.
The danger of research is you can get a little too attached to that security blanket. There's so much to read and watch, you can feel like maybe you'll never be ready to start writing that book. You cram too much of your research into the book, so your editor starts giving you notes like, "It feels like there's a subplot about Wi-Fi." (All I can say about that is Wi-Fi is fascinating! And there are lots of ways to exploit it.) When research turns into procrastination, it's time to put those books aside and start writing, confident that you know enough to get through a first draft, and you can always do more focused research later when you need it. Just highlight the sections that need to be filled in on your manuscript (I like to mark them "TK"), and keep going. And try to avoid falling into another Wikipedia spiral as you look up those missing details!
I'm in this exciting research phase with my next project. All I'll tell you about it is that Mr. Penumbra's 24-Hour Bookstore by Robin Sloan, The Manual of Detection by Jedediah Berry, and The Lost by Sarah Beth Durst are on my reading list. I actually think these books aren't at all similar to what I want to write, and this project shouldn't need much research, but they're going to get my subconscious thinking about the story so when I do start writing, I'll feel ready.
Do you like researching your stories? How do you go about it? Do you like Benedict Cumberbatch?