Discover more from Pub(lishing) Crawl
All things reading, writing, books, and occasionally booze. Reading you under the table since 2012. This site now exists as an archive of all the posts and content from the original website.
<em>Shadow and Bone</em> by Leigh Bardugo
Shadow and Bone by our very own Leigh Bardugo releases today! In celebration, we're giving away a hardcover copy of the book, as well as sharing why we think you need to read it RIGHT NOW!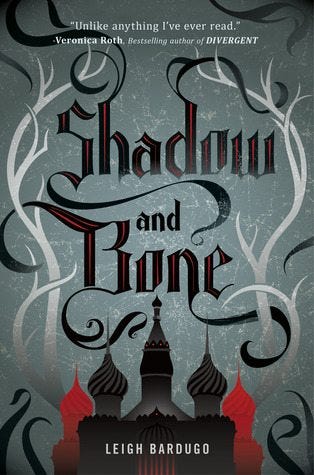 Surrounded by enemies, the once-great nation of Ravka has been torn in two by the Shadow Fold, a swath of near impenetrable darkness crawling with monsters who feast on human flesh. Now its fate may rest on the shoulders of one lonely refugee.

Alina Starkov has never been good at anything. But when her regiment is attacked on the Fold and her best friend is brutally injured, Alina reveals a dormant power that saves his life—a power that could be the key to setting her war-ravaged country free. Wrenched from everything she knows, Alina is whisked away to the royal court to be trained as a member of the Grisha, the magical elite led by the mysterious Darkling.  Yet nothing in this lavish world is what it seems. With darkness looming and an entire kingdom depending on her untamed power, Alina will have to confront the secrets of the Grisha…and the secrets of her heart.
[hr]
I fell in love with Shadow and Bone on the second page. No joke. By then, I'd already gotten a sense of the magnificent world Leigh had built, the rich backstory of her characters, and the hint of so many great things to come. The rest of the book did not let me down. I am a huge fan of categorial magic (i.e. when different characters have different skills/can control different elements/have varying level of power/etc/etc), and Shadow and Bone had that in spades. Each type of Grisha fascinated me—from the Corporalki, who could be Heartrenders or Healers, to the Etherealki, who could be Inferni or Squallers or Tidemakers.
Magic and ritual and custom run through Shadow and Bone, creating a world I could see and feel. The story of an orphan girl who grows up to have the power to save her world isn't a new one, but Leigh brings new life to it. I grew utterly attached to Alina, loving both her faults and her strengths. This is an amazing book, guys. I spent my reading time scribbling "OMG" and "SO MANY FEELINGS" in the margins. I heartily recommend it to all lovers of fantasy, and even to those who aren't.
[hr]
I read Shadow and Bone long before it'd been bound up into a gorgeous book, and I fell utterly and completely in love with it. I stayed up way, way past my bedtime reading it, and I'm pretty sure I just WEPT through the last fifty or so pages of the book. I was blown away by the world Leigh created—a world so vibrant and detailed that it honestly feels like it could exist somewhere in our universe.
Incredible world-building aside, the characters in the book are unforgettable—especially the Darkling. It's been no surprise to see people fangirling over him....He's delicious. And Mal...*sighhh* Oh, I love these characters so much!
In all honesty, I've read this book a few times now, and each time, I've gotten a major case of writing envy. Everything from the gorgeous prose to the dark and glittering world of the Grisha to the amazing characters made me absolutely green with author envy! Leigh is a major new talent to watch, and you'd be a fool not to pick up this book. I can't wait for Book Two!!!
[hr]