Discover more from Pub(lishing) Crawl
All things reading, writing, books, and occasionally booze. Reading you under the table since 2012. This site now exists as an archive of all the posts and content from the original website.
Phoenix Overture release day!
Today is the release day of our very own Jodi Meadows' novella, Phoenix Overture. Even before I read the novella itself, I loved that title, and now I can say I love the novella just as much! Novellas are tricky to write, and Phoenix Overture does such a great job of telling a self-contained story that, at the same time, allows readers a deeper look at the characters we already love. In this case, of course, I'm talking about Sam!
Oh, Sam. Baby Sam. Okay, so he's obviously not actually a baby in this novella, but he's worlds younger than the Sam we know from Incarnate and Asunder, and I found it fascinating to get to know this version of him. Jodi paints a character who is very much recognizable as the boy Ana falls in love with lifetimes later—but also one believably newer to the world.
Sam isn't the only familiar character who shows up—though for fear of spoilers, I'll let you read the novella to see who else makes an appearance ;) We also get to meet some characters who, while very important to Sam's life, don't play a role in the first two novels.
I loved getting to know the characters better, as well as getting tantalizing hints as to the history and origin of Ana and Sam's world. Not to mention—now I'm dying even more for Infinite!
To celebrate the release, I'm giving away a copy of the novella :D
Have the happiest of release days, Jodi!! <3 <3
[hr]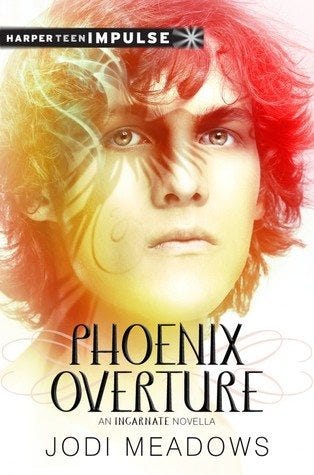 In the wilds around the Community where Sam and his family have taken shelter, life is dangerous. Dragons, trolls, centaurs, and other monsters fill the world. The word comes from the council that everyone must leave and journey to rescue their leader, Janan, who has been abducted by a mysterious new enemy in the north. Faced with overwhelming threats that bring death and destruction, Sam and the others reach the northern Range and, reunited with Janan, are given an unimaginable opportunity. Although it would give them the privilege to live and learn and love without fear, the choice is not without its own dire consequences. And lives—though not theirs—are sure to be lost. Just how much are they willing to give up to save themselves?