Pay It Forward: Mentors
Hello, everyone! In case you missed it yesterday, we have a slightly different week for you--a week of paying forward all the many blessings we here at Pub(lishing) Crawl have had. A week of talking about who and what we're grateful for--and a week of giving back.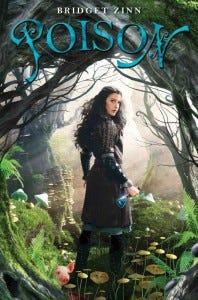 The idea came about after we heard about a book called Poison by Bridget Zinn. We we so, so, so inspired and moved by her story--and by what her husband is doing for her--that we just had to participate. For those of you who haven't heard about Bridget or her book, she was a librarian and writer who finally reached her dream of publication. But she passed away last year without getting to see her book release. Her final, beautiful tweet to the world was, "Sunshine and a brand new book. Perfect." Many of us here at Pub(lishing) Crawl cried and cried after reading Bridget's story--and we all realized how very, very blessed we are. We thought the best way to count our blessings would be to give some back. So today, JJ has a VERY generous critique giveaway to go along with her post thanking role models and mentors. But first, a bit about Bridget's book Poison:
Sixteen-year-old Kyra, a highly-skilled potions master, is the only one who knows her kingdom is on the verge of destruction—which means she's the only one who can save it. Faced with no other choice, Kyra decides to do what she does best: poison the kingdom's future ruler, who also happens to be her former best friend.
But, for the first time ever, her poisoned dart…misses.
Now a fugitive instead of a hero, Kyra is caught in a game of hide-and-seek with the king's army and her potioner ex-boyfriend, Hal. At least she's not alone. She's armed with her vital potions, a too-cute pig, and Fred, the charming adventurer she can't stop thinking about. Kyra is determined to get herself a second chance (at murder), but will she be able to find and defeat the princess before Hal and the army find her?
If you want to help spread the word, please head here fore more information or simply tweet/Facebook/whatever about it. It releases TODAY! So in addition to JJ's fabulous giveaway, we're also giving away a copy of POISON. Be sure to enter the giveaways below and help spread a little bit of sunshine in the world while you're at it! ♥ [hr]
When we think about "inspiration", we often thing of things: books, places, objects--items of such magnetic power and attraction that they draw us out of our normal sphere and into the world of imagination and possibility. But sometimes we forget that "inspiration" can also be people, from role models to mentors.
Role models can be a huge help in one's life path, but for me, no one is more inspiring than a mentor. A mentor will take an active, personal stake in your career, and knowing that someone is invested in your success can often take you to greater heights.
Writing can be a solitary pursuit, and often we are left to our own devices. With no mirror, no echo chamber, no way to compare, contrast, and grow, your career can lie stagnant and never fully develop and fulfill its potential. This is where a mentor can be useful--more than useful, enlightening.
Unlike critique partners or beta readers, who are often your peers or colleagues, a mentor by nature is in a position of "authority". Generally someone who has more years of experience, someone who can "pass down" hard-earned knowledge that will broaden and deepen your understanding of just what you're getting into. And unlike a teacher or boss, the flow of support and information flows both ways, from mentor to mentee and also from mentee to mentor. Teachers can be mentors, of course, but the mentor-mentee relationship goes beyond that of the classroom, and is perhaps slightly more akin to that of a coach. Someone who knows your flaws and pushes you to be better. Someone who will go to bat for you when an unforeseen misfortune strikes. And someone for whom you would do the same.
In my own life, I have been blessed with a multitude of various mentors, from my skydiving coaches to editors who have decided to take me under their respective wings. As an editor, two mentors in particular come to mind: my friend and former roommate, Kelly Riley, and Al Zuckerman, agent and Chairman of Writers House.
I first met Kelly when I was still working in corporate America. We had a few mutual friends who wrote, and we decided to form a writing group. At that time, Kelly was working at Writers House, and of all of us in this particular writing group, she was the best editor. She had a degree in Writing from Ithaca College and while we all had some college workshopping experience, Kelly brought a broader view to our writing. She taught us to look at writing from the outside in and to see the bigger picture. So often, when we edit or revise, we're focused on the small things: the sentence flow, the tiny character quirks, etc. We sometimes fail to see how these things fit into the larger scheme of things, not just within the context of a short story or a novel, but within society and the world at large.
Kelly was instrumental in getting me into publishing. She had often asked if I considered working in publishing, and while reading, writing, and editing thrilled me, I was hesitant to leave my cushy finance job. When my job security went the way of the economy in 2008, her connections and her championing of me and my skills got me my internship at Writers House, which is where I met Al.
Al is a wonderful, old school sort of agent, one who is hands-on with his clients. He was a playwright before he became an agent, and understood both as a writer and an agent how a book works as a whole. I had the privilege of being his intern, and moreover, I had the privilege to actually sit down and edit. I didn't do much photocopying or coffee-fetching as his intern; instead, I read his manuscripts and wrote him reader's reports and editorial letters. We talked about the projects I had read for him, and he challenged and helped me see things in a different way. Soon, he felt comfortable enough to have me send his clients edit notes myself, and frequently took me out to lunch to mentor me in a different way: about my career path. We talked about my options, my career strategy, etc. I had a wonderful relationship with Al, it was through Al that I managed to find a position as an editor at St. Martin's Press.
How to find a mentor? If you've been as fortunate as me, they sometimes just fall in your lap. But more often than not, finding a mentor takes a little work. Join writing groups, message boards, writing classes, go to author events, go to any event at all--these are all hidden, untapped resources where you can find a mentor. And to find a mentee.
In honor of this week's theme, I am giving away a partial critique of the first 50 pages of a manuscript. But in addition to the critique, I will providing an editorial letter that details just how to approach revision and editing, rather than giving just specific notes.
a Rafflecopter giveaway a Rafflecopter giveaway [hr]
Bridget Zinn's first YA novel, POISON, releases this week from Hyperion! Bridget died from cancer in May 2011 at the age of 33, but now--nearly four years to the day from her diagnosis--her novel is at last reaching readers. On her behalf, her friends and family (and now us! Total strangers!) want to celebrate her accomplishment and help get her book into the hands of readers. Please help us spread the word about POISON and give thanks for all our many blessings.