Discover more from Pub(lishing) Crawl
All things reading, writing, books, and occasionally booze. Reading you under the table since 2012. This site now exists as an archive of all the posts and content from the original website.
Parched Cover Reveal and Giveaway!
Do we have a treat for you! Today we have Melanie Crowder, author of Parched, visiting! And more than that, we 're beyond excited to be sharing the cover of Parched with you for the very first time! Can we go even further than that? YES WE CAN! Today we're also featuring the very first giveaway of a PARCHED ARC! What's that? Permission to run in circles and squeal? Permission granted, people. Permission granted. Here we go!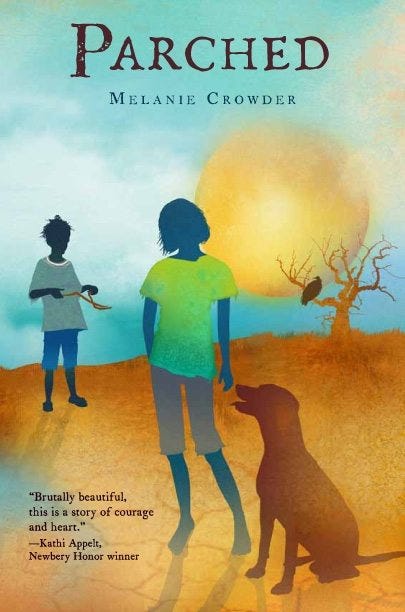 Isn't it outrageously beautiful? I mean, where do you start? The cover artist is the amazing Stephanie Dalton Cowan—just click her name to see more of her work. Don't you want to frame her stuff and put it up on your walls? We do! Here's a little about Parched:
A mesmerizing debut about a girl, a boy, and a dog struggling to survive in a parched and barren land. Sarel is a girl with secrets. She knows which tree roots reach down deep to pools of precious water. But now she must learn how to keep herself and her dogs alive. Nandi is the leader of those dogs. She knows they can't last long without water—and she knows, too, that a boy is coming; a boy with the water song inside him. Musa is that boy. His talent for finding water got him kidnapped by brutal men, yet he's escaped, running away across the thirsty land that nearly claims his life. And so Sarel, Musa, and the dogs come together in what might be their last hope of survival.
And here's what people are saying about it!
A thrilling, imaginative soul quencher. Crowder's stunning debut is sure to become a modern classic.
—Rita Williams-Garcia, Newbery Honor winner
Spare, unflinching, and beautifully written, this novel walks the line between magic and reality.
—Franny Billingsley, National Book Award finalist
Brutally beautiful, this is a story of courage and heart.
—Kathi Appelt, Newbery Honor winner
The story behind Parched is a fascinating one—the book was originally a part of Melanie's MFA, and today she's going to tell us about how it made the hop from college to published novel! At the bottom of this post, we're giving away an ARC of Parched to one lucky reader! Here's Melanie! [hr] A few years ago, I made the decision to take my writing seriously. So I applied to the best MFA program in Writing for Children and Young Adults and got to work. The experience was humbling and TOUGH and incredibly rewarding. I emerged two years later with a degree, a draft of a middle grade novel and an award that put the first few chapters of Parched into the hands of the editorial department at Houghton Mifflin Harcourt. I received a request for the full manuscript and gleefully sent it in. Please don't laugh. It was 92 pages long (in Courier). In Times, the full novel was only 76 pages. We all have our stylistic differences, but 76 pages? Really? Fortunately for me, within that HMH team was an editor who believed in this story and wanted to see it grow. You see, there was an excellent reason for Parched to be so short. The story is set in the near future, during a time of severe drought. It's told by characters who are absolutely devastated by the brutality that surrounds them. The prose mirrors the setting: sparse, uncomplicated, raw. The cadence and tone of each sentence says more about the characters' emotions than any amount of description could. It made for a wonderful creative thesis—it worked in all I had learned about restraint and rhythm, symbolism, metaphor and story arcs. But it wasn't incredibly...accessible. I had a choice to make. I could keep it the way it was—an artistic novel that few child readers would ever see. Or, I could allow the story to breathe, and trust that it could become even better. I consider myself incredibly fortunate that I found an editor with the vision and experience to embrace the sparse quality of Parched, while at the same time patiently working with me to draw out the emotional depth and expository breadth that readers would need. She helped me find the middle ground where sparse could also be rich, where raw could also resonate. She helped this story become whole. Like so many things in life, turning this academic project into the beautiful novel it is today was all about balance, and trusting that if you assemble the right players, a team can produce so much more than any individual. The result, happily, is a novel ready to be drawn into readers' hearts. A novel that I could not be more proud of. [hr] Want to win your very own ARC of Parched? We know, we know! We do too! The ARC will be available in September, and this giveaway is US only. a Rafflecopter giveaway [hr]

MELANIE CROWDER graduated in 2011 with an MFA in Writing from Vermont College of Fine Arts. A West Coast girl at heart, Melanie now lives and writes in the beautiful (if dry) state of Colorado. She can be found on facebook, twitter, Goodreads and at melaniecrowder.net.