Discover more from Pub(lishing) Crawl
All things reading, writing, books, and occasionally booze. Reading you under the table since 2012. This site now exists as an archive of all the posts and content from the original website.
Navigating the Switch Between Prose Novels and Graphic Novels
[box type="note"]Hey there, friends! I'm excited to welcome Whitney Gardner as my guest today. Whitney's latest book is the graphic novel Fake Blood (September 4, 2018; Simon and Schuster Books for Young Readers.) She's here to share tips on making the switch from prose to graphic novels. Please help me welcome Whitney to the blog today![/box]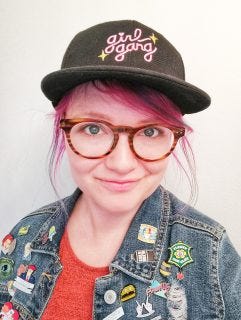 Comics were always my first love. I never imagined myself writing prose, but when I was having trouble selling my first graphic novel I decided to dip my toes into the wordy waters. I flirted with YA novels for a little while and found some success there, but I couldn't let comics go. Determined as ever, I jumped, full-on cannonball style, back into the world of sequential art. And I am having so much fun. If you've ever wondered if writing and drawing comics is for you, I've compiled a small list of tips and tricks I've learned along the way. Just like writing novels, there is no one right way, but these tips have worked for me. Take what you will and leave the rest.
The best way to figure out the kind of comics you'd like to create is to read them widely. Do you like a little gritty action along with your laughs? You might pick up LADY KILLER. Are you after adorable all-ages comics? You can't go wrong with JONESY or SPACE BATTLE LUNCH TIME. Are you into cerebral trippy adventures through time and space? Try SHADE THE CHANGING GIRL. See what you vibe with, and what turns you off. You may not write something exactly like your favorites, but a little outside inspiration never hurt anyone.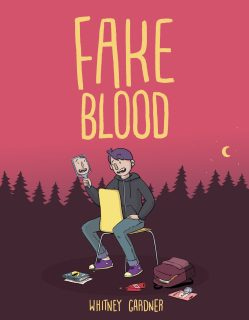 Comics are conversations. The majority of the writing floats in word balloons and thought bubbles. Each character should have a distinct voice. No two people talk in the exact same manner. Sit in a Starbucks, practice drawing, take out your headphones and eavesdrop. Then, when you start writing, try to implement some of the tics and patterns you've heard. Most importantly, remember that dialogue needs to fit nicely into a balloon. It's best to keep it concise. Don't use ten words when five will do.
Why not try a mini-comic first?
A graphic novel is a huge undertaking and you can get some good practice in by finishing a mini-comic or two. Having a few finished projects under your belt will build up your self-confidence when you feel like you'll never reach the end. Sure, a 28-page mini-comic is a heck of a lot shorter than a graphic novel, but why not try and trick your brain into believing you can finish it? Because you can. You can finish it.
Fall in love with your idea
You better love this ding-dang book because you're going to be working on it for… (checks watch) a Really Long Time. You will spend a long time writing it. A longer time revising it. And what will feel like an eternity drawing it. So you need to love it. I mean unconditional, everlasting, "turn around bright eyes" kind of love. Because when you are still drawing the same main character having the same problems years after you started, you have to remember you're doing this because you love them. You love their story.
If you don't like drawing it, don't write it (or too much of it).
Similarly, if you hate drawing horses, it would behoove you to not set your story in the Wild, Wild West. Have you ever drawn two people sitting in a car talking? It's a pain I would much rather avoid, so I do my future-self a little favor and try my best to keep scenes like that to a minimum. Consider what you love drawing, and try and squeeze that into your book. It will make it more fun as you go along.
Save yourself (and your drawing arm) some trouble.
If you want to pitch your graphic novel to a publisher, I have found that you don't need to draw the entire book beforehand. You should try and write the entire script, but then include just enough final art to give them a feel of your style. Ten to fifteen pages seems like a good bet. Writing comics is an incredibly rewarding form of storytelling. It requires a lot of time, patience, and effort but there's nothing quite like holding the final product in your hands.

I want to thank Whitney for being my guest here and sharing her insight on such a cool topic! PubCrawlers, are comics and graphic novels part of your repertoire? Have you ever considered trying them? Feel free to leave your thoughts--or questions for Whitney--in the comments! Whitney Gardner is an author, illustrator, and coffee addict whose books include the Middle Grade graphic novel, FAKE BLOOD (September 4, 2018; Simon and Schuster Books for Young Readers); and the Young Adult illustrated novels, CHAOTIC GOOD (March 13, 2018; Knopf Books for Young Readers) and YOU'RE WELCOME, UNIVERSE (March 7, 2017; Knopf Books for Young Readers). Originally from New York, she studied design and worked as an art teacher and school librarian before moving to Victoria, British Columbia, where she lives by the Salish Sea with her husband and two pugs. In the rare moment Whitney isn't writing or drawing, she's likely to be reading comics, knitting, or roasting coffee. You can visit her online at heywhitney.com