Discover more from Pub(lishing) Crawl
All things reading, writing, books, and occasionally booze. Reading you under the table since 2012. This site now exists as an archive of all the posts and content from the original website.
My Favorite Beach/Vacation/Anytime Reads
So, August is now upon us (side note: how is that even possible? If you asked me what month it is, I'd say June). If you're lucky, you might be heading off on vacation—might have a long weekend to look forward to. Personally, August is a bit of a busy month for me, but I'm still going to try to steal a few days of Me Time, preferably at the beach (what's the point of living in SoCal if you DON'T go to the beach every now and then)? But, whether you are headed on vacation or having a staycation, I present to you...My favorite Beach Reads.
I don't mean Beach Reads in the sense it's come to embody (though I DO love those kinds of books as well). While the books on my list ARE compulsively readable, and are my go-to escapes when I'm stressed AND relaxing, they're also well-written, with awesome world-building, dynamic characters, and full of toe-curling romance. They're books/series I cherish enough that when a new book comes out, I savor every word—I wait until I have free time (aka vacation) to enjoy them and sink into their worlds.
But really, whether you're on the beach or have a long flight or just have some free time, these are books that you can get completely absorbed in & will make the hours fly by—as well as books that will leave an aching (but good) hole in your heart when you've finished reading them. (These are more of the adult variety, so… younger readers, beware.)
[hr]
Nalini Singh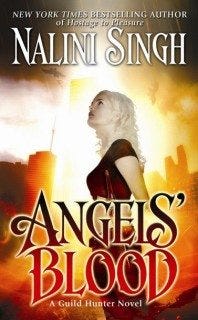 Okay, that's not a book. It's an author, and she's one of my all-time favorites. Her two series—the Guild Hunter series and the Psy-Changeling series—are two of my most beloved series EVER. I read them all on my kindle, then adored them so much that I bought every book in print as well. I just finished the latest in the Guild Hunter series (ARCHANGEL'S STORM) and it did NOT disappoint. (If you think you don't like angels...think again.) I am addicted to Nalini Singh's work, and just...read her books, okay? The first book in the Guild Hunter series is Angels' Blood—and the first in the Psy-Changeling series is Slave to Sensation (please, do not let the cover deter you). Both series have such intricate, vibrant worlds and such well-drawn, memorable characters. *sigh*
[hr]
J.R. Ward's
Black Dagger Brotherhood
Series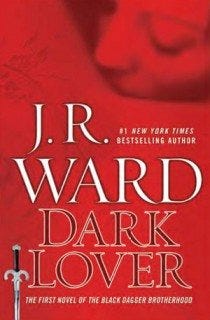 Okay, so this is my OTHER current obsession. I read Dark Lover (the first book) and was immediately hooked: on the world, on the well-drawn heroines, on the absurdly, absurdly sexy dudes. I love this series with an undying, wild passion, and have reread it all a few times now. It's action-packed, super sexy, and just...God help me if I ever meet J. R. Ward, because I'll probably faint on the spot. (My favorite book in the series is easily Book 3—Lover Awakened. Though it's a close tie with Dark Lover. Annnnd I am so ridiculously excited for The King, the next installment in the series, that I could DIE.)
[hr]
Dragon Bound
by Thea Harrison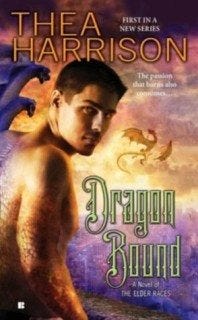 This was my gateway drug to paranormal romance, and I will be a Thea Harrison Fangirl for the rest of my LIFE. She's an insta-buy author for me, and it's no surprise that J. R. Ward blurbed her book, saying that fans of the Black Dagger Brotherhood would love it. I've recommended it to a few friends now, who have all gobbled it down. It's crack. Pure book crack. The rest of the books in the Elder Races series are just as addictive (Book #4, Oracle's Moon, is a tie with Dragon Bound for my favorite in the series), and I can't wait for the next installment (Kinked) in November.
[hr]
Outlander
by Diana Gabaldon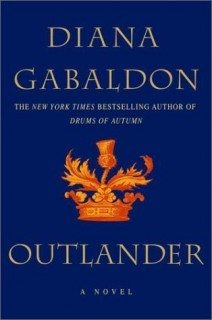 This book is looong (perfect for an endless flight!), but it is SO DAMN GOOD. Fellow PubCrawler Alex Bracken introduced me to it, and...Jesus. Just Jesus Christ. Jamie Fraser, I love you. (They're also adapting it for television and I am just...dying at the thought of it.) This book has everything: history (the historical details are wonderful, actually), action, romance, hot-hot-hot sexytimes, and...Jamie. I can't even THINK about this book & the characters without my heart hurting (in that good way).
Annnd I could keep going, but I'll stop here. Even if you're NOT going to the beach or on vacation, you should definitely pick up these books. They're wonderful and memorable and now have a special place in my heart.