Discover more from Pub(lishing) Crawl
All things reading, writing, books, and occasionally booze. Reading you under the table since 2012. This site now exists as an archive of all the posts and content from the original website.
More Hands in the Kitchen: Karuna Riazi on Baking Her Debut With a Book Packager
I'm playing proud parent on the blog today as we welcome Karuna Riazi, who made her debut last month with the awesome The Gauntlet, a middle grade Jumanji with a South Asian flair. The book is the first non-Sona-and-Dhonielle project from CAKE Literary – the book packaging company I co-founded with my BFF and work wife Dhonielle Clayton. Everything we do has a decidedly diverse bent, with a strong focus on #ownvoices. 
One of the questions Karuna gets frequently is why she decided to work with a packager for her debut. Herewith, the answer – along with some tips on making the leap to work-for-hire yourself. 
I like to bake. More days than not, it's my coping mechanism, particularly if I happen to be whipping up something with a lot of sugar and dough that prefers to be pummeled and pinched apart with bare hands. I tend to be the type of person who mostly doesn't want anyone else hovering over her shoulder in the kitchen. If I decide to deviate – scandalous person that I am – and add orange extract instead of vanilla, that's my artistic choice and should be lauded rather than met with pursed lips and pointing toward the printed recipe.
I'm also the type of person who tends to compare her writing with her baking. That usually works out because, for the most part, writing is also (sometimes terribly) solitary. And at the end of the day, no clucking or coaxing or backseat driving is going to get the words out in Scrivener except me – though everyone (read: all the family members who did the clucking and coaxing and backseat driving) will likely gather around and prepare for the feast once the pages are printed out and bound and have an ISBN!
So, time to get to the deviation from this beloved metaphor that is at the heart of today's post: yes, writing can be like baking – but no, it doesn't always have to be you sweating alone over your unattractive bowl of batter and those eggs that just won't blend in like they are supposed to. There are paths and options that will allow you to have other, wiser, cooks at your side, dispensing ingredients with neat (and aesthetically pleasing) spoons or taste-testing on your behalf so that you don't write off the whole venture as beyond doctoring and a little extra spoonful of cinnamon.
One of those paths, in particular – the one I have personal experience with – is book packaging. If you look at publishers as ovens, and the literary agent as the master chef who crimps up the sides of your promising dough and tells you what needs to be added in (hopefully not in a Gordon Ramsay sort of way), a book packager sits in between both of them: developing wonderful recipes, matching them up with the right enterprising hands to work them into delicious confections and give them a little extra TLC and support throughout the prep time, and then seeing which oven has the right temperature to bake them into perfection.
The support, in particular, is something that I was promised when I started working with Sona and Dhonielle over at (the aptly named) CAKE Literary, and I can honestly say I got it in spades. Debut year, and the year before debut year if we're being 100% honest, is confusing, surreal and may feel like a relay race you're taking on without the prerequisite training, from taking on pre-orders and publicity to figuring out what exactly goes into a release party. (And fun fact, my release party was the first I'd ever attended, in my life, so I might have been a bit more perplexed than the usual baby author when it came to the basics of arranging it.)
Writing, at the end of the day, is still a solitary activity in that you have to sit down and put your ingredients together by yourself without anyone else typing up the words for you, but that doesn't mean there can't be people encouraging you to think the best of yourself and the story, and I feel like I've gotten the best of that.
Knowing that I wasn't alone in this, from the very beginning and the outline and the elevator pitch, helped immensely. I could pass along pages and get feedback on how the world was being shaped, know where to tweak and where I was actually doing great when I assumed I wasn't. I got transparent discussions of what was going on even when it didn't require my participation in every stage of The Gauntlet's development and steps forward into the world, and assurances that I could turn to anyone involved in CAKE – whether that was Sona, or Dhonielle, or wonder agent Victoria Marini – and build up my own knowledge of publishing or ask questions about networking or what I should be doing at a given stage.
Having so many heads bent over the same project felt like it led to my own growth as well. I'm a horrendous perfectionist, and having people to be (lovingly) accountable to, while being reassured that I did have time and space to ask questions, led to me writing the quickest first draft in my whole life. I was able to discover that I do better work with an extensive outline and I actually can make a deadline when I put my mind to it. It was like a mini-workshop in organization and efficiency that I can apply both to future CAKE projects and my own independent projects.
On a personal note, as an undergraduate student who started with CAKE right before she started university – back then, as an intern – and is now holding her first book as a senior, it's been amazing to see how I managed to fit writing into my life, in spite of a hectic and downright exhausting schedule. I can now call myself a published author, and I did it and had support even while I was churning out homework assignments and rushing to make office hours. Working with CAKE, even before the book deal, made me feel less like I was spinning my wheels and was too young to be an official part of my community, and more like I was on the right path to publishing in my own way.
At times, it's felt very unconventional, but that's also what's amazing about it: book packaging proves that there is no right or wrong way to make it onto the shelves, as long as you have good people behind you and a tried and true recipe to help you get there. At the end of the day, it will still result in a delicious, enjoyable treat and a sense of satisfaction for you over the enjoyment of the fruits of your labor.
If you are thinking about book packaging, whether it is with CAKE (which I cannot recommend enough) or another respectable outfit like Paper Lantern Lit, I have a few pro tips:
Give a sample you are proud of and demonstrates your voice. This is really what a packager is looking for, particularly when they are trying to match you up with a project, so focus more on that! (I've had friends worry about which sample they think a packager would like to see, while continuing to look back to and bring up the sample that they personally loved the most – which is likely the one the packager wants to see, so it's a win-win!)
Don't be shy about asking questions and make it clear you are confident in your abilities, your voice and your ability to make your project shine.

Don't be afraid to list writing credits. It's not boasting. It's presenting yourself honestly as the awesome writer you are! And if you don't have credits yet, I can personally assure you that your talent will speak for you – and this opportunity might lead to some incredible notes to put at the bottom of a query list or shine on your website's bibliography!
Be enthusiastic and optimistic, and be willing to seize an opportunity and try something new. I've always thought of myself as not having the right voice to write an MG, as much as I loved the genre. The ladies at CAKE were sure I could – and apparently they knew best!
Be ready for the ride, but also know that you have people in your corner! So much of this business is overwhelming and incredible once the ball gets rolling, and I was appreciative of the people around me who reminded me to breathe, get what was on my plate done, not worry about what wasn't there yet and enjoy the experience.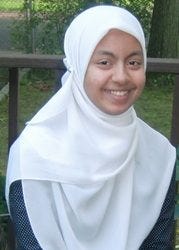 Karuna Riazi is a born and raised New Yorker, with a loving, large extended family and the rather trying experience of being the eldest sibling in her particular clan. Besides pursuing a BA in English literature from Hofstra University, she is an online diversity advocate, blogger, and publishing intern. Karuna is fond of tea, Korean dramas, writing about tough girls forging their own paths toward their destinies, and baking new delectable treats for friends and family to relish. Her dessert of choice is a lemon bar, which always promise a sharp zest of intrigue along with the reassuring sugar of a happy ending. Her first book, The Gauntlet, is on shelves now! Find Karuna on Twitter or via CAKE Literary.