Discover more from Pub(lishing) Crawl
All things reading, writing, books, and occasionally booze. Reading you under the table since 2012. This site now exists as an archive of all the posts and content from the original website.
Introducing Mandy, Savannah, Biljana, and Sammy!
Hi everyone! Hope you guys have all enjoyed getting to know our newest additions. Now that we've introduced them all, we're doing a quick series of mini-introductions of our older members in case new readers don't know them so well. And as always, there's a giveaway at the end! Today is the last day of the reintroductions, and tomorrow we'll have an interview with Veronica Rossi, author of Under The Never Sky, with yet another giveaway! [hr]
Mandy Hubbard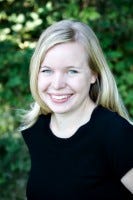 Mandy Hubbard, also-known-as Amanda Grace, is the author of Prada & Prejudice, You Wish, But I Love Him, Ripple, and several other YA novels. She is also a literary agent for D4EO Literary, where she represents authors of middle grade and teen fiction. Her leading clients include Jessica Martinez (Virtuosity, Simon Pulse) Lanie Bross, (Fates, Delacorte) and Imogen Howson (Linked, Simon & Schuster Books For Young Readers). She is currently living happily ever after with her husband and young daughter in Tacoma, Washington. [hr]
RIPPLE
Lexi is cursed with a dark secret. The water calls to her, draws her in, forces her to sing her deadly song to unsuspecting victims. If she succumbs, she kills. If she doesn't, the pain is unbearable. To keep herself and those she cares about safe, she shuts herself off, refusing to make friends or fall in love-again. Because the last time she fell in love with a boy, he ended up dead. Then Lexi finds herself torn. Against her better judgement, she's opening up agian, falling in love with someone new when she knows she shouldn't. But when she's offered the chance to finally live a normal life, she learns that the price she must pay to be free or her curse is giving him up.
[hr] 1. Hi Mandy! Got a few questions for you... Let's say you're unable to avoid the creeper and somehow a Pub Brawl breaks out!!! What weapon are you wielding?
All I need is my purse. It always has a kindle, a giant hardback, a massive pile of change, and other stuff I don't need. Thus, I can just swing it around and nail him in the head. ;-)
2. I totally feel you on the potentially-dangerous purse. :) Now that you have several published books under your belt, how do you feel your writing style or attitude towards writing has changed since you started?
Oh man, it's really evolved. In the beginning I was all about more contracts and deadlines and having this two book a year career. This year is my third year with two releases, and I've really changed my mentality—I want to just take my time, enjoy the process of writing again, and not sell things until I've made them the best they can be. There's not a lot in this industry you can control and I'm having SO MUCH FUN writing this new project and spending 3 months on 100 pages, instead of 2 months on 250 pages.
3. Either way, you're still writing like a rockstar! We've already established that you're a prolific writer. We know that ideas and inspiration come from all around us, but how do you move so quickly from initial spark to a full plot? Is it truly just flashes of brilliance from your subconscious, or do you utilize grueling brainstorming sessions, etc.?
I tend to discover things as I write. I can actively brainstorm-- I love bouncing ideas around with my CPs-- but the nuances of the story, character's backstories, plot twists, etc--tend to come out as I write. I sometimes leave myself comment bubbles totally unrelated to the scene I'm writing becuase I have an idea to interweave with earlier chapters. It's all pretty organic, without a lot of angsting. It just comes together as I go. If it doesn't, I send out email pleas for help. :-)
[hr]
Savannah J. Foley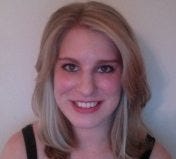 Savannah Foley was born and raised in Washington State on a small farm outside of Seattle. Her dream ever since 4th grade is to be a published writer and live in Italy (almost half-way there!) She completed her first novel (Nameless) at age 15 by attempting to answer the question, 'what would a world ruled by women truly look like?' It was published online at FictionPress (under the name of Woman's World), where it received the love and attention of thousands of reviewers. After completing the trilogy she began to seriously pursue the representation of a literary agent, and signed with the Bradford Literary Agency in December 2008, at the age of 19. She is currently rewriting Nameless and pursuing publication for a sleeping beauty retelling entitled A Curse Of Rose And Snow. Savannah lives in Alabama, where she met her boyfriend in an Enchanted Forest. No joke. She blogs about writing and her projects at her website. You can find her making jokes on Twitter, trying to get through 50 books a year on Goodreads, mostly talking about her dog on Facebook, and occasionally even Tumbling. [hr] 1. You've been working on Nameless for almost 8 years. What's the current status?
You know those stories you love but you're not sure if they can ever come together in a proper book? That's where Nameless is right now. I converted the trilogy into a single book, then tried to make it more YA, but it has such a heavy political base that it's not really in keeping with modern YA. My agent and I still hope to publish it one day, we just want to do it right, and I haven't found my way through the labyrinth yet on this one. So I'm doing what every writer must when their first project doesn't work out... writing more books!
2. I'm sure you'll get it right one day! Your articles at Let The Words Flow were often confessionary and anecdotal. Can we expect more of the same from you at Pub Crawl?
Definitely. I've been struggling with my blogging style for a while and I think my true niche is in sharing personal stories. I felt so alone as a writer growing up because I didn't have access to any writing culture, and it's not like they teach this stuff in school. More than anything I wanted to know how other writers worked and felt. Sharing personal writing anecdotes is how we learn from each other and feel like a part of the community. I've overcome some of my own writing issues because I was able to diagnose and fix my problem from hearing someone else's story of going through it. That's what I want to do for our readers. :-)
3. Sounds great! And now a fun one: Mix me a literary cocktail! What elements would you include in your ideal book?
Let's start with a good, heavy base of Ache, because that's the main feeling I love in stories. Add a shot of Fantasy, a shot of Romance, and a spritz of Death. Serve with a garnish of poetic language. I want this cocktail to kick you in the heart!
[hr]
Biljana Likic
Biljana Likic (Bil-yana Lik-itch) was born in Belgrade, Ex-Yugoslavia, but has lived in Toronto, Canada since she was only a year old. Her dream as a kid was to be an actor, but as time passed this dream morphed into being a writer, since in writing she wasn't confined to simply one character. It was during high school that she decided to dabble in writing a novel, and it has since turned into the finished manuscript she is revising today. She's also passionate about history and the personalities that occupy it. She's constantly drawing inspiration from the past and setting these ideas in today's world, discovering that really, people don't intrinsically change as drastically as the snooty tomes of history would have us believe. Right now, she's in her second year at the University of Toronto with a double major of English and Medieval Studies. [hr] 1. After a wild night at Pub(lishing) Crawl, what is your ideal place to recover (anywhere in the world!)?
Bed. Without a doubt. I love my bed. It's sinfully comfortable. ...Though lying on a tropical beach beneath palm trees on a breezy, sunny day is a close second.
2. You're studying some very interesting things at university. Can you list your favorite classes and the favorite knowledge you've learned from them?
Oh man where to begin? I took a class last year called Early Medieval Art and Architecture and felt like I couldn't have asked for a better lesson on the development of Christianity. Last term I was in a class that covered the history of books, from clay and wax tablets to parchment to the printing press, and that was fascinating. I think some of the coolest things though are the languages. I'm fluent in Serbian, English, and French (all of which I learned growing up), and I'm learning Italian and Latin right now. One of the most gratifying things in the world is being able to read a book or poem in its original language, with no translator between you and the author that could potentially warp the intended meaning, subtext, or feel. Love that.
3. What is the worst thing, to you, that balloons could be filled with during a water balloon fight?
LIVE CENTIPEDES.
[hr]
Samantha Bina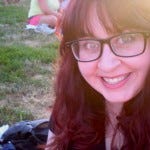 A Wisconsin transplant now living in NYC, Sammy Bina is the literary assistant at NS Bienstock, Inc., where she handles everything from queries to contracts. She has also interned with the Elaine P. English Literary Agency, and spent three years working for her university's literary journal, The Madison Review. She is currently querying her contemporary YA novel, Don't Make A Scene, about a girl who finds herself acting opposite her arch enemy, and winds up falling in love. When she isn't doing literary things, you can usually find her whipping up baked goods, or enjoying an abundance of 90's British television. She blogs on occasion, and tweets more than she should. [hr]
1. Hey Sammy! How has working at a literary agency influenced your own writing?
My job has definitely made me a better writer. I spend a lot of time editing manuscripts and proposals, so I've become less afraid of murdering my own darlings, as they say. I realized that if I want my book to be the best it can possibly be, then I need to lose the fear of cutting scenes and characters that aren't integral to the plot. My job has definitely taken away that fear.
2. That's a hard lesson to learn for any writer. Besides writing, you've also got a passion for fashion. Who is your ultimate fashion icon, and which designers' clothes would you wear every day if possible?
I absolutely adore Lucy Ricardo and Audrey Hepburn. Clothes in the 50's had such great shapes and colors, and Audrey's style is simple yet classic. Kate Spade is the perfect combination of those four things, and if I could afford to wear her clothes every day for the rest of my life, I would be ridiculously happy.
3. So let me set this scene for you - You're looking fabulous in Kate Spade down at the local literary pub, when suddenly a Pub Brawl breaks out! What weapon are you wielding? <pstyle="padding-left: 30px;">The candlestick from Clue. I was Miss Scarlett for Halloween one year, and I still keep my prop on my shelf. That thing could do some serious damage if need be! [hr]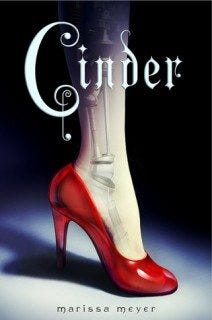 Today we're giving away one signed copy of Marissa Meyer's novel, Cinder! There's been tons of buzz about this book (already a New York Times Bestseller!), and it's one debut you don't want to miss! Plus, GET THIS: IT'S SIGNED BY THE AUTHOR. That's right--Marissa Meyer signed this copy of Cinder, and it can be yours! All you have to do is leave a comment  and fill out the form below. We'll contact the winner in a week! a Rafflecopter giveaway