Discover more from Pub(lishing) Crawl
All things reading, writing, books, and occasionally booze. Reading you under the table since 2012. This site now exists as an archive of all the posts and content from the original website.
Introducing a New, SURPRISE Member: Amie Kaufman!
Guys, we are so, so, so thrilled to introduce you to a new member. It was a sort of spur-of-the-moment decision—though one we all agreed on—and that decision was to welcome a new author to our ranks:
Amie Kaufman!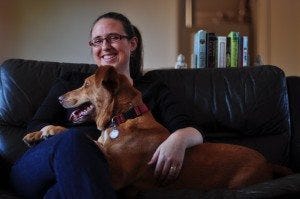 Amie Kaufman had the good fortune to be raised just one block from her local library, and took full advantage of that fact growing up. She and her sister spent their childhood summers re-creating their favorite books by camping in the back yard, mapping their neighborhood, climbing trees, stepping through magical doors and sailing the local seas. Raised in Australia and Ireland, she has kissed the Blarney stone six times, thoroughly cementing her gift of the gab. She now lives in Melbourne, Australia with her husband Brendan and her rescue dog, Jack. She still sails, and though she climbs fewer trees, she remains partial to investigating the occasional magical door. You can find her on Twitter, Facebook, Goodreads or on her blog. Her debut novel, Wrecked (co-authored with Meagan Spooner) will be out from Disney-Hyperion in 2013. [hr]
Lilac LaRoux and Tarver Merendsen never should have met. She's the socialite daughter of the richest man in the galaxy, and he's a decorated soldier fighting back rebellions on newly terraformed planets. But when the vast luxury spaceliner they're both traveling on crashes, they find themselves thrown together as the two sole survivors on an alien planet. As they survive harsh conditions and dwindling supplies—not to mention each other—the two begin to uncover a mystery surrounding the abandoned planet that neither of them could have guessed. The first in a trilogy, Wrecked sets into motion a series of timeless, standalone love stories that span galaxies—and are linked by their shared worlds and one mysterious enemy.
If you don't know Amie, then let us tell you: she's very talented, very hard-working, and quite possibly the nicest person on the face of the earth. Oh, and she's Australian, so we've now got two kickbutt Aussies in our gang! [hr] 1. What was the biggest challenge in writing Wrecked?
I think most people expect it to have been collaborating, but my co-author Meg and I have been incredibly lucky in that respect—we slotted together seamlessly from day one. Wrecked just showed up like it was meant to be. But that doesn't mean the writing was without its challenges, and numero uno was getting my butt in the chair. I mean, seriously, all that social media, and I made the mistake of starting a seven season How I Met Your Mother marathon while we were writing. The world is a big, distracting, shiny place when you're trying to get down to business with your laptop!
2. Oh too true—distraction and shininess everywhere... Now tell us a little bit about your journey to publication.
I've played around with words for years, but it was only for NaNoWriMo 2009 that I decided to sit down and actually try and write a book. And hey, it worked! At the end of November I had a huuuuuge mess, but it was vaguely recognisable as a YA fantasy with a beginning, a middle and an end! (That was about all you could say for it.)
I didn't start querying until 2011, and then everything happened in a whirlwind! I thought it was meant to take forever, so I sent out my first batch just before I went on holiday. I thought it would take my mind off things! One crazy week later I had half a dozen full requests, and a couple of weeks after that I was emailing back and forth and signing with my amazing agent Tracey, from my holiday in Madrid! After that, Meg and I settled down to finish up WRECKED. It went out on submission, and three weeks later sold at auction to Disney-Hyperion.
3. Ha! I (Sooz) also did all my agent-snagging over holiday! Funny world... Speaking of funny worlds, if you were transported to the sci-fi landscape in Wrecked, which scene would you most want to re-enact?
Wow, tricky! Wrecked is the story of a shipwreck, so I don't think I'm giving much away when I say Lilac and Tarver have a pretty hard time of it! I'm pretty outdoorsy, but that place is tough. I'll have to say that the opening scenes, on board the Icarus, would probably suit me best. That ship is luxury itself. That, or there's this one time when Tarver takes his shirt off...
4. OOH, shirtless heroes? Yes please!! Now that Wrecked is nearing The End, what's your next writing project?
Right now we're finishing up revisions on Wrecked, and getting ready to plunge into book two, so that will take up most of my time. Our trilogy is comprised of three linked but standalone novels, so book two will see us introduced to two new protagonists. Right now we're getting to know them by writing little vignettes, playing with new scenes, and generally delving into their lives. Although we each take primary responsibility for one character, we both need to know them inside and out.
5. Such a good point--coauthoring demands both authors know the characters well! I know you're a very, VERY busy lady...so what's a typical writing "day" (or hour... or spare second) look like for you?
I have a (very!) full time job that I love, so I've always had to make sacrifices to find my writing time. In first draft mode I write on the train to and from work (usually 800 – 1000 words a day, I type fast!) and I try and snatch a couple of hours about twice a week to just sit down and get to work. Sometimes that involves staying in when I'd love to go out, but it's all about choices. I also grab spare minutes anywhere I can and scribble in a notebook, then transcribe later. When I'm revising I work every single day, and I'm pretty much in a cave. My amazing husband makes sure he throws food in through the study door every so often! I'm a creature to be feared first thing in the morning, so my best work definitely happens at night.
6. I'm definitely a fearful morning creature myself. ;) Mix me a literary cocktail! What elements would you include in your ideal book?
Mix one part fantasy, one part action adventure and a dash of history. Add a hint of darkness, garnish with a handsome hero and stir with a kickass heroine. Serve in a champagne saucer in a faraway world. Let's call it a Tall, Dark and Handsome.
7. Garnish of handsome hero?! LOVE IT. I need Tall, Dark and Handsome on my shelves now! Okay, final question: What would youname your literary pub?
Pint and Prejudice!
Eeeek! I love it—and I would definitely jam at the Pint and Prejudice. First rounds on me! [hr] Now, to celebrate Amie's new spot in our pub booth, we're giving away a copy of an Australian YA novel—you choose from the list Amie has drawn up!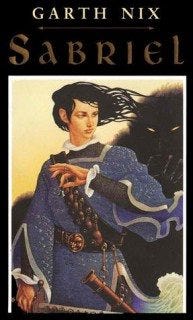 Sabriel by Garth Nix

Looking for Alibrandi by Melina Marchetta

Tomorrow, When the War Began by John Marsden

The Book Thief by Markus Zusak
All you have to do is leave a comment telling us YOUR favorite book by an Aussie author, and we'll announce the winner next week! Plus, the contest is open internationally, so spread the word! a Rafflecopter giveaway