Discover more from Pub(lishing) Crawl
All things reading, writing, books, and occasionally booze. Reading you under the table since 2012. This site now exists as an archive of all the posts and content from the original website.
Interview with Gwenda Bond, author of <em>The Woken Gods</em>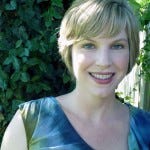 I'm so excited today to bring you this interview with the fabulous Gwenda Bond! I first met Gwenda the week her debut, Blackwood, was released. Amidst all the excitement and flurry, she had time and a smile for everyone, and I'm gleefully awaiting the release of her new book, The Woken Gods. Read on to learn alllll Gwenda's secrets, and for a chance to win a signed copy of The Woken Gods!
For those who don't know, aside from authoring Blackwood  and The Woken Gods, Gwenda is also a contributing writer for PW and Locus. She lives in a hundred-year-old house in Lexington, Kentucky, with her husband, author Christopher Rowe, two unruly dogs, and one unruly cat. You can find her online at her website www.GwendaBond.com or on twitter @gwenda.
The Woken Gods
The more things change…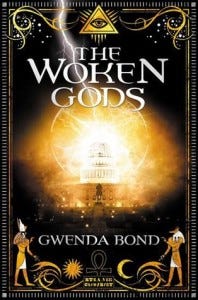 Five years ago, the gods of ancient mythology awoke all around the world. The more things stay the same… This morning, Kyra Locke is late for school because of an argument with her father. Seventeen-year-old Kyra lives in a transformed Washington, D.C., dominated by the embassies of divine pantheons and watched over by the mysterious Society of the Sun that governs mankind's relations with the gods. But when rebellious Kyra encounters two trickster gods on her way home, one offering a threat and the other a warning, it turns out her life isn't what it seems. She escapes with the aid of Osborne "Oz" Spencer, a young Society field operative, only to discover that her scholar father has disappeared with a dangerous Egyptian relic. The Society needs the item back, and they aren't interested in her protests that she knows nothing about it or her father's secrets. Now Kyra must depend on her wits and the suspect help of scary Sumerian gods, her estranged oracle mother, and, of course, Oz--whose first allegiance is to the Society. She has no choice if she's going to recover the missing relic and save her father. And if she doesn't? Well, that may just mean the end of the world as she knows it. From the author of Blackwood comes a fresh, thrilling urban fantasy that will appeal to fans of Neil Gaiman, Cassandra Clare, and Rick Riordan.
I know, right? I pinned Gwenda down (literally? You'll never know!) to talk about gods, whimsy, and writing to deadlines!
Your first novel, BLACKWOOD, featured the famous Lost Colony of Roanoke. THE WOKEN GODS features a pantheon of gods from every mythology under the sun on modern day Earth. Tell us about your inspiration! Where did this story start? A dream? A musical clip? Plain, old-fashioned brainstorming? I first had the idea of doing a many-pantheoned story right after I graduated from the Vermont MFA program, so that would have been earlyish 2009. My thesis project (currently in a dusty corner of a hard drive) was about a girl who discovers she's Medea's daughter. So you could say that I've always been drawn to the less well-lit corners of mythology. Then, I knew I wanted to write something big and fun and different than anything I'd attempted before. I wanted to use a mix of less familiar gods who were almost like aliens, scary and unpredictable and not at all oversized humans. And I knew early on I wanted it to be set in D.C. and have a secret society and some political elements. But… that was about all I knew. (My next book is set in a modern circus, so you can see I'm someone who writes with a cohesive brand strategy in mind… Um, or not. I very much follow my whims.) Bring ON that circus! But for now, I want to hear more about pulling together your pantheon. What was the biggest challenge in writing THE WOKEN GODS? Lesson this book taught me: It's the books you start thinking they'll be fun that you have to watch out for. I wrote at least two complete, vastly different earlier drafts of this story that just didn't work; they had too much junk in them and extremely broken worldbuilding. I shelved the project and finished Blackwood (which I had started before grad school). When I needed to pitch my second book to Strange Chemistry, I circled back to the gods book, and decided this time I would make it work, even if I had to sacrifice something to the Sumerians and reboot the whole idea from scratch. I was at a retreat in Mexico with a bunch of other writers and asked them for help brainstorming and taking apart the world over a long working dinner. The results led to the book now known as The Woken Gods, but not before I wrote one more entire false draft (on deadline, ack). The final piece was switching from third to mainly first person, in the voice of the main character Kyra. It was the only way I could get her to open up. But once I made that change (again, on deadline, double ack), it finally started to fall into place. So, what I'm saying is that this book was your basic sanity-killer. It was a challenge from start to finish. That. Sounds. Exhausting. Time for a break! If you were transported into your book, which scene would you most want to reenact? Ooh, good question. Hmm… I think Kyra's first visit to her family reliquary. Because who doesn't want to poke around in the hidden floors of the Library of Congress and paw through the relics tied to different gods and see a giant old map with a secret history on it? I sure would. Yesssss. I'm coming too! Now, our readers always love to hear: what's a typical writing day for you? When I'm drafting, I get up early and write first thing in the morning, then take a walk and write again during lunch, and sometimes later on (but usually not). I get more drafting done in those finite chunks. Revising tends to eat all time made available to it. Where there's writing, there must always be reading. What are you reading now? Right now I'm reading Duncan Wall's The Ordinary Acrobat, because I read all circus books and saw it at the library, and I just started Kelly Braffet's Save Yourself. And I just finished Maggie Stiefvater's The Dream Thieves. Now, we do love to ask our guests: if you could spend a night at the pub with any 3 authors (alive or dead) who would it be and why? I'm going to go with dead, because I know too many living writers I can happily close down a bar with to narrow it down to just three. So… Dorothy Parker, Oscar Wilde, and Nora Ephron. Because, hey, that would be one witty night of one-upsman(and lady)ship. You're definitely invited to that party, Amie--and thanks for inviting me to visit Pub Crawl. Oh, that would be one helluva party! I am SO there! To celebrate the release of The Woken Gods we're giving away an autographed copy to one lucky reader! (US only.) To win, leave a comment letting us know your favourite member of the pantheon (I kinda dig Dionysus, he'd know how to throw a party!), or if you're pumped to read The Woken Gods! a Rafflecopter giveaway