Discover more from Pub(lishing) Crawl
All things reading, writing, books, and occasionally booze. Reading you under the table since 2012. This site now exists as an archive of all the posts and content from the original website.
Interview with Erica O'Rourke, author of <em>Tangled</em>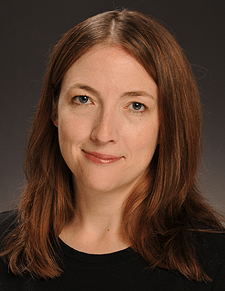 Today I am ELATED to present a fantastic YA writer (and winner of the Golden Heart—HOLY CROW!): Erica O'Rourke. In her own words:
I write books about girls who make their own fate and fall for boys they shouldn't. I live outside Chicago. I like to travel but I'll never really leave this city. I prefer cookies to cake (even cupcakes), television to movies, and autumn to all the other seasons. I like sushi, naps, coffee, and driving stick shift. I hate fish, emoticons, bridges, and talking about myself.
Um, I'm kinda jealous of how awesome her little bio is...although, I do take the fish-hate personally (marine biologist in the room, Erica. I hope you only mean you "hate eating fish", and not "hate the whole animal group").
Tangled
(Book 2 of the Torn Trilogy)
A month ago, Mo Fitzgerald risked her life to stop an ancient prophecy and avenge her best friend's murder. Now, she only wants to keep her loved ones safe. But the magic—and the Chicago Mob—have other plans. Mysterious, green-eyed Luc is back, asking for help—and a second chance. Colin, her strongest protector, is hiding a shocking secret. And inside Constance, the magic is about to go terribly wrong. Tangled in a web of love and betrayal, Mo must choose between the life she's dreamed of and the one she's destined for.
[hr] 1. Mix me a literary cocktail! What elements would you include in your ideal book (i.e. 2 parts fantasy, 1 shot romance, and a twist of mystery!)
2 parts strong heroine, 1 part vivid setting, 1 part surprising plot twist, a shot of angsty, complicated romance, and a generous dash of heat.
2. Oooh, I like that dash of heat. Clever. Now, when you started writing Torn, which came first for you: the characters or the plot? Or neither...?
The first thing I had for Torn was a question: What if Harry Potter had died and Ron Weasley had to defeat Voldemort? What if Buffy died (and stayed dead) and Xander had to defeat all the big bads? What if the Chosen One died, and it fell to the ordinary best friend to save the world? What kind of person would take on that kind of burden? (The original title of the book was Unchosen, by the way.)
Once I'd asked those questions, the characters and plot came to me almost simultaneously – I knew there would have to be something dangerous and compelling and secretive in Mo's non-magical life, which made the Mob storyline a natural fit, especially in Chicago. I also knew that Mo and Verity's friendship needed to be the crux of both the plot – Mo's quest for truth and vengeance – and her emotional arc -- handling her grief and redefining herself. Everything else in the story, from her family history to her New York plans to her relationships with Luc and Colin, was grounded in their friendship.
I've discovered since then that any book I write starts the same way. A "What if…" followed by a "Who would do that?" In this series, of course, I already had a protagonist, so "What if" shifted to "What next?" It was important to me that Mo's actions not occur in a vacuum – her actions in Torn have consequences in Tangled, both internally and externally, and that her choices reverberate throughout the series.
3. I like that "What if" idea followed by the "Who"--that's something I'm definitely filing away for later use. So you used this method to write Torn, and then what? What was your journey to publication like?
I worked on Torn sporadically for a few years, and when I finally got serious about it, good things started happening. Most notably, I was named a finalist in the Romance Writers of America's Golden Heart contest, which is the big award they give out to unpublished writers. I also went to my local RWA chapter's conference and pitched the book to my dream agent, who laughed at my Dawson's Creek jokes, which made her even dreamier, if such a thing were possible.
A month before Nationals, I got a call from a 212 area code and assumed it was a telemarketer. I might have been a little snappish when I answered, in fact. So when the person on the other end of the line said, "I'm an editor with Kensington Publishing and I judged your book in the GH and I loved it and I want to buy it," I was so stunned that instead of weeping with joy, I gently explained that Kensington didn't publish YA.
Pro Tip: DO NOT DO THIS.
I am sure she rolled her eyes so hard that she saw the back of her skull, but she very nicely replied that they were launching a YA line, and they wanted Torn to be one of their launch titles.
And then I died. But my RWA training kicked in, because instead of saying yes, I said I was working on securing representation, and I would let her know in a week. Then I died again. And then I emailed my dream agent (from the aforementioned conference) who read the manuscript, talked with me about career planning and future projects and work styles and the like, and then offered representation. Over Fourth of July weekend. Because she is amazing and part-robot and she never rests. (You think I'm joking? I believe you have met my agent, yes?) I would have died a third time, but I was at my mother-in-law's house, and didn't want to be a hassle.
After that, things moved quickly – we accepted the offer from Kensington, and Torn won the 2010 Golden Heart for best YA manuscript, and Meg Cabot (who is tall and beautiful and one of the nicest people in the known universe) gave me my award, and I was on a Jumbotron and I did not swear even once, which made my family very happy. TORN came out almost exactly a year after I got the first call from my editor.
It's absolutely crazy to look back and see how drastically my life has changed in eighteen months. It's like a fairy godmother came down and said, "You can have all the things you've ever wanted, but you're going to get them at warp speed, so buckle in." The best possible kind of crazy, though. I am grateful for it every single day.
4. You. Launched. KTeen. YOU LAUNCHED KTEEN. This is amazing. Now, THINK FAST: which one of your characters would you most want to kiss? (I call dibs on Colin. SO SEXY. I'm drooling at the thought of him.)
Oooh. That's so difficult – do I really have to choose? I know who Mo chooses, of course. But it's a lot harder for me. It's probably Luc – he is one of those boys who should have "Not Good For You" tattooed across his forehead, and that's hard for me to resist. But Colin's pretty appealing, too. I have a thing for guys who are strong of jaw and dark of backstory. See? Impossible to choose.
5. Hahaha, "Not Good For You" on his forehead. Niiiice. So, what's a typical writing day for you?
No day is really typical, but most of the time, my alarm goes off at 6:30, and I offer my husband a million dollars to get our three girls up and ready for school. He falls for it almost every time. After everyone leaves, I enjoy the silence of my house and a cup of coffee while I check email and Twitter and a few blogs (mostly craft blogs, as it's nice to start the day by looking at something pretty) and my Teux Deux list I write until 2, and then make phone calls/return emails/etc. If I've made my page count, I get to take a shower. The kids start trickling home by 2:45, and I put on my mom hat – I'm checking homework and driving people around, making dinner and doing household stuff until about 9, when I finally get to visit with my husband. At about 10:30, I head back down to the basement with a cup of tea and a snack, and typically work until 1:30 or 2. Then I read until I fall asleep.
6. Reading until you fall asleep--that's my own evening routine. But, UH-OH! Pub Brawl!!!!! What weapon are you wielding?
Beer bottle – preferably an Abita Turbodog. Actually…an empty Abita bottle, because there's no fight worth spilling such a delicious beer.
7. Another clever choice, Erica. Beer bottles will most certainly be in abundance. Now, to wrap up, do you have any final words of advice or inspiration?
Trust yourself to write the story you want, even if it's scary. That's usually a sign you're on the right track
Erica, you are right, right, RIGHT.
Guys, Erica gave me that same advice when I was stuck in the horrible, razor-sharp jaws of Something Strange & Deadly's sequel. Erica SINGLE-HANDEDLY pulled me from the razor jaws, patched up my wounds, and pumped my ego back to where it needed to be...and all with that simple bit of advice.
[hr]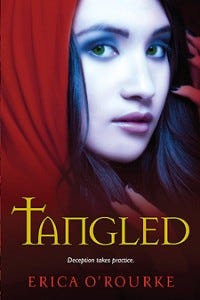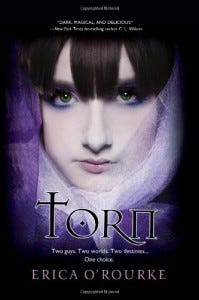 Now, to celebrate the AWESOMENESS that is Erica's Torn Trilogy, we are giving away 2 books! A copy of Torn and a copy of Tangled! All you have to do is leave a comment telling us if you prefer cookies or cake. ;) And maybe list your favorite YA paranormal while you're at it. The contest is open internationally, and we'll announce the winner next week! a Rafflecopter giveaway