Discover more from Pub(lishing) Crawl
All things reading, writing, books, and occasionally booze. Reading you under the table since 2012. This site now exists as an archive of all the posts and content from the original website.
Interview with E.C. Myers, author of <em>Fair Coin</em>, plus giveaway!
[box type="note"]Today we're uber excited to have the very dashing E.C. Myers joining us for a drink! E.C. Myers was assembled in the U.S. from Korean and German parts. When he isn't writing, he reads, plays video games, watches films, sleeps as little as possible, and spends far too much time on the internet. FAIR COIN is his first young adult novel.[/box]
Fair Coin

Sixteen-year-old Ephraim Scott is horrified when he comes home from school and finds his mother unconscious at the kitchen table, clutching a bottle of pills. The reason for her suicide attempt is even more disturbing: she thought she'd identified Ephraim's body at the hospital that day. Among his dead double's belongings, Ephraim finds a strange coin—a coin that grants wishes when he flips it. With a flick of his thumb, he can turn his alcoholic mother into a model parent and catch the eye of the girl he's liked since second grade. But the coin doesn't always change things for the better. And a bad flip can destroy other people's lives as easily as it rebuilds his own. The coin could give Ephraim everything he's ever wanted—if he learns to control its power before his luck runs out.
Read on for some fabulous interview answers from the author himself, plus the chance to win a copy of the book and some swag of your very own! And the competition's international! 1. Welcome to Pub Crawl! We're so excited to have you on board! We have to know: when you started writing FAIR COIN, what was the inspiration behind it? A dream? A musical clip? Plain, old-fashioned brainstorming? I don't remember what first sparked the idea, if anything, but an image popped into my head of a boy flipping a coin into a wishing fountain. A ripple spread out from the fountain, changing the world around him to conform to his wish, but leaving him unchanged. It played out like a scene from a movie with CGI effects. A lot of my story ideas begin visually, possibly because I've always been a TV and film junkie, and my first serious attempts at writing were all screenplays. 2. That's a fantastic image! And we here at Pub Crawl are pretty big TV and film junkies ourselves! Tell us this: what was the biggest challenge in writing FAIR COIN? Figuring out how the coin works and then explaining it clearly enough for readers to follow. The coin had to have very specific rules and limitations, which varied with the conditions in which it was being used. Plus, every time Ephraim uses the coin, the world changes, which turned plot and character continuity into a logistical nightmare. I usually don't outline my novels, so I was working out many details as I wrote the book; I actually reached a point 3/4s of the way through the first draft where I had to stop and get everything straight. It took me three days of brainstorming to work it all out, and I was getting pretty nervous because I realized that if I couldn't come up with the answer, I didn't have a book. The ending was also difficult to write; it changed completely between that first draft and the revision. 3. Oh wow, that's enough to make my eyes cross! Tell us a little about your journey to publication? Sometimes it felt like hauling the One Ring to Mordor. But it actually was rather typical, a textbook example of how most authors probably get published—the timeline varies, but the steps are generally the same. I wrote and published many short stories for six years before writing Fair Coin, which was my first attempt at a novel. I did four revisions before I started querying agents. It took seven months to an offer of representation, and I worked on one more revision with my agent before we went on submission. Then we had some near misses and a lot of rejections, and two years later we sold it to Pyr. From that point, it was only another fifteen months before the book was finally published. While all that was happening, I wrote three other novels, the sequel and two standalones, so I consider it time well spent. 4. Ha! Lucky you didn't run into Gollum on the way! And we're very happy you made it to the end! Now, spill! If you were transported into your book, which scene would you most want to reenact? The "Rabbit season! Duck season!" scene between Ephraim and Zoe, which was of course itself a sort of reenactment of a classic Bugs Bunny and Daffy Duck short. 5. A reenactment of a reenactment. You're awesome. Turning away from FAIR COIN for a moment, what are you reading right now? I'm reading Bitterblue by Kristin Cashore—one of the perks of having friends in publishing who are kind enough to share their ARCs with me. I loved Graceling and Fire, and I'm really enjoying this one so far. 6. You have excellent taste, sir. Now, let's test it a little further: if you could spend a night at the pub with any 3 authors (alive or dead) who would it be and why? I'm going to choose authors who unfortunately are no longer with us, because I hope I still might be able to buy drinks for those who are still living. Definitely William Sleator, because his book Interstellar Pig introduced me to science fiction, and that genre has shaped my tastes in reading and writing so much. He's had a big influence on my work, especially his darker, provocative books Singularity and House of Stairs. I'd also like to chat with E. Nesbit, who probably informed my ideas about fantasy and magic—and particularly the unforeseen consequences of wishes—as much as Sleator did for science fiction. And Robert C. O'Brien, because he only wrote a handful of books, and I wonder what other stories he might have told if he had lived longer; maybe he could give me some ideas. The Silver Crown worked its way into my head the way I hope one of my books will for a young reader someday.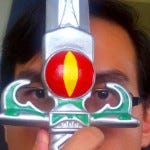 7. You have amazing taste! But wait! Pub Brawl!!!!! What weapon are you wielding? I'm gonna need a melee weapon, and if I can choose anything—since this is a fantasy after all—I'm going with the Sword of Omens from Thundercats. That should clear the room pretty quickly, and with style. Guys, he's not kidding: look, he has the sword! Guess who we're taking to our next big fight?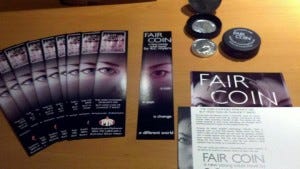 FAIR COIN is on sale right now -- you can grab it on Amazon, IndieBound, Book Depository, or at your favourite bookstore. OR you could win it right here! Here's what's on offer:
A copy of FAIR COIN of your very own!

A limited edition coin case (with chocolate coin inside, nom)!

A signed bookmark!

A FAIR COIN postcard!
Fill out the form to enter and tell us what wish you'd like granted to enter! a Rafflecopter giveaway