Discover more from Pub(lishing) Crawl
All things reading, writing, books, and occasionally booze. Reading you under the table since 2012. This site now exists as an archive of all the posts and content from the original website.
How Audiobooks Are Made, Narrator Emily Woo Zeller Tells All
Stacey here chatting with my Doppelganger and fellow PubCrawler Stephanie Garber about one of my favorite ways to read a book—audiobooks! A good narrator can really enhance the "read" in so many ways. So Stephanie and I thought it would be fun to chat with the person who narrated Under a Painted Sky to get a behind-the-scenes look.
Before we begin our interview, some basic understanding. Audio rights are one of several rights one can grant a publisher, and they are another potential revenue stream. If you grant this right, your publishers can either make your audiobook themselves through one of their in-house audiobook imprints (an example would be Penguin Random Audio for adult books and nonfiction, and Listening Library for YA and children's books), or license the rights to a third party publisher (like Tantor Media, which published UAPS). Whether an audiobook is actually made simply depends on whether your publisher believes there is a demand. I've seen several estimates of how many traditionally published books turn into audiobooks each year, and the one I've seen most cited is 10%.
Now onto our interview!
[hr]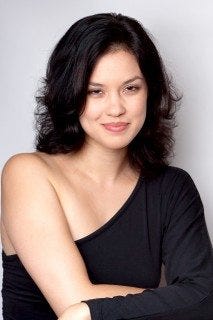 Stacey: How did you get started in the biz of audiobooks?
Emily: I got started in audiobooks through an audition process. I found out about the submission information through my network of actor friends at the time. I had just moved back to the US from having done animation in Hong Kong for a couple of years and was itching to get back in the groove somehow. I was already immediately involved in theater so that was my base.
The ironic twist in my life. When I was in kindergarten, my teacher told my parents that I needed to pay more attention and practice reading out loud because I was struggling. Ha! I guess I took that information to heart.
Stacey: Where did you come by your beautiful, clear voice? Is it something people commented on (or got you dates or jobs)?
Emily: Thank you! I've used and trained it my entire life. I started singing and dancing and learning how to use my body and voice from a very young age. As I got older, my studies became about understanding alignment and breath, which have saved my voice. And I'm always learning.
Over the years, I have played many great parts in musicals and theater so that's primarily where I got my kicks using my body/voice.
As a budding adolescent, I was told on a number of occasions by peers that my voice was sultry and I could work for a sex hotline. Oh, 13-yr-old conversation! Now that I think about it, maybe that early exposure to a sexualized existence for women and girls and the limitation to it helped me along toward my feminist ways. Not that there's anything wrong with working on a sex hotline or reading steamy scenes out loud, but being a sex worker was perhaps not the only aspiration for a 13-yr-old girl.
Stephanie: I would love to know how you prepare for work. Do you mark up the books so you know which voice to do? How do you 'create' a voice for a particular character?
Emily: I always read the book beforehand—a piece of crucial information about a character or the plot may come up at the end of the story and heaven help the person that has to go back and fix everything!
Sometimes authors provide a lot of information about a character and so the voice comes very clearly based on that. How does that person stand, walk, breathe, what culture are they from, why is their voice scratchy or smooth or high-pitched or low-pitched, etc.? Sometimes all you know is that it is a woman or a man who works at the post office or serves food. Then, I get to have a little more room. On my first job, I was told that I could take it easier with the character voices because people were listening to a book (not watching a cartoon). It also depends on the tone of the book. Some are more fantastical than others and varying points of view from book to book lend toward different tones of narration.
Stephanie. How does one learn to speak with a particular accent? Do you speak any languages?
Emily: I speak conversational Cantonese and some Mandarin...and I can parrot very well phrases in Spanish, German, French, Japanese, Korean, Russian, etc. I love languages and accents and dialects and have had a lot of exposure to them.
Chinese is a language spoken at home and I studied Mandarin as a foreign language in high school and had a few dance teachers who spoke almost exclusively in Mandarin. I'm always listening for language variations and practicing. Perhaps being a singer/musician and learning both a tonal language and English together growing up helped with having an affinity and knack for a broad range of sound? If I weren't doing it for books/work, it'd probably be a hobby! There's also a great resource called the International Dialects of English Archive that I use when I don't necessarily have an accent or dialect off of the tip of my tongue.
Stacey: During an especially emotional scene, when you sound like you're crying, it makes the listening cry, too. Are you really experiencing sadness when you're doing that voice in that a moment?
Emily: Often, yes. Narrating a story is participating in the story to a certain degree—sometimes more than other times depending on the nature of the text, but certainly always being invested in the telling of it.
Stephanie: How many hours a week do you spend narrating? Do you have a day job?
Emily: I am a full time voiceover artist and a good portion of the work I do is in audiobooks, though I sometimes also do work in animation, commercial, and other aspects of voiceover. I love the format of audiobooks. Though it can be very taxing recording long sessions for long stretches of days, especially as someone who does this work full time, I've learned how to take care of myself so that doing this work that I love so much is sustainable. I can't record for more than 5 or 6 hours a day before everything (voice, brain, body) starts going haywire. I am an independent contractor who runs my own business, so the hours and work itself vary widely.
I also perform physical theater or something else where I'm acting, singing, and/or dancing. I am also a teacher, mostly teaching yoga now.
Stephanie: What's your favorite voice to do?
Emily: My favorite voice is one that I have yet to use in a book or show! It's a shy young boy who has really bad allergies. I'm working on getting him into a project with some colleagues where he can be an animated character or a puppet.
Stacey: For people who want to go into the business of narrating audiobooks, what's your best advice?
Emily: Be prepared to work hard: Take acting classes. Pay attention to how people sound and what makes them sound that way. Practice. Listen.
Stacey is giving away the audiobook of Under a Painted Sky, so you can see for yourself how lovely Emily's voice is!
In the comments tell us what is your favorite audiobook and/or narrator?