Discover more from Pub(lishing) Crawl
All things reading, writing, books, and occasionally booze. Reading you under the table since 2012. This site now exists as an archive of all the posts and content from the original website.
Happy Book Birthday to <em>Six of Crows</em> by Leigh Bardugo!
[box type="info"]An off-schedule post yet again as we celebrate the book birthday of one of our distinguished alumni, Leigh Bardugo! The memory of our distinguished alums still echo in our hallowed halls, and it's only right to raise a toast to their new releases![/box]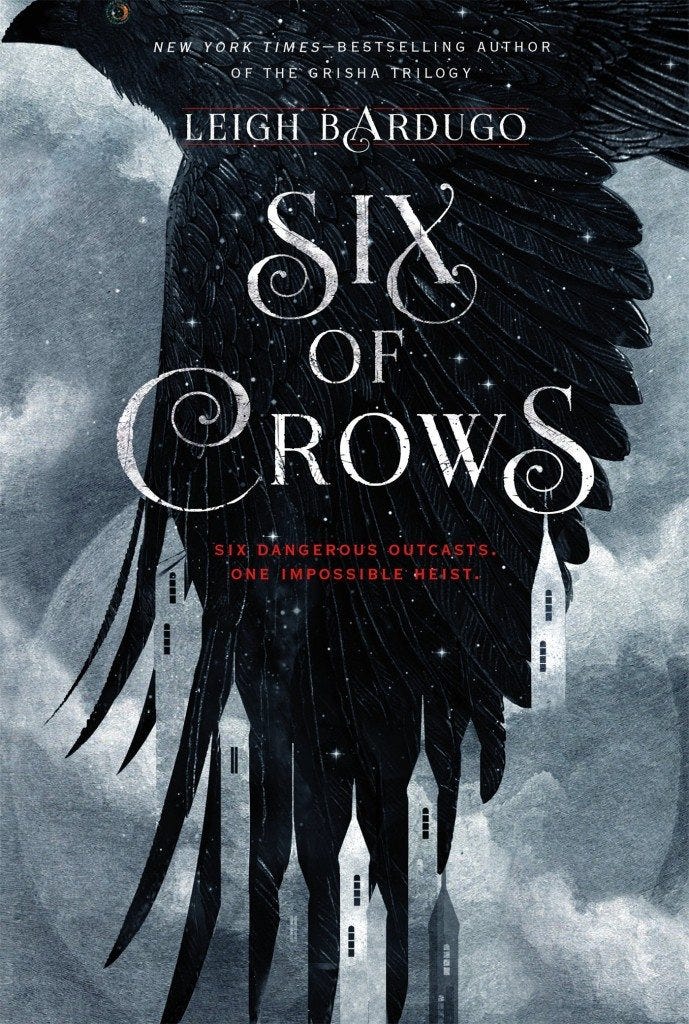 Six of Crows
SIX DANGEROUS OUTCASTS. ONE IMPOSSIBLE HEIST. Ketterdam: a bustling hub of international trade where anything can be had for the right price—and no one knows that better than criminal prodigy Kaz Brekker. Kaz is offered a chance at a deadly heist that could make him rich beyond his wildest dreams. But he can't pull it off alone... A convict with a thirst for revenge. A sharpshooter who can't walk away from a wager. A runaway with a privileged past. A spy known as the Wraith. A Heartrender using her magic to survive the slums. A thief with a gift for unlikely escapes. Six dangerous outcasts. One impossible heist. Kaz's crew is the only thing that might stand between the world and destruction—if they don't kill each other first.
As someone who's read it already, all I (JJ) can say is that YOU ARE ALL IN FOR A TREAT. But don't take my word for it!
★ Bardugo broadens the universe she created in the Grisha Trilogy...cracking page-turner with a multiethnic, band of misfits with differing sexual orientations who satisfyingly, believably jell into a family.
—Kirkus Reviews, starred review
★ [Six of Crows] has all the right elements to keep readers enthralled: a cunning leader with a plan for every occasion, nigh-impossible odds, an entertainingly combative team of skilled misfits, a twisty plot, and a nerve-wracking cliffhanger.
—Publishers Weekly, starred review
★ Taking what could have been stock characters of young adult fiction—the loner, the rebel, the outcast, and the con artist, the author has fashioned fully fleshed out, dynamic protagonists who will engage and enchant readers. What a thrill it is to return to the world she created with her popular Grisha Trilogy.
—School Library Journal, starred review
★ Great characters with complex backstories, dynamic relationships that show growth, and plenty of action to keep the pace lively, are set into a landscape that offers a variety of occupations and social strata...This is an easy choice for teens who enjoyed The Grisha Trilogy, Diviners, or any of the Shadowhunter books.
—VOYA, starred review
Look at all those stars! If you loved The Grisha Trilogy or Ocean's Eleven (or BOTH), then we definitely recommend you give Six of Crows a try. [hr] Buy a copy here today! And to celebrate, we are giving away ONE HARDCOVER COPY OF SIX OF CROWS TO ONE LUCKY WINNER! (Sorry, US only!) Comment, tweet, add to your Goodreads page! Giveaway ends October 6, 2015. a Rafflecopter giveaway [hr]

LEIGH BARDUGO is the New York Times and USA Today bestselling author of the Grisha Trilogy: Shadow and Bone, Siege and Storm, and Ruin and Rising. She was born in Jerusalem, grew up in Los Angeles, and graduated from Yale University, and has worked in advertising, journalism, and most recently, makeup and special effects. These days, she's lives and writes in Hollywood where she can occasionally be heard singing with her band. Her new book, Six of Crows, is available now!