Happy Book Birthday to <em>Illuminae</em> by Amie Kaufman and Jay Kristoff!
[box type="info"]An off-schedule post yet again as we celebrate the book birthday of one of our distinguished alumni, Amie Kaufman (and her writing partner Jay Kristoff)! The memory of our distinguished alums still echo in our hallowed halls, and it's only right to raise a toast to their new releases![/box]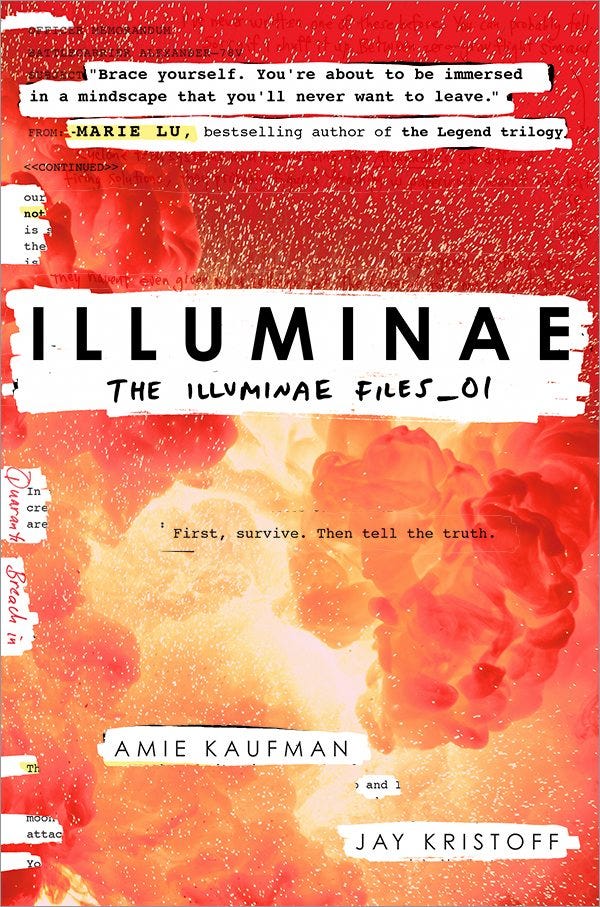 Illuminae
This morning, Kady thought breaking up with Ezra was the hardest thing she'd have to do. This afternoon, her planet was invaded. The year is 2575, and two rival megacorporations are at war over a planet that's little more than an ice-covered speck at the edge of the universe. Too bad nobody thought to warn the people living on it. With enemy fire raining down on them, Kady and Ezra--who are barely even talking to each other--are forced to fight their way onto one of the evacuating fleet, with an enemy warship in hot pursuit. But their problems are just getting started. A deadly plague has broken out and is mutating, with terrifying results; the fleet's AI, which should be protecting them, may actually be their enemy; and nobody in charge will say what's really going on. As Kady hacks into a tangled web of data to find the truth, it's clear only one person can help her bring it all to light: the ex-boyfriend she swore she'd never speak to again. Told through a fascinating dossier of hacked documents--including emails, schematics, military files, IMs, medical reports, interviews, and more—Illuminae is the first book in a heart-stopping, high-octane trilogy about lives interrupted, the price of truth, and the courage of everyday heroes.
Happiest of book birthdays to Illuminae by Amie Kaufman and Jay Kristoff! You guys, there are NO WORDS for how awesome this book is. Literally. No words. A collection of digital ephemera in book form? House of Leaves meets Battlestar Galactica? WE CAN'T DO THIS BOOK JUSTICE. Trust us; this is a book that must be experienced, not just read. But don't take our word for it! Here's what others had to say about Illuminae!
★ Ambitious, heartbreaking, and out-of-this-world awesome.
—Kirkus Reviews starred review
★ Hints of romance and references to Stanley Kubrick's 2001: A Space Odyssey interweave with the text, itself an arresting visual experience that weds form with expression and content. . . . Kaufman and Kristoff have created a fast-paced, quasi-political sci-fi thriller that is completely unique.
—Booklist starred review
★ ...a stylistically mesmerizing tale, where story and art are interchangeable, and words act as pictures.
—Publishers Weekly, starred review
The characters are immediately real and with harrowing accounts, unexpected twists, and gut-wrenching selflessness, they become even more endearing over the course of the book. While reminiscent of the works of Isaac Asimov and Orson Scott Card, this work is a distinct piece that stands alone.
—School Library Journal
Alternately humorous, charming, horrifying and electrifying, Illuminae is unforgettable and a game-changer for its genre.
—Shelf Awareness
You'll cheer, you'll gasp, you'll hang on for all 600 pages.
—Romantic Times Book Reviews, Top Pick Gold
Alternately humorous, charming, horrifying and electrifying, Illuminae is unforgettable and a game-changer for its genre.
—VOYA
Prepare yourselves for Illuminae.
—EW.com
One look at a hard copy of Illuminae and you know you're not in for an ordinary novel experience. . . . Illuminae is a wholly ambitious work that never sacrifices emotion or story for its unique form.
—Bustle.com
A truly interactive experience for the reader. . . . A fantastically fun ride.
—MTV.com
Brace yourself. You're about to be immersed in a mindscape that you'll never want to leave.
—Marie Lu, bestselling author of the Legend trilogy
Nervy chicks, cute fighter pilots, lots of heart, lots of heartbreak, a mentally unstable battleship, and even pink hair! This book is ****ing awesome.
—Laini Taylor, bestselling author of Daughter of Smoke and Bone
An edge of your seat thrill ride that left me breathless. Genre: Undefinable. Novel: Unforgettable.
—Kami Garcia, bestselling coauthor of Beautiful Creatures & author of Unbreakable
Not only is Illuminae a twisting, heart-pounding story moving at the speed of light, but it is a truly beautiful novel that redefines the form. I have never read anything like it. And it certainly filled the Battlestar Galactica shaped hole in my heart.
—Victoria Aveyard, bestselling author of Red Queen
An exuberant mix of space opera, romance, zombies, hackers, and political thrills, told with eccentric aplomb. Illuminae is both the weirdest and most heartfelt thing you'll read this year.
—Scott Westerfeld, bestselling author of Uglies and Zeroes
Stunningly creative. Smart, funny, and romantic. This is the book I've been waiting for.
—Veronica Rossi, bestselling author of Under the Never Sky
You guys. YOU GUYS. Just...go grab yourself a copy. We promise your minds will be BLOWN. [hr] Buy a copy here today! And to celebrate, we are giving away ONE HARDCOVER COPY OF ILLUMINAE TO ONE LUCKY WINNER! (Sorry, US only!) Comment, tweet, add to your Goodreads page! Giveaway ends October 28, 2015. a Rafflecopter giveaway