Discover more from Pub(lishing) Crawl
All things reading, writing, books, and occasionally booze. Reading you under the table since 2012. This site now exists as an archive of all the posts and content from the original website.
Guest Post: Transitioning from a Public Library to a School Library
[box type="note"]Note from Sooz: I'm so excited to share a librarian's insider perspective today! It's so easy to get caught up in the writing/publishing side of the things that we forget about the people who actually GET our books into readers' hands. Thank you so much for stopping by and reminding us, Laura![/box] Back in 2012, I wrote about being a library assistant in a public library. A post on the writerly benefits of working on the frontline followed a couple of months later. Today I am back to talk about my transition to becoming a school librarian at a secondary school. So why did I make the switch from a public library to a school library? When I started working in public libraries, I was still trying to convince myself to stick with women's fiction. I didn't believe I was capable of creating anything that could hold its own with so many other super talented young adult authors already in the industry. As such, I was happy enough to work with the young children and elderly folks who predominantly used the library. But as I grew to know myself as a writer, and finally decided to take a risk and try my hand at writing young adult fantasy, the genre of my heart, I became more and more passionate about encouraging children and teenagers to read. However, I wasn't able to fully exercise that passion in the public libraries, as we had very few teenage readers, no matter how much we tried to get them through the doors. Without access to that age group, I couldn't make a difference. At the end of last year, I packed up everything and moved south east, to another county, to be with my boyfriend. I left my job at the public library and started searching for job listings at other libraries. However, the timing couldn't have been worse. The local authority had started closing libraries up and down the county—shame on them, if you ask me—and therefore, no jobs were advertised. I'd love to say that the switch from public libraries to school libraries was the result of my decision to put my passion for getting kids reading into practice now I was looking for a new job anyway, but I'd be lying. I had no other choice. Having worked a day job I'd loved, I wasn't prepared to settle for the first job that came around. Thankfully, I was in a position where I could be a bit more selective, and protect my creativity by not ending up in the kind of job that would have drained me. School libraries hadn't been affected by the council's budget cuts, and just short of a fortnight after I left my old one, I scored a full-time job as a school librarian. Almost five months into the job, I can honestly say that working as a school librarian is more rewarding than I could have ever imagined. On a daily basis, I get to gush about all the awesome books we stock, throw recommendations at the kids and watch them try to stuff them all into their schoolbags, and discuss how hot Theo James is as Four in the 'Divergent' film. Yeah, it's as brilliant as it sounds. Hands down, the most incredible part is knowing that I am, in fact, making a difference. For example, our year elevens officially left school last Friday, even though they still have some exams to sit, and the Head Girl, who sat on the student panel that had a hand in hiring me for the job, gave me this beautiful photo frame: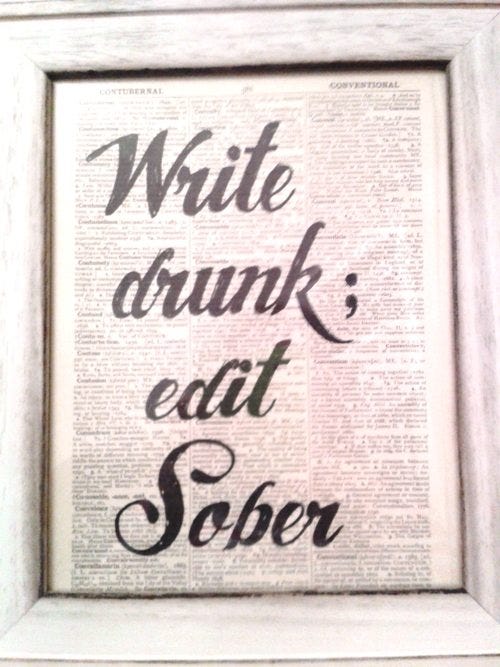 She told me that, even though I've only been at the school for a short time, I've really made an impact on her—especially with regards to her writing. I was rendered speechless. This is what I took the job for—to make a difference. So I can't even tell you how much her words meant to me. I will carry them forever. As well as running the library, I run a weekly writing club with an English teacher to a few very keen young writers. It is wonderful to be able to give back some of what I have learnt over the last nine years of writing. If it's possible, I'm might be even more passionate about giving back to young writers than I am getting kids to read. I did not have anything like this when I was in school, and I wanted to give the students the opportunity to explore their writing amongst peers, with some input from myself and my colleague. It's proving to be a hit. Of course, any job I work has to be compatible with my writing life. I am a writer, first and foremost. And it has to be said that working in a school library has to be one of the best day jobs a writer could have. It is a demanding role—there's no denying that—but it's all about books and providing for these wonderful kids and I'm crazy passionate about all of that, so I enjoy it. I don't have to take any work home—I have my set hours—and that's it. Plus, getting all the school holidays is fantastic. This summer I will have six weeks off work. Does it get much better? I am so inspired every day by these kids—even on the more trying days—and have written more in the last four months than I have in my life. Honestly. It's perfect. I love my job. [hr]

LAURA WARDLE is a school librarian and writes fantasy novels for teens. She has more ideas than time, drinks far too much coffee, and loves binge-reading awesome books. She lives and writes in Lincolnshire, England, with her wonderful fiancé. You can visit her blog, and follow her on Twitter and Pinterest.