Discover more from Pub(lishing) Crawl
All things reading, writing, books, and occasionally booze. Reading you under the table since 2012. This site now exists as an archive of all the posts and content from the original website.
Guest Post: Lessons in Pentameter
[box type="note"]Note from Sooz: I am SO EXCITED (like, fangirl-flipping-out-excited) to have Ian Doescher, the author of William Shakespeare's Star Wars on Pub(lishing) Crawl! If you guys haven't read these books, then DO. They are incredible. Now take it away, Ian![/box]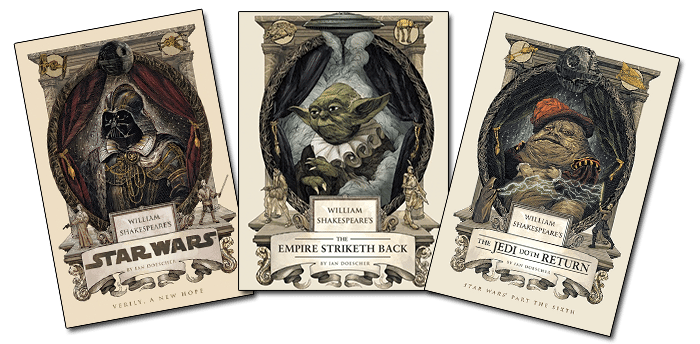 In my freshman year English class, as we prepared to dive in to Shakespeare's Othello, my teacher Jane Bidwell taught us about the four major types of poetic feet, including the meter Shakespeare wrote it: iambic pentameter.  Iambic pentameter is a set of five (pent) iambs, which is a poetic foot with the pattern unstressed-stressed, like the word re-LEASE.  So, iambic pentameter is da-DUM da-DUM da-DUM da-DUM da-DUM. Three years later, as a senior, we were required to write ten lines of iambic pentameter, as we studied John Dryden's poem "Mack Flecknoe."  "Mack Flecknoe" is a poem Dryden wrote to make fun of a man named Thomas Shadwell.  Our assignment was to write a similar poem making fun of someone else, so I, naturally, chose Barney the Purple Dinosaur.  Here are the ten lines I wrote at age 17:
"Hello, there kids.  Today we're gonna sing! Oh who's your friend, your ruler, and your king? It's me you trust, the great and mighty one Who makes you laugh, and lets you all have fun! 'The Purple Hero' I am known to you, I love you more than both your parents do! I'm great, I'm nice, I'm smart, I'm kind, and wise, So now then, let me give you kids advice: Believe that I love you and you love me, And in my power ever shall you be!"
Not too bad.  But here's a confession: in and after high school, I wrote occasional bits of poetry, and honestly I figured it was okay to play fast and loose with the meter.  If I needed to scrunch an additional syllable or two into my line to use the words I wanted to use, that was okay.  But about eight years ago I made a pact with myself—the kind of pact that only nerds make with themselves: from that point forward, if I was going to write in verse I was going to be a total stickler about having flawless meter (and rhyme).  What I realized back then is that anyone can fudge meter, but only true artists are perfectionists about it.  My exemplar in this is not Shakespeare, actually (who bent iambic pentameter to his own will), but Dr. Seuss:
"Green eggs and ham, green eggs and ham, I do not like green eggs and ham…"
Flawless iambic tetrameter.  The text of Dr. Seuss' books sings as you read it because he was just about perfect when it came to meter. So, what about you?  How can you write great verse?  The trick is to be honest with yourself about where the syllables in your line fall, and if you are fitting in extra syllables or if your rhymes aren't perfect ("wise" doesn't rhyme with "advice," sorry 17-year-old Ian!), you need to go back to the drawing board.  Sometimes this is painful.  In the course of writing the William Shakespeare's Star Wars trilogy, I can't tell you the number of times I had to ditch a line and start over because I couldn't get the syllables to work the way I wanted them to.  In the end, though, I think the books are better for it.  And so will your verse be if you stick to your guns and go for perfection. As a 17-year-old, I didn't know that what I was learning about iambic pentameter would change my life, and I didn't know that my nerdy pact with myself 8 years ago would also be so important.  I'm convinced, though, that (at least in part) it was the attention given to my iambic pentameter that made William Shakespeare's Star Wars attractive to Quirk Books.  I wouldn't say my verse is 100% perfect—that's almost impossible (particularly with words like "stormtrooper" and "lightsaber," which defy iambic pentameter)—but I know I tried my hardest.  Here's to taking the time to make your meter sing, like dear ol' Dr. Seuss! [hr]
Thank you SO MUCH for stopping by, Ian!! To celebrate your visit, we're giving away the entire William Shakespeare's Stars Wars series + posters! HOORAY! Just fill out the Rafflecopter form to be entered!
And don't miss the rest of Ian's blog tour:
Mon, June 23rd: GOOD BOOKS & GOOD WINE

Tues, June 24th: BIBLIOMANTICS

Thurs, June 26th: GEEKY LIBRARY

Fri, June 27th: NOVEL THOUGHTS

Mon, June 30th: ON WEDNESDAYS WE WEAR PINK

Tues, July 1st: GEEKOSYSTEM

Weds, July 2nd: MY MERCURIAL MUSINGS

Thurs, July 3rd: QUIRK BOOKS BLOG
[hr]
Ian is a Portland native, and lives in Portland with his spouse and two children.  He has a B.A. in Music from Yale University, a Master of Divinity from Yale Divinity School, and a Ph.D. from Union Theological Seminary.  He is currently the Creative Director at Pivot Group LLC, a full service marketing, research and web agency in Portland, Oregon.