Discover more from Pub(lishing) Crawl
All things reading, writing, books, and occasionally booze. Reading you under the table since 2012. This site now exists as an archive of all the posts and content from the original website.
Guest Post: Getting Personal in your Work...
A Breadcrumb Trail To The Heart: Getting Personal and Giving Back
by Heather Demetrios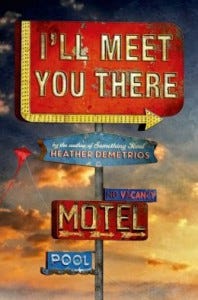 People often want to know how much of myself I put into my books. This question always makes me nervous. If there's a lot of me, is that cheating? Is it somehow gauche? Reading is such an intimate experience, and it can be a little terrifying to bare your soul on the page and then talk about it after. I know other writers get this question a lot, too. When you write something that's deeply personal, you can't help but feel as though readers are going on an Easter egg hunt through your emotional landscape, combing over the terrain for the bits and pieces of you that have fallen into the novel—a breadcrumb trail to your heart. I think we can't help but leave that trail, especially when a particular work originates from the deepest parts of ourselves.
I care about all my books, of course, but my most recent, I'll Meet You There, is particularly special to me. It's a love story about two broken kids, both battling to defeat the hopelessness in and around them. Josh is a nineteen-year-old Marine who's just returned from Afghanistan. He's lost his leg and a bit of his mind. He has PTSD and is grieving the loss of his buddies. Then there's toughly tender Skylar, an artist who may have to give up her dream of college in order to take care of her unstable mother. She works at a quirky roadside motel with Josh the summer he comes home and, together, they find a way to map out new territory in their once too-small world.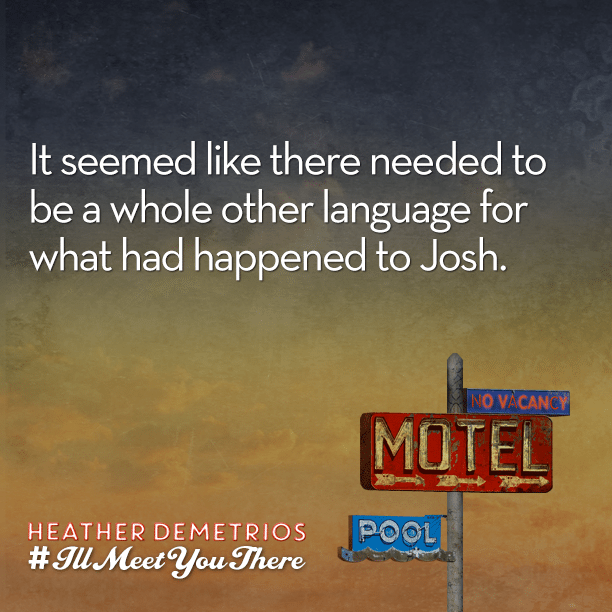 So here's the deal: both my parents were Marines and my dad suffers from PTSD. I didn't want to write about this. Originally, my book was about a starlet who gets stranded at the motel. But Josh Mitchell, in his typically stubborn way, demanded I tell his story. So I did. In going to Josh's darkest places and getting in the trenches with Skylar as she deals with extreme poverty and the alcoholism that has destroyed her family, I ended up journeying into my own family's past (and present—PTSD never goes away). There's a lot of me in I'll Meet You There, yes, but I think what is most apparent are not specific facts or common experiences I share with my characters, but the fact that I deeply, deeply care about veterans' affairs and youth in poverty. I didn't even know how much I cared until I started researching and writing this book. I'm a YA writer and the military is full of young adults. Now, it seems like a no-brainer that I needed to tackle this, especially since there are kids going to war and coming home (or not), shells of who they used to be. Many of our soldiers aren't even old enough to legally drink and yet they carry the weight of war on their shoulders.
In my author's note, I say this: Why do we need to do more than just write or read a book? David Finkel says it best in Thank You For Your Service: "The truth of war is that it's always about loving the guy next to you. The truth of the after-war is that you're on your own." Readers, we are the soldiers of the after-war. Fight on.
I've always been an activist in one way or another. I wanted people to fall in love with Josh Mitchell and Skylar Evans and then get a little fired up. I wanted to provide an outlet for the feelings they had upon finishing the last page. To that end, I encourage my readers to donate to the Wounded Warrior Project, an amazing organization that supports military members like Josh who struggle with the physical and mental wounds so common after tours in Afghanistan and Iraq. Seeing the effect of PTSD on my own family, I know how deeply important this work is.
As a way to celebrate the release of I'll Meet You There this week and to bring more love to the WWP, I will be donating $1 for every copy of the book that is bought this week, as long as readers follow WWP on the social media of their choice and email me the receipt (heatherdemetrios@gmail.com). For more details, you can check out my post about it, which includes a letter I wrote to early readers of the book.
Pick up I'll Meet You There and you've found the first breadcrumb in a journey I'm honored to share with you.
[hr]
When she's not traipsing around the world or spending time in imaginary places, HEATHER DEMETRIOS lives with her husband in New York City. Originally from Los Angeles, she now calls the East Coast home. Heather has an MFA in Writing for Children and Young Adults from Vermont College of Fine Arts and is a recipient of the PEN New England Susan P. Bloom Discovery Award for her debut novel, Something Real. Her other novels include Exquisite Captive, the first in the Dark Caravan Cycle fantasy series, and I'll Meet You There. She is the founder of Live Your What, an organization dedicated to fostering passion in people of all ages and creating writing opportunities for underserved youth. Find out more about Heather and her books at www.heatherdemetrios.com and www.darkcaravancycle.com, or come hang out with her on Twitter (@HDemetrios) and any number of social media sites.