Discover more from Pub(lishing) Crawl
All things reading, writing, books, and occasionally booze. Reading you under the table since 2012. This site now exists as an archive of all the posts and content from the original website.
Guest Post: Enjoy the Ride with Matt Myklusch
[box type="note"]Amie here first: Today we have a guest post from Matt Myklusch, whose novel The Lost Prince is out on April 14th! Matt's a part of Egmont's Last List—you'll see us here at PubCrawl highlighting their novels as they release over the next couple of months. Read on, for more about pirates, rockstars, and some Johnny Depp pics! (Got your attention now, don't I?)[/box]
Like most authors out there, I did a lot of other jobs before I got any work as a writer. I've been lucky, because most of those jobs were pretty cool and interesting.
Out of college, I worked briefly in the publicity department for Walt Disney Pictures. (My last day there was the NY premiere of the animated film, Tarzan). After that, I worked in the promotions department for Columbia Pictures. I even worked at MTV's college network, mtvU, managing Spring Break concerts in Cancun and Acapulco. But, writing books holds a place in my heart that none of those jobs can touch. I love beaches and I love music, but they weren't the things that fired up my imagination growing up.
What did?
Super-heroes, super-villains, epic space battles, Indiana Jones-style adventures, pirates, and a bunch of other things I'm proud to say I have yet to outgrow. For some reason, it was never enough for me to just watch or read those stories. I always felt the need to "get in the game" and create my own versions of them.
Seaborne: The Lost Prince is my take on a classic pirate tale. But, to truly make it my pirate tale, I had to figure out a way to make it different and new. Oddly enough, I found inspiration in the words of the actor Johnny Depp. (I am going to go out on a limb and assume that everyone reading this is familiar with Depp's portrayal of Captain Jack Sparrow from the Pirates of the Caribbean film franchise).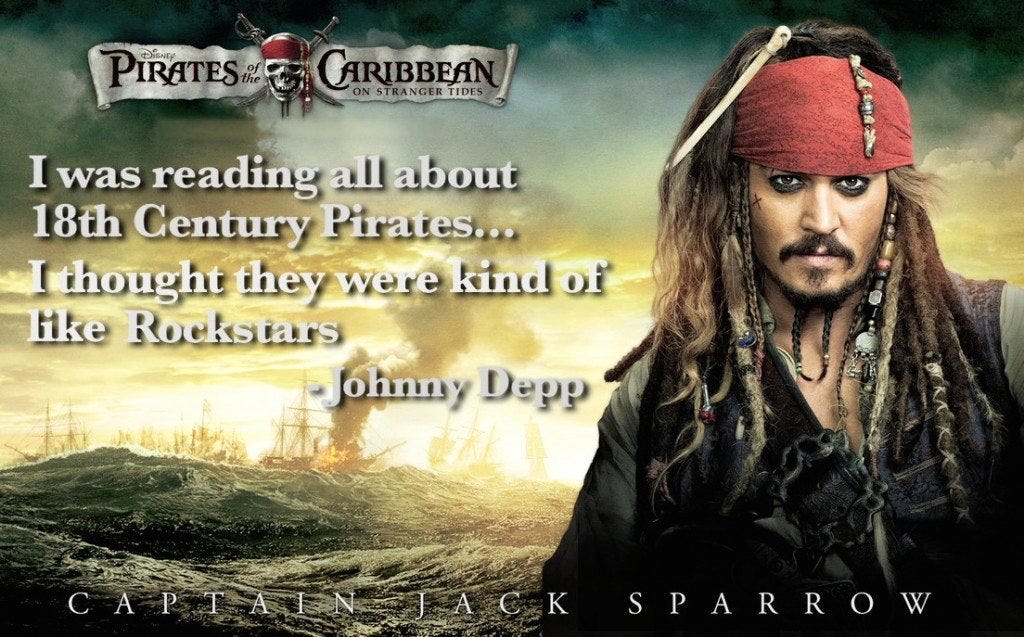 I read an interview years ago where Johnny Depp said that he thought about pirates as the "rock stars" of their day, which is why he modeled Jack Sparrow's mannerisms after Keith Richards. That got me thinking...If adult pirates were rock stars, what would pirate kids be like?
I think they would be alternative, anti-authoritarian, rebels. Daredevils. Tough kids with a chip on their shoulder. The kite-boarders, surf punks, and skate rats of their day. Once I figured that out and starting mashing up 18th century pirates with X-Games style water sports, Dean Seaborne came to life.
Dean is a 13-year old orphan who was raised by pirates and trained as a spy. His job is to sneak on board different ships and find out what they are carrying, infiltrate crews before raids, and generally make it easier for his pirate bosses to separate innocent people from their loot. He hates it. He feels like the angel of death, delivering good sailors into the hands of cutthroat buccaneers. He wants to be free to sail the sea on his own terms. To chart his own course in life. Unfortunately, he works for One-Eyed Jack, the pirate king of the Caribbean. The only way out of his employ involves walking the plank into shark-infested waters. When Dean tries to run away, and gets caught, he ends up in quite a bit of trouble.
Luckily for Dean, he stumbles onto the trail of the greatest treasure in all the Caribbean—Zenhala, the island where gold grows on trees. One-Eyed Jack tells Dean if he can deliver the golden orchard of Zenhala, he can have the freedom that he so desperately craves. Dean infiltrates the island of Zenhala, posing as its legendary lost prince. But, the longer he is there, the more he questions his mission...and himself. There are a few too many similarities between the lost prince's story and his own. Dean can't be sure, but it just might turn out that he is exactly who he's pretending to be. Unfortunately, not everyone on the island is happy to see the lost prince return. With sea-serpents, assassins, and danger on all sides, Dean might not live long enough to find out the truth.
Dean Seaborne in action!
Seaborne: The Lost Prince is a story idea I first had (in its purest form) over twenty years ago. It has evolved over time, and I've had to go back to the drawing board a few times to get it right, but Dean Seaborne is finally ready to embark on his maiden voyage. I hope you enjoy the ride.
[hr]
MATT MYKLUSCH is a middle-grade fantasy/adventure author and the creator of Seaborne (Egmont USA), and The Jack Blank Adventures (Simon & Schuster, Aladdin). When he's not busy writing about kite-boarding pirates, superheroes, and robot-zombies, Matt hosts The Other Side of the Story podcast, speaking with other authors about their creative process and path to publication. Matt lives in New Jersey with his wife and family, where he is always hard at work on his next book. You can find him on Twitter, Facebook, or at his website.