Discover more from Pub(lishing) Crawl
All things reading, writing, books, and occasionally booze. Reading you under the table since 2012. This site now exists as an archive of all the posts and content from the original website.
Funny Books for Teenage Boys

by
Rachel Seigel
---
Funny is in. There is no doubt about it. From blockbuster series for middle-grade such as Jeff Kinney's Diary of a Wimpy Kid to comedic memoires such as Tina Fey's Bossypants, we all love books that can make us laugh. That being said, after hearing from an author (who has written YA aimed at boys) that his publisher does not feel that there is a market for funny YA boy books, I decided to Google "Funny Books for Teens", and was shocked that of the boy-oriented books that were suggested on many of these lists, many of them were either best for middle-school, or were adult cross-over books such as Hitchiker's Guide to the Galaxy (which I loved as a teen and still adore) by Douglas Adams. But what of the teenage boys? While it is true that teen girls make up the majority of YA readers, surely there are male readers who like to laugh, and appreciate a book that is not only funny, but represents them. Thankfully, there are still some Young Adult authors out there who write with teenage boys in mind, and whose works happen to be among the funniest books I've ever read in my life!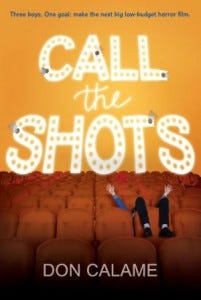 One author, who perfectly captures the teenage experience is Don Calame, whose latest book Call the Shots releases from Candlewick Press on September 11, 2012. Third in a series about a trio of high school boys (The first two were Swim the Fly and Beat the Band)Coop, Sean and Matt, the books follow their various escapades such as trying to see a real live naked girl, entering a Battle of the Bands contest, and making a cheap horror movie that is guaranteed to make the boys rich and famous. The characters are likeable, realistic, and extremely funny, and when I told my boyfriend about them, he wondered if Don Calame had been spying on him! (Apparently some aspects of the book hit a little close to home for him) The books are recommended for ages 14+ (Due to some slightly mature content), but there is nothing really graphic in the books, and they're harmless enough that your 7th or 8th grader could still enjoy them.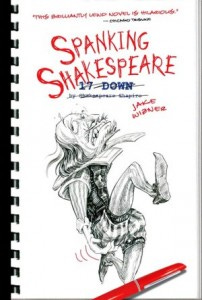 Along a similar line is Jake Wizner's hilarious novel Spanking Shakespeare. Shakespeare Shapiro (yes- you've read that right) has always hated his name. (His brother's name is Ghandi, so it could be worse!)Ever since he was born, his life has gone downhill, and now entering his senior year of high school, he's pretty sure it isn't going to get better. Shakespeare chronicles every mortifying detail in his memoir (which every senior must complete), and he does so with a refreshing amount of honesty and humour. Once again, I can't say enough about this book. The author's second novel Castration Celebration was equally hilarious, but is definitely more of a girl's book. Wizner is a no-holds-barred kind of writer, and Shakespeare's voice is pitch-perfect. I was laughing so hard at times I had tears running down my cheeks, and I was frequently sharing passages with my boyfriend, who also saw a lot of parallels to his own life in Wizner's book. There is a fair amount more raunch in this one than in the Don Calame (including refrences to pot smoking and being stoned), but the writing is incredibly clever, and it will appeal to all kinds of sensibilities. I haven't seen anything new from this author in a few years, but I expect that we will be seeing more of him in the future.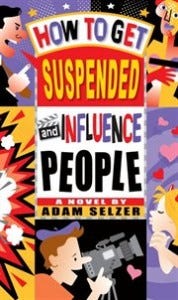 Finally, I'd like to give special mention to Adam Selzer's How to Get Suspended and Influence People, which although seems to only be available in Nook or Kobo format right now, is also really funny and clever. The story begins with an assigment. Leon's 8th grade gifted class has to make educational videos for the 6th and 7th graders, and Leon chooses Sex Ed, in hopes of being able to show some boobs. As time goes by, the project begins to mean something to Leon, and he decides that he wants to tell the younger kids that puberty is tough, but what they're going through is normal. Leon crafts his video in the style of Fellini, which when viewed by the program director, gets him suspended, sparking a town-wide debate over censorship. The book is sensitively written, funny, thought-provoking, and successfully blends substance with humour. So now you've seen three of my favourite funny books for teenage boys, and I'd love to hear about some of yours! Which Young Adult books for boys have tickled your funny bone?
---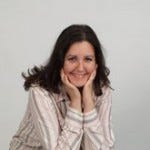 Rachel Seigel is the Children's/Young Adult Book Buyer at wholesaler S&B Books in Mississauga, Ontario. She also maintains a personal blog at http://readingtimbits.blogspot.com and can be found on Twitter as @rachelnseigel.