Discover more from Pub(lishing) Crawl
All things reading, writing, books, and occasionally booze. Reading you under the table since 2012. This site now exists as an archive of all the posts and content from the original website.
Epic KINDLE Giveaway + Cover Reveal for Meredith McCardle's The Eighth Guardian + Interview with the Art Director of Amazon Children's Publishing
So the ladies at Pub(lishing) Crawl and I (Susan) are super excited for exactly 4 reasons today. Those reasons are:
It's Friday the 13th, which is freaky and awesome.
We have the very lucky honor of revealing the cover for one of my most FAVORITE BOOKS!! What is that book? It's The Eighth Guardian by Meredith McCardle.
We have an amazing interview with the designer of Meredith's cover—who also happens to be the Art Director at Amazon Children's Publishing! Katrina Damkoehler has given us a fascinating inside look at what designers do. But more on the epic cover and the epic book in a moment...
Because I need to share the FOURTH amazing reason we're excited today.
Wait for it...wait for ITTTTTTT...
4. You can win a Kindle Paperwhite in today's post!!
I know, right? Right?! Isn't that just out-of-this-world insane? Meredith and her publisher (Skyscape) have donated a Kindle Paperwhite to help spread the word about The Eighth Guardian, and we are so thrilled that we get to be the ones to spread that word!
Now, in case you're wondering what The Eighth Guardian is—you know, to get you super hyped up for the beautiful cover (and wow, WHAT a cover)—here's a brief summary of the book:
Amanda Obermann. Code name Iris.

It's Testing Day. The day that comes without warning, the day when all juniors and seniors at The Peel Academy undergo a series of intense physical and psychological tests to see if they're ready to graduate and become government operatives. Amanda and her boyfriend Abe are top students, and they've just endured thirty-six hours of testing. But they're juniors and don't expect to graduate. That'll happen next year, when they plan to join the CIA—together.

But when the graduates are announced, the results are shocking. Amanda has been chosen—the first junior in decades. And she receives the opportunity of a lifetime: to join a secret government organization called the Annum Guard and travel through time to change the course of history. But in order to become the Eighth Guardian in this exclusive group, Amanda must say good-bye to everything—her name, her family, and even Abe—forever.

Who is really behind the Annum Guard? And can she trust them with her life?
And guys, I'm not exaggerating when I say this book is one of my favorites. I was lucky enough to read it years ago, and I fell in love. The characters, the world, the edge-of-your-seat action, the humor—this book seriously has it all, and I cannot WAIT to get my hands on a final version.[1. I should note that I am not just gushing for the sake of gushing. I absolutely love this series. I read The Eighth Guardian in one sitting on a Christmas Eve two years ago, and for days after, I had a reader hangover. Plus, I felt like a writing hack for WEEKS. Meredith knows how to write, and her characters are so, so, SO vivid. Plus the plot? Non-stop action and mystery. It totally threw me for a loop  in the best possible way. You guys should seriously preorder this book right now.]
[hr]
Now, before we reveal the cover, we want to share this awesome interview we have with Katrina Damkoehler, who isn't just a designer with Skyscape and Amazon but the Art Director of all Amazon Children's Publishing.
Thanks so much for joining us, Katrina! To start, can you talk a little bit about your  process for coming up with cover designs? Do you read the book or rely on a summary? How much input do you get from the editor in the early stages?
First, I have to say that I was more of a concept developer and type designer on this cover than a true cover designer. The amazing illustrator, Cliff Nielsen, created all of the visual framework you see. Before art directing any cover, I always read at least the first few chapters of book (more if I have time)—enough to get a good sense of the tone of voice and pacing of the book. I also rely on a summary of important plot points, settings, symbols, and characters from the book's editor to brainstorm cover ideas—usually in the form of a cover/design brief. Every designer works differently, but I tend to spend a lot of time at the beginning of a new project doing comparison cover and genre research, photo research, and jotting down ideas for what to communicate on the cover (and bouncing those ideas off the Editor). This early planning creates a roadmap for the rest of design process.
Wow. I never realized how much research went into it—though it definitely makes sense. For The Eighth Guardian, how many concepts did you consider? And how did you decide on a winner?
I generally ask to see (or create) at least 3 directions for a cover. This book was unusual because I went into it with a clear sense of what I wanted to see. Around the same time I was reading the draft, I came across Macoto Murayama's flower illustrations: https://www.google.com/search?q=macoto+murayama+flowers&source=lnms&tbm=isch&sa=X&ei=yvSoUrfVJc63kQek5oHACQ&ved=0CAcQ_AUoAQ&biw=1412&bih=968. I loved the beautiful colors and sci-fi feeling they have. I kept imagining a technique like this for The Eighth Guardian. I described a concept inspired by these images to the Editor, and our Sales & Marketing team, and everyone liked it.
I LOVE that the cover features a scene from the book. In the book, Iris goes back in time to several major historical events. How did you decide on picking the Boston Massacre for the cover rather than some of the other historical options?
The Boston Massacre scene made the most sense to us because it's both significant to the story, and instantly recognizable as a historic event in America—it can quickly get the historic side of the book across to potential readers. There's also something really fun about a fresh, futuristic approach to a familiar scene many of us have seen throughout our lives in history books.
I agree that the Massacre is iconic—and you can definitely get that US history vibe just from glancing at the cover. Well done!! So once you had a plan, how did the design process for this cover work specifically? How many drafts did it go through?
I've worked with Cliff Nielsen several times. He's a master at taking something imagined and making it real. I described what we were hoping to see on the cover to him before work was begun and sent a rough layout for composition guidance. I initially imagined creating series branding for the book in the form of an emblem myself. Once I got to work, I realized I didn't have the 3D modeling skills to do the emblem justice, and a flat icon would look out of place against Cliff's lush "time travel" scene. Cliff went on to create both the background art and the emblem. After the first sketch, most of the revision rounds were just tweaking contrast and the order things pop out to the viewer (we wanted the emblem and title to pop out first, establishing series branding, followed by the historic setting).
[box type="note"]You can see the general progression of the cover here, but scroll down to see the final, glorious image![/box]
[fourcol_one][/fourcol_one] [fourcol_one][/fourcol_one] [twocol_one_last][/twocol_one_last]
Well, I love the emblem (I want it on a patch that I can put on my backpack. Not even joking). So since The Eighth Guardian is the first book in a series, did that affect the design in any way?
Definitely. Whatever ideas or visual approach we come up with has to be flexible enough to modify and re-use on future titles in the series. The idea for The Annum Guard is to use the emblem design and title font as the imagery that ties all of the titles together, but have fun with new scenes and colors in each background.
Makes sense, and I have to say, Katrina—the cover turned out perfect. It fits everything about the book and evokes all the elements I loved most: the adventure, the time travel, the technology, and of course, the danger...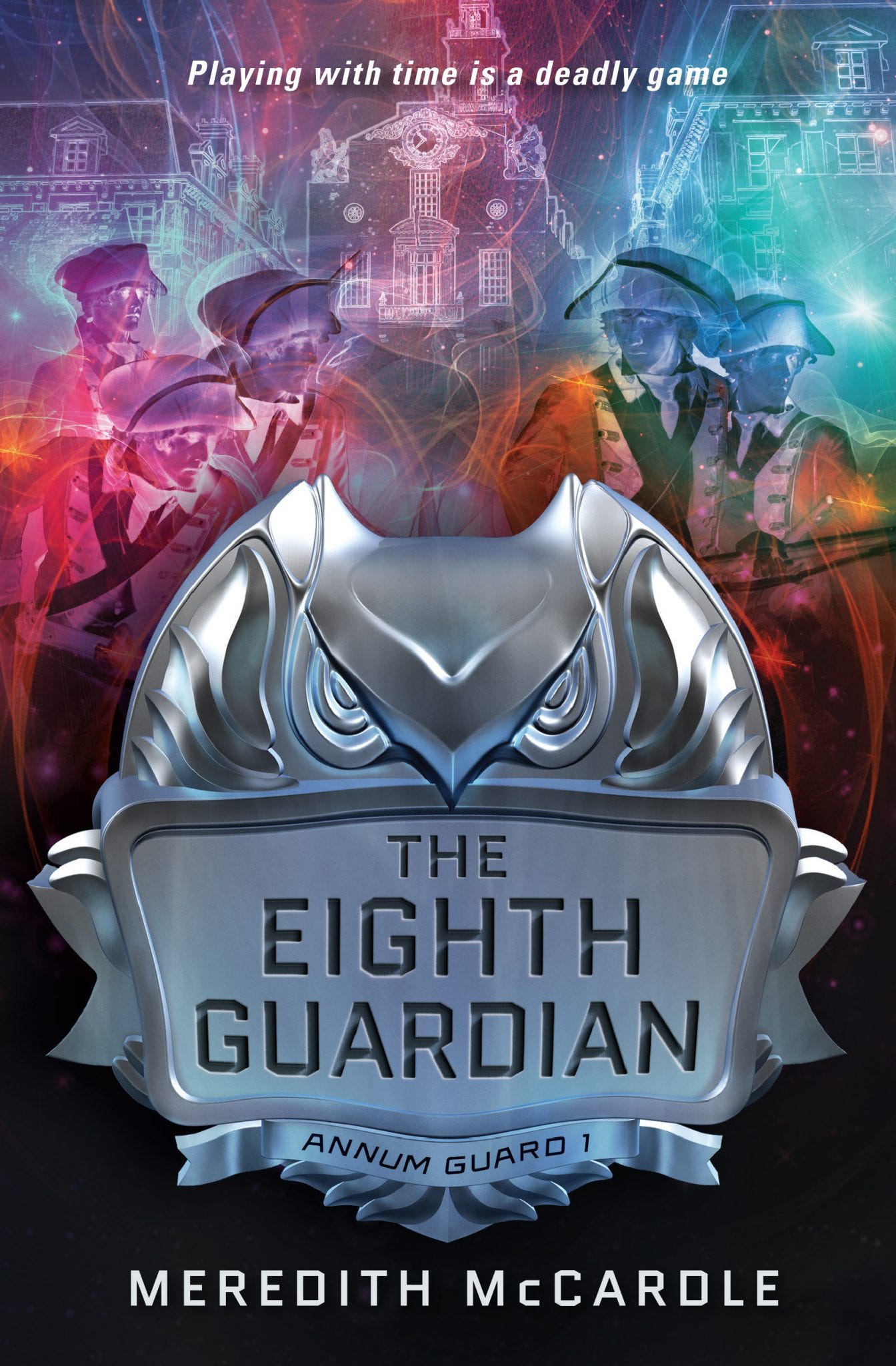 What do you guys think? Stunning, isn't it? It definitely makes me want to pick up the series.
[hr]
Now, to end this absolutely incredible post, we must now share the...dun, dun, dunnnnn! The giveaway!! (Honestly, guys, we still can't believe Skyscape would donate something so huge and awesome! Clearly Meredith and her publishing team are amazing!)
To be eligible to win the Kindle Paperwhite, you must fill out the Rafflecopter form below. The giveaway is only available in the US (I'm sorry!), and we will announce the winner next Friday in our end-of-the-year, happy-holidays post!
[hr]
MEREDITH MCCARDLE is a recovered lawyer who lives in South Florida with her husband and two young daughters. Like her main character, she has a fondness for strong coffee, comfortable pants, and jumping to the wrong conclusions. Unlike her main character, she cannot travel through time. Sadly. Her debut, The Eighth Guardian, will be published by Skyscape/Amazon Children's on May 6, 2014.