Discover more from Pub(lishing) Crawl
All things reading, writing, books, and occasionally booze. Reading you under the table since 2012. This site now exists as an archive of all the posts and content from the original website.
Dream Writing Spaces
Somewhere in our heads, we all have our dream office. It might be catered to reading, writing, business....dreaming...but if you're in publishing, chances are, it also resembles a library.
If I were Stephanie Meyer, my house would look like a library and then oh yeah, we forgot the bedrooms, let's throw in a few of those too. Something like this: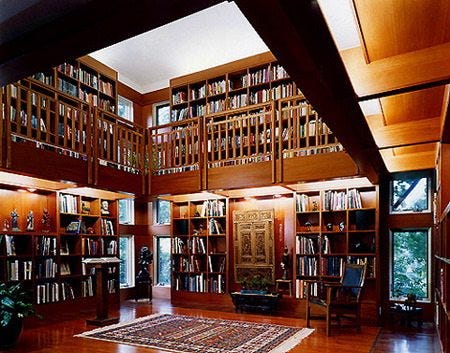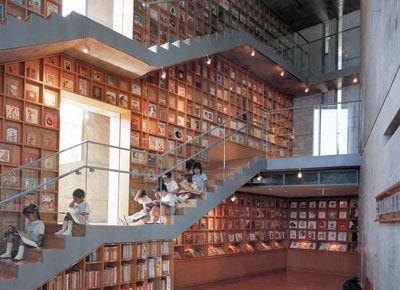 Two stories, obviously, is the only way to go.
Back in 2008/2009, before I had an office, Jeneane Frost held a contest on her blog for cover flats of her debut novel, Halfway to the Grave. I won a flat and saved it in a folder, hoping someday I could proudly display it in my "dream office." Jeneane wrote on the backside, "Here's hoping someday I have a flat for YOUR novel." At that point I HAD no book deals, just a stack of rejections. Her kind words meant everything. She went on to become a pretty prolific, NYT bestseller. Maybe you've heard of her. ;-)  Also, YA publishing doesn't do cover flats quite like romance publishers do. I think I owe her something. <3
Anyway, I still I don't live in a library-slash house. For a long time, I wrote just about anywhere—on the train, on the couch, in bed...I collected things for an office, but I didn't have one. Prada & Prejudice really was written on a train, and But I Love Him was written almost entirely after 8PM, in bed, because I had an infant and that was all the time I had. In fact, a few months ago, I lived in a small condo, in which my work space was also my bedroom: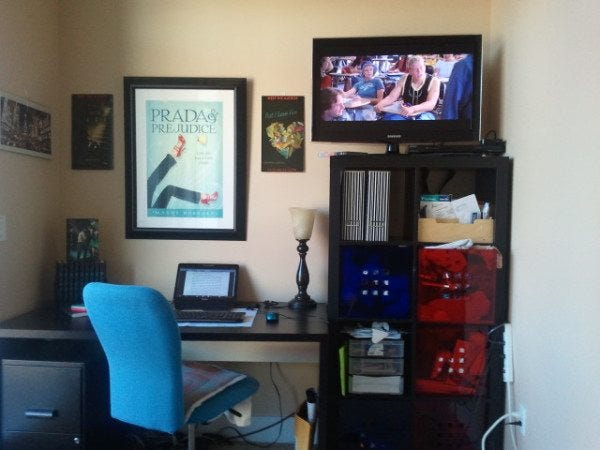 The giant Prada & Prejudice poster—the cover for my debut novel—was my favorite feature. I splurged on it when Prada sold, but I didn't have a great place to display it. That was the entirety of my office a few months ago. One small corner of our master bedroom that doubled as a TV stand and clothes storage. I had a "dream office" in my mind for years. Two months ago, I finally bought a house where I plan to stay... for a long time. And I've started building my office. Maybe it's Ikea furniture (it is) Maybe I put it together with things I've saved and books I've toted around for years (I have), but its MINE, and it means everything. Its the office that publishing built. Literally (I cussed out more than a few pieces of IKEA furniture) and financially (I purchased the furniture from comission checks...). But to sit here and stare at the books I wrote, at the cover flats that were given to me years ago when I dreamed of this office... to look at finished copies of my clients books...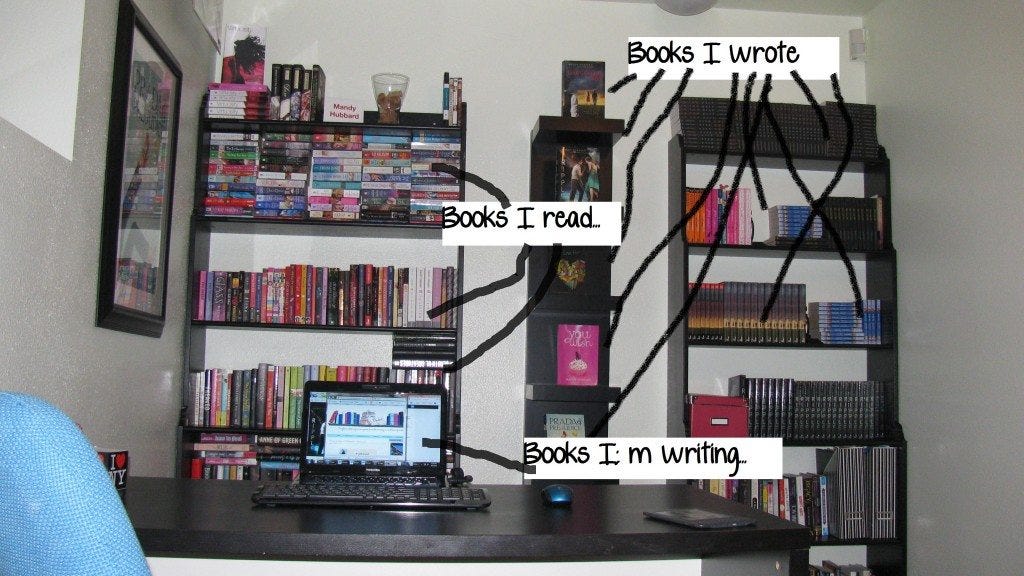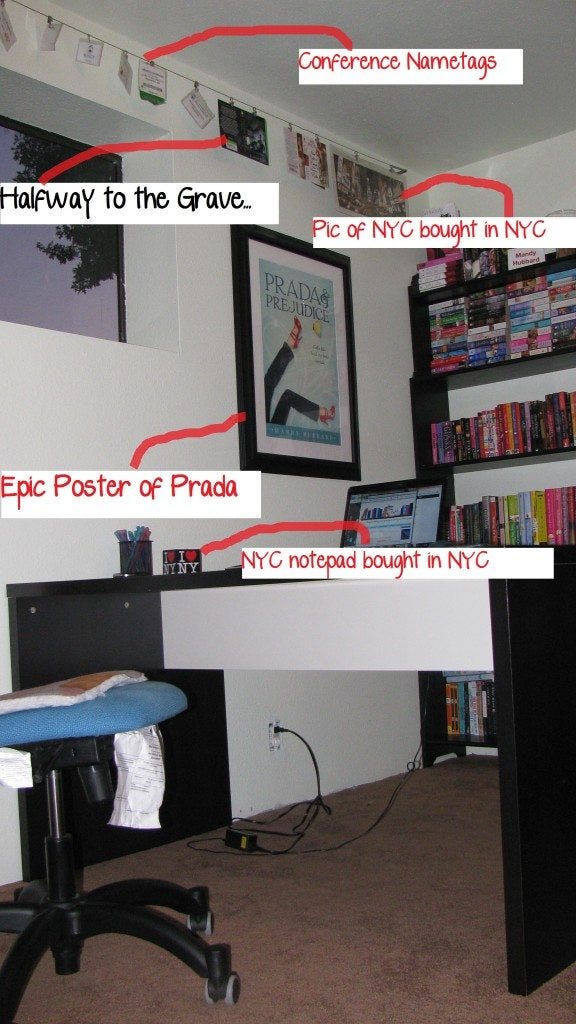 It may not be as epic as the pictures above, but it is mine, and I love it. The "bought in NYC" is meaningful to me becuase I went there with money from publishing to MEET publishing people- my own editors and agent. I can honestly say I would never have gone there if it weren't for this industry, and I've fallen in love with it, so my NYC stuff means something to me.
So, now that I've shared my space... I ask you....what is YOUR writing space? Do our Pub Crawl readers have any pictures so that we can peek into YOUR world? Even if it's just a corner or a train seat, it MATTERS. Published novels have been written in those train seats, so let's see them!