Discover more from Pub(lishing) Crawl
All things reading, writing, books, and occasionally booze. Reading you under the table since 2012. This site now exists as an archive of all the posts and content from the original website.
Cover Reveal! The Year We Fell Apart by Emily Martin (plus ARC giveaway!)
[box type="note"]Hello from Julie! I'm so excited, because today I get to reveal the cover for a fellow 2016 debut author, Emily Martin, whose YA novel THE YEAR WE FELL APART (Simon & Schuster/Simon Pulse Spring 2016,) is at the top of my CAN'T WAIT list! I feel so privileged to be able to introduce you to this book. Along with her beautiful cover, we have a few words from Emily herself, as well as from the designer! If that weren't enough, we also have a giveaway for an ARC! So, without further ado…[/box]
Few things come as naturally to Harper as epic mistakes. In the past year, she was kicked off the swim team, earned a reputation as Carson High's easiest hookup, and officially became the black sheep of her family. But the worst mistake was her first one: destroying her relationship with her best friend, Declan.

Now, after two semesters of silence between Harper and Declan, Declan is home from boarding school for summer break. Everything about him is different—he's taller, stronger . . . handsomer. But Harper has changed too, especially in the wake of her mom's cancer diagnosis.

While Declan wants nothing to do with Harper, he's still Declan, her Declan, the only person she wants to talk to about what's really going on with her. But after she betrayed his trust, he's also the one person she's lost all right to seek comfort from.

As shared friends and shared histories draw them together, Harper and Declan must decide which parts of their past are still possible to fix and which parts they'll have to live with forever.
I could go on and on about this book, but I know you're dying to see the cover, so here it is!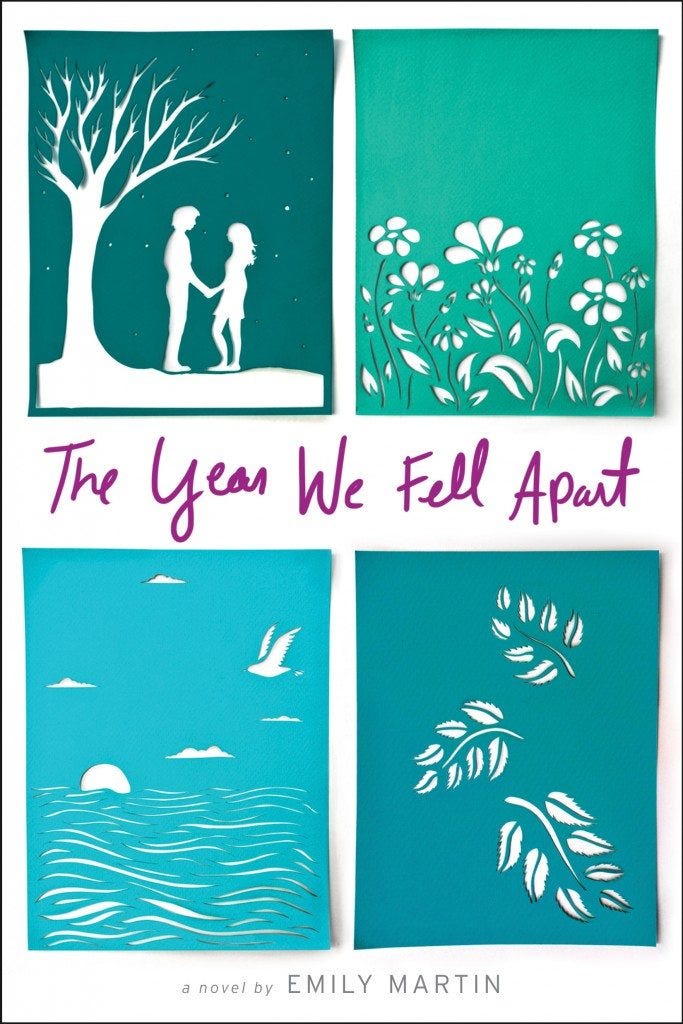 Isn't it GORGEOUS? We are so lucky to have Karina Granda, Designer at Simon & Schuster, here to discuss the process that went into the design.
Where do you start when it's time to design a cover? Do you get a chance to read the book? Do you consult with the editor? How do you pull together those first ideas?
Every book is its own world and has its own process, which keeps my job varied and fun! Sometimes we just have an outline, author or editor's concepts, comp titles, icons, etc. to work with, but whenever possible, I do LOVE to start by reading the book! I was fortunate to be able to read THE YEAR WE FELL APART, and it really helped me to get a deep sense of the tone and to develop a package that feels as special as Harper and Declan's story.
As I mentioned, our projects are hugely varied--sometimes I get to work with a really cool artist, other times I compose my own iconic or type-driven covers, occasionally I'm able to direct and style a shoot, and sometimes we just comes across an existing image that perfectly jives with the story—and there are many factors that go into deciding the final direction: what is the tone of the book; are there any compelling icons; is it important to show the characters; what other books do we want to be associated with; and of course, what is the budget?
The editor, Sara Sargent, and I both immediately knew that THE YEAR WE FELL APART needed an illustrated cover since it would give us huge range for creating a unique package that would capture many aspects of the story. Which brings us to that question: The editor is hugely involved through the whole process, and our editorial team does a tremendous job of providing ideas and feedback and ensuring that the images and tone are right for each individual project.
Tell us a little about the cover design for THE YEAR WE FELL APART. What choices did you make, and what did you want to convey?
In the case of THE YEAR WE FELL APART, we were able to work with the fabulous artist, Sarah Dennis, whom I've been wanting to work with for a long time! She not only illustrates, but she creates her illustrations through cut paper rather than drawing, which just brought that extra special touch that we wanted for this cover. We knew she could bring the right feel. As a team, thematically, we wanted to emphasize the course of the year and time and the seasons through the cover. So much of the book is about what can and cannot be changed over the course of time (and the emotions that come with that!), so we felt that depicting the course of the year with images that felt relevant to the story would make for a good cover.
Though all projects can (and do!) take many different directions and turns, ultimately the end products are always the result of a very collaborative team effort, and THE YEAR WE FELL APART was definitely no exception. The author pulled a bunch of images from the story that felt most relevant to her—the oak leaves were specific to the type of tree that was special to Harper and Declan, the friends spend a lot time in a quarry during the summers so it is a place of tension now that Declan and Harper are at odds, etc. Among many other ideas, the editor made the key suggestion that we should bring a hand-written feel to the type design. I found and art directed the illustrator, provided direction for the palette and composition, and created the hand-written elements on the jacket. Sarah Dennis brought her own ideas, compositions, wonderful details, and most importantly, her killer illustration skills!
How many concepts did you consider, and how many drafts did this one go through?
Honesty, I cannot even remember how many specific concepts we considered for this book! So often tons of ideas are tossed around in conversations with the editor or at team meetings—many get left right there, some make it into rough comps, and sometimes we are picking between options at very final stages. THE YEAR WE FELL APART has been through two "final" iterations—though in this case they came consecutively rather than simultaneously. We strongly pursued the idea of focusing on the tree or a tree stump, and though our art team tried several iterations of that concept that were beautiful, it was ultimately a bit too young and did not capture the depth and scope of the story. However, that process did lay the groundwork for developing the ideas that made it into our final cover. Even when concepts are rejected, they are always a crucial step in the process!
Thank you so much Karina!
Author Emily Martin is also here to answer a few questions!
© Kate L Photography | www.kateLphotography.com
Congrats on your beautiful cover! Karina mentioned that you had some input into the design, in that you offered some images from the story. How were you brought into the process? What was that like?
Thank you! My editor and the team at S&S were amazing about keeping me in the loop on the cover design. We discussed which places and moments in the book felt most important, and it became clear we all wanted a similar look for the cover. Being able to see the cover evolve from sketch to final product was an awesome experience. The designer said that lots of ideas were considered, and that there were two "final" versions of the cover. Were you able to see different drafts? If so, how much did they vary?
I saw sketches of both covers that became contenders, and from sketch to final version, neither of them changed too drastically. However, the two concepts were very different from each other.
I really loved the first design, so it was painful to find out the team had decided to go in a different direction. But I was fortunate enough to be brought into the conversation again, and I was thrilled when we settled on Sarah Dennis as the illustrator. I wound up falling even harder for the second design!
Since you were somewhat involved in the process, did you develop an idea in your mind of what the cover would look like? Does the finished cover reflect your expectations, or did it surprise you? How did you feel when you saw the final version for the first time?
Despite knowing who the illustrator would be and having an idea of the concept, it was still really difficult to visualize the finished product. I wasn't sure what to expect, but the cover completely blew me away. It just felt so special to me, such a perfect representation of my characters and their story.
Has your love of this cover caused any interesting new behaviors? Do you carry a miniature version of it tucked in a locket, or sleep with it under your pillow? (You can tell the truth. We're all friends here!)
Ha! I am fairly obsessed with it, and did immediately save it on my phone... but I only peek at it a dozen or so times a day! :) Pretty sure it's only a matter of time before a framed copy finds its way onto my bedside table.
Emily Martin lives and writes in the Greater Boston area, though she will always call Michigan home. When not writing books, you can find her hiking New England's peaks, searching for the perfect cup of hot chocolate, or baking something pumpkin-flavored. She is a member of The Sweet Sixteens and the Class of 2k16. Visit Emily online at her website, and on Twitter @thatEmilyMartin.
[hr]
Thanks to Karina Granda from Simon & Schuster for sharing her process with us, and to Emily Martin for not only letting us host her cover reveal, but also generously giving away an ARC of THE YEAR WE FELL APART! (Emily will happily send an ARC to the winner's US or Canadian address, once they are printed later this summer.)
You can add TYWFA to your "To Read" shelf on Goodreads and pre-order it on Amazon. Please join us in congratulating Emily in the comments below!