Discover more from Pub(lishing) Crawl
All things reading, writing, books, and occasionally booze. Reading you under the table since 2012. This site now exists as an archive of all the posts and content from the original website.
COVER REVEAL: The Emperor's Riddle
Kat here! :) It's been a while since I've done a cover reveal, and there's something particularly special about this one. Back when I was writing the Hybrid Chronicles (which had a series of covers I loved), I was always a little jealous of Middle Grade covers. Young Adult books were going through a very photography-heavy phase, and I have a fondness for illustrated covers. There's something unique and especially lovely about them. Admittedly, this is one of the things I was really excited for when I forayed into Middle Grade. And I honestly love what the artist and designer came up with for THE EMPEROR'S RIDDLE. It's a little bit action-y, a little bit mysterious. It delves into the story's setting (China!) without being super cliche about it. And finally, I think it's really got a lot of heart. I'm incredibly excited for you guys to see this, and for the book itself to release in summer 2017. Without further ado, here's the cover and the back cover copy!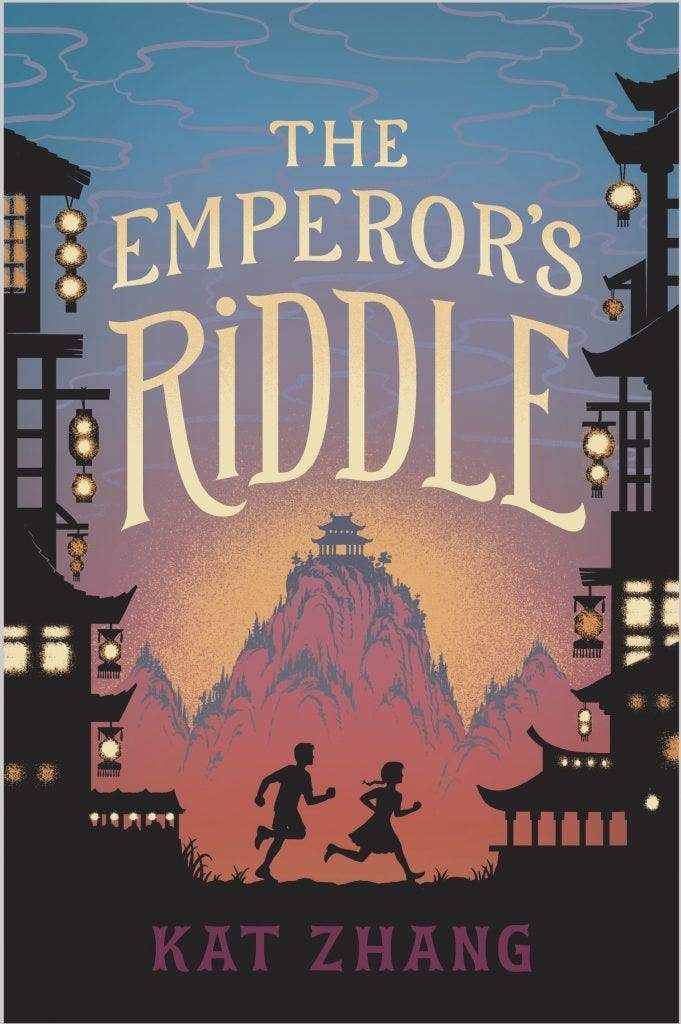 Mia Chen is on what her mother calls a Grand Adventure. She's not sure what to make of this family trip to China, and didn't want to leave her friends for the summer, but she's excited about the prospect of exploring with her Aunt Lin, the only adult who truly understands her. Then Aunt Lin disappears, right after her old nemesis, a man named Ying, comes to visit. Mia knows that years ago, when Aunt Lin and Ying were sent to the Fuzhou countryside to work as laborers, the two searched for an ancient treasure together--one that still hasn't been found. She's suspicious that their shared history might be linked to Aunt Lin's disappearance. When Mia discovers an old map filled with riddles in Aunt Lin's room, she quickly pieces together her mission: find the treasure, find her aunt. Now, Mia, along with her big brother, Jake, must solve the clues to rescue the person she knows best in the world—and maybe unearth a treasure greater than her wildest dreams.
I hope you guys love it as much as I do! :)