Discover more from Pub(lishing) Crawl
All things reading, writing, books, and occasionally booze. Reading you under the table since 2012. This site now exists as an archive of all the posts and content from the original website.
Cover Reveal! GIRLS IN THE MOON by Janet McNally! (Plus ARC giveaway!)
[box type="note"]Hi all, Julie here! Today is a big day!!! I'm thrilled to reveal the cover of Girls in the Moon (HarperTeen, Fall 2016) by fellow 2016 debut author, (and longtime PubCrawl reader!) Janet McNally! In addition to the cover, we have a conversation between Janet and the cover designer, Jenna Stempel, and an ARC giveaway! So read on! [/box]
First things first! Here's the gorgeous cover!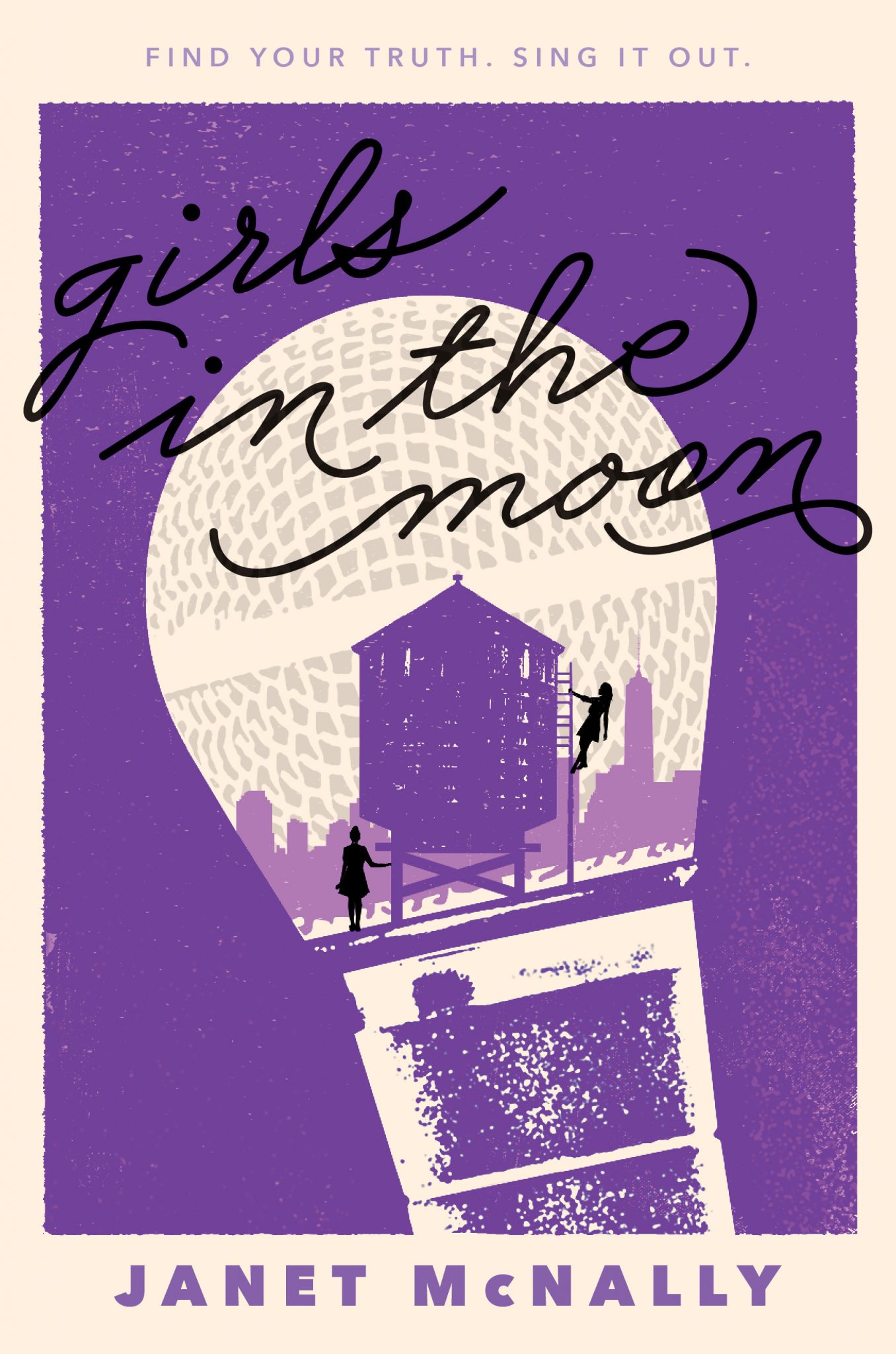 Isn't that incredible? And here's a summary of what you'll find inside:
Everyone in Phoebe Ferris's life tells a different version of the truth. Her mother, Meg, ex-rock star and professional question evader, shares only the end of the story—the post-fame calm that Phoebe's always known. Her sister Luna, indie rock darling of Brooklyn, preaches a stormy truth of her own making, selectively ignoring the facts she doesn't like. And her father, Kieran, cofounder of Meg's beloved band, hasn't said anything at all since he stopped calling three years ago.

But Phoebe, a budding poet in search of an identity to call her own, is tired of half-truths and vague explanations. When she visits Luna in New York, she's determined to find out how she fits in to this family of storytellers, and maybe even continue her own tale—the one with the musician boy she's been secretly writing for months.

Like the tide being pulled to the shore, Phoebe is drawn back and forth between her magnetic family members and her own fresh start. Phoebe's first adventure flows forward as Meg's romance unspools in reverse, leaving behind only a time-worn, precious pearl of truth about her family's past—and leaving Phoebe to take a leap into the unknown of her own future.
Doesn't that sound wonderful? I love books about music and books about family, so Girls in the Moon is high up on my TO READ list!
As an introduction to the author behind the book, here's Janet's bio:
Though her family is not rock and roll royalty, Janet McNally has always liked boys in bands. (She even married one.) She has an MFA from the University of Notre Dame, and her stories and poems have been published widely in magazines. She has twice been a fiction fellow with the New York Foundation for the Arts. Janet lives in Buffalo with her husband and three little girls, in a house full of records and books, and teaches creative writing at Canisius College. Girls in the Moon is her first novel, but she's also the author of a prizewinning collection of poems, Some Girls. You can visit her online at www.janetmmcnally.com.
I'm so excited to welcome Janet to the blog today. She is here to interview the designer, Jenna Stempel, about her process.
Janet: Hi Jenna! Your fan, Janet, here. As you know, I think this cover is gorgeous. I didn't really know what to expect, and when I opened the file I was so excited and nervous that I was shaking a little. But then I saw how beautiful it was and fell in love with it immediately. I love that you were able to bring in the moon and music and Brooklyn, plus show us Phoebe and Luna in silhouettes. How did you begin designing this cover? Did you try other concepts before you settled on this one, or was this in your mind all along? What was your process like? 
Jenna: Usually, I try to think up a couple options when reading the cover brief…just a few quick reactions to the concept of the book. Sometimes the author or editor will have a clear vision of something I can latch onto immediately, or the genre has a cohesive aesthetic with a lot of visual signifiers. Once I dive into the text, I continue  to sketch or jot down imagery as I read.
For Girls in the Moon, I really responded to the notes you sent in with other covers you liked. However, I read this book feverishly over two days and the final cover is one of my initial ideas I created the same night I finished the book. The narrative seemed especially suited to an illustration, so I worked up some options that referenced some combination of Brooklyn, rock & roll gig posters, and the two sisters. They were much more spare and graphic than anything else I've made recently and I also shook a little once something initially came together. The color scheme and texture came later, after looking over the comps with my art directors Alison Klapthor and Alison Donalty, and editor Kristen Pettit.
Janet: Can you talk about your connection with the setting of Girls in the Moon, and how it made its way into the cover design?
Jenna: Yes, this was right up my alley! I moved to Brooklyn a little less than two years ago and was very excited to get one of those characteristic water towers on the cover. It helped that I could actually picture everything described about the neighborhoods, subways, and even realistic train transfers! That Hoyt-Schermerhorn G-train stop is sometimes the bane of my existence.
More generally though, this book was total wish fulfillment catnip for 16-year-old me. Growing up in the suburbs of Chicago, I would check out Sonic Youth CD's from the local library in high school to copy onto my iPod before returning them…back then I would have happily traded in my perfectly loving and supportive family (hi Mom and Dad!) in a fit of angst-driven teenage restlessness to run around unsupervised on dirty city streets with skinny boys in vintage band t-shirts. Phoebe and Luna have the ultimate NYC summer while still learning a lot about themselves and their relationships.
Janet: I was so happy to see that you found a way to bring Phoebe and Luna's mom Meg into the cover design, with the illustration on the back cover (sorry, everyone, you'll have to wait until the book comes out to see it!). Do you usually get to create original illustrations for the covers you design? How did you decide what to draw? 
Jenna: This was one of my first cover illustrations! There are so many talented artists that we want to hire, and I work on dozens of books a year, so it was an exciting opportunity for me to create the imagery on this title.
Janet: I have to end with a playlist question because music is such a huge part of this novel. What is your soundtrack while you design? 
Jenna: I'll admit I get hyper-conscious when admitting what music I listen to! Definitely Sonic Youth and their fellow NYC bands The Strokes, The Walkmen, and Interpol. In general though, I'll hum along to the more upbeat Silversun Pickups and the Arctic Monkeys when the ideas are coming freely, and then turn on Elliott Smith and "sad Kanye" 808s and Heartbreak when I decide everything looks terrible and I'm a talentless hack. Though I'd guess a fair amount of designers and illustrators are similarly fueled by angst, haha.
Janet: So are writers! I love this answer. It sounds like we have a lot of musical loves in common. Thanks so much, Jenna, for talking to me about the design process, and thanks for creating such a beautiful cover for my novel! 
Jenna: It was my pleasure to work on your book. I'm really happy with this jacket and can't wait to get the finished copy in my hand this fall.
[hr]
Thanks to Jenna Stempel and Janet McNally for being our guests, and to Janet for generously giving away an ARC of Girls in the Moon! (This giveaway is open internationally, and the ARC will be sent as soon as they are available.) Please join us in congratulating Janet in the comments below!