Discover more from Pub(lishing) Crawl
All things reading, writing, books, and occasionally booze. Reading you under the table since 2012. This site now exists as an archive of all the posts and content from the original website.
Cover Reveal for THE FIRST TIME SHE DROWNED
C-O-V-E-R R-E-V-E-A-L D-A-Y!
Today we have the honor of revealing the cover for The First Time She Drowned by Kerry Kletter, forthcoming from Philomel/Penguin on March 15th, 2016. I met Kerry when I was in Los Angeles and she is an A++ human and I'm positive her book is A++ too. Before I charge into Penguin HQ to find a galley let me share the A++ cover in addition to some A++ insight from Kerry's editor, Liza Kaplan, as to how this cover came about. Oh, and get to e-meet Kerry yourself with a brief interview!
HERE'S THE COVER!
Isn't it GLORIOUS + GORGEOUS?! GLORIGEOUS? GORGIOUS?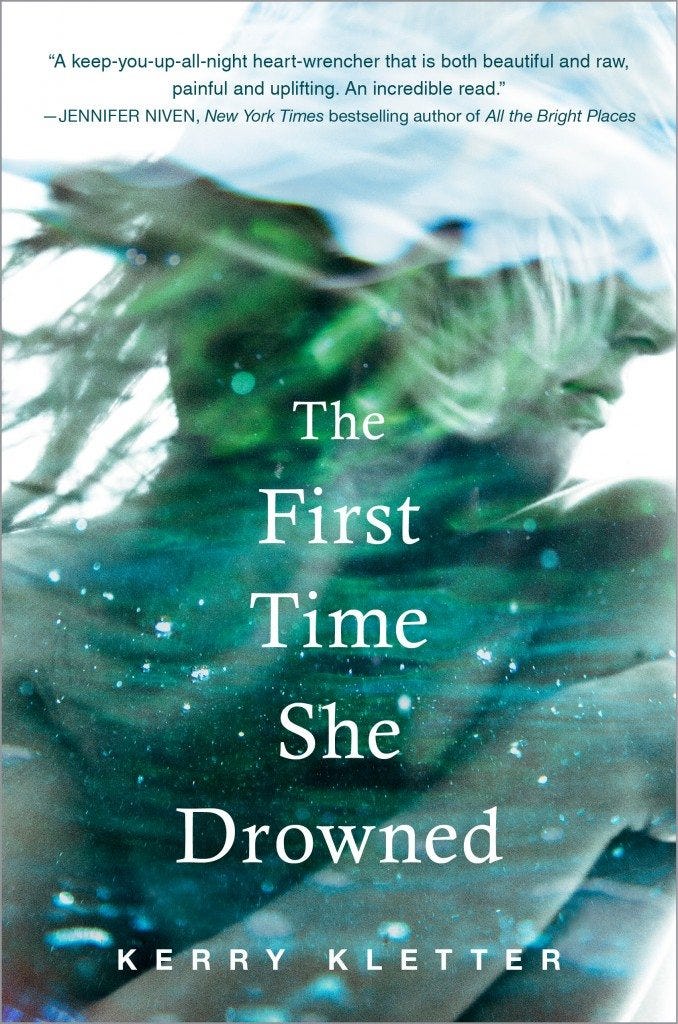 THE STORY
The beautiful sad struggle of a girl desperate for the relationship that has caused her the most pain. Cassie O'Malley has spent her whole life trying to keep her head above water—literally and metaphorically. It's been two-and-a-half years since her mother dumped Cassie in a mental institution against her will for something Cassie claims she didn't do. Now, at eighteen, Cassie enrolls in college, ready to reclaim her life and enter the world on her own terms. But as she struggles to find her way forward, the startling truths she uncovers about her own family narrative make it impossible to cut the tethers of a tumultuous past. And when the unhealthy mother-daughter relationship that defined Cassie's childhood and adolescence threatens to pull her under once again, Cassie must decide: whose version of history is the truth? And more important, whose life must she save? A bold, literary story about the fragile complexities of mothers and daughters and learning to love oneself, The First Time She Drowned reminds us that we must dive deep into our pasts if we are ever to move forward.
INSIGHTFROM EDITOR LIZA KAPLAN
When I first read The First Time She Drowned on submission, I knew it was a special find because the characters continued to live and breathe in my head long past the point of the novel's end. The characters were so beautifully flawed and skillfully nuanced, the writing so gorgeous, and the story so emotionally charged and complex that, initially, finding a way to adequately telegraph all these things through one cover image seemed like it could be a real challenge. But it was such a thrilling process, and I love the final image we landed on! There were various incarnations along the way; at first we tried something much more literal that played to the character's experiences in a mental institution and therapy as well as her connection to the ocean. It was lovely, but felt a bit too squarely YA, and as this book has such crossover appeal, we didn't want to cut out any potential readers. When the designer presented us with this image, my publisher and I knew it really hit the mark: It was a visually striking nod to the idea of drowning from within that felt both symbolic and truthful to the story, and captured a wild and chaotic energy that dominates the main character's emotional life for much of the novel. I'm so glad we pursued other directions first because it just made all the more clear that this image is truly the one.
INTERVIEW WITH AUTHOR KERRY KLETTER
ADAM: Tell us a bit about the moment you first received your cover on the inbox. Did you have something else in mind originally? Did this cover beat your expectations?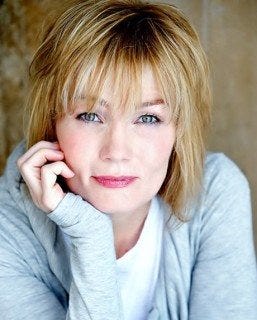 KERRY: At first it was just shock—this is my book cover! I had never dared to imagine what it might look like. But I knew pretty quickly that it was perfect. The image really captures both the vulnerability and self-protection of the main character as well as the haunting mood of the story as it pertains to water and struggle and beauty in a way that I never imagined possible. I love the details—the double exposure and the water spots and the sense of movement. I'm so grateful to both my editor Liza Kaplan and the cover designer Lyndsey Andrews who I know put so much work into getting it right. ADAM: Okay, okay. So Penguin sold me on the cover. Now kindly sell me and our readers on the heart of the book, please! KERRY: I think at the heart of this story is hope. Hope in the capacity to climb out of a dark past, to trust that small voice in your head and that little firefly of light in your gut that says you're okay and you matter and you're worthy even when you've been made to feel otherwise. It's about choosing to believe, in the face of love's absence, that love is still possible—not just romantic love, but friend love too—and about what can happen when you find the courage to allow love in, even when it seems the riskiest choice of all. What do you think of the cover? I always love hearing from the editor, too!